DECKCHAIR CINEMA
Build Up Design architects are currently working on the Deckchair Cinema in Darwin.
The project will see the outdoor cinema accommodated on a new site, overlooking the water, below the esplanade in the CBD.
Architect Simon Scally says the site is spectacular. Patrons who arrive early will be treated to fantastic views of the sun setting over water, as they sip drinks in the outdoor bar and wait for the film to begin. As the sun sets the surrounding monsoon forest closes in to create the auditorium. Scally comments, "the Deckchair is a unique cinema experience, don't miss it next time you are in Darwin".
STUDENT HOUSING

Tridente Architects are designing a facility to accommodate students attending the University of South Australia's Magill Campus. The development focuses on the needs of collaborative student living while also providing distinct private areas for the individual. Sixty-four beds will be provided within a framework of twenty independent living units, with each living unit positioned to take advantage of the natural environment of each site. Security is addressed through the introduction of secure transitional spaces between the public and private domains, while an open common space on an elevated deck is designed to promote the development of a strong student community – it is envisaged that this area will become the central hub for student activity.
ULTIMO WAREHOUSE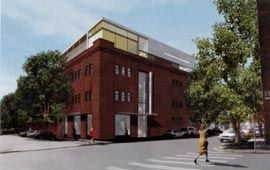 Woods Bagot are redeveloping the Marcus Clarke & Company Warehouse (1909) in Ultimo, Sydney. It will become a mixed-use development which will include commercial, retail and parking. The proposal seeks to add "a richer and unashamedly new layer of meaning" and pursues a "robust contrast between old and new". The primary goal has been to retain and enhance the industrial character of the building. Original fabric, including the interior timber structure, will be restored, while new internal elements have been designed to reinterpret the building's former use.
C21 TOWER

Grey Puksand are developing a concept for a CBD tower with the aim of producing a commercial development that is both ecologically and socially responsive. The west face includes a digitally controlled shading system which maintains views at all times, and opportunities for natural ventilation and mixed-mode airconditioning have been maximised. The interior has been designed to generate a sense of living spaces – as distinct from work spaces within a tower. This is articulated in terms of a three-storey atrium and the experience of the journey through the building.