PARAMOUNT HOTEL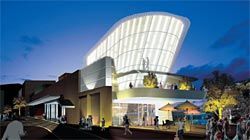 Tony Owen NDM's short-listed tender submission for the Parramatta Hotel, left, aimed to follow the model of a classic Sydney Art Deco pub; not in terms of style, but in being a distinctive building that activates a street corner and is synonymous with its locality. The site is adjacent to a Westfield development and in front of the Parramatta train station, making it a key element in the Parramatta Transport Precinct.
The massing of the building was designed to balance and terminate the scale of Westfield, with the nightclub taking the limelight.
This glass-clad architectural gesture becomes a beacon at night, which can be subtle and constant or programmed to create a more vibrant display if desired.
CIRCLING INNER MONGOLIA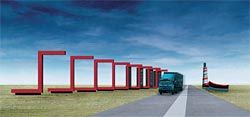 Allen Jack + Cottier's designers are currently working on two transport-related projects in Hohhot, the capital city of the Autonomous Region in Mongolia. Inner Mongolia and its capital form the gateway and transport hub for all traffic between China, the Russian Federation states and Mongolia. In response, one of the projects is a 45-kilometre ring-road around Hohhot, which forms part of a five-year urban plan.
It is designed to accommodate rapid growth in the city over the next twenty years, with the expectation that the city will grow to meet the road. The scheme includes seven rows of mature trees, dedicated lanes for public transport and bikeways, extensive landscaping and quality kerbs and gutters.
SCHOOL OF MEDICINE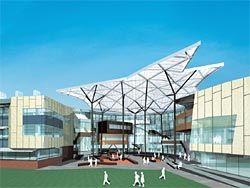 Lyons has recently won two competitions for university projects. The first is a new School of Medicine at the University of Western Sydney's Campbelltown campus, below and below right. The design for the new educational facility adopts the student-centred learning model, which involves problem-based learning pods.
Flexible and adaptive to a wide range of research modes, the project combines undergraduate teaching spaces and lecture facilities, postgraduate medical research laboratories and offices under a singular roof form. The project is due for completion in 2007.
CENTRE FOR WORLD POLITICS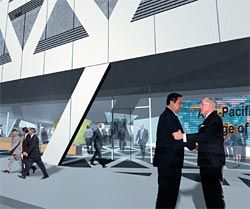 Lyons' second recent competition win is for the new Centre for World Politics at ANU, right. It takes its formal cues from the adjacent heritage Coombs building, with its hexagonal plan. The new building is located on one of the university's "gateway" sites, and the centre will bring together the Asia-Pacific College of Diplomacy with other postgraduate teaching and research schools in international relations, strategic and defence studies, regional politics and diplomacy. Lyons proposed an interpretation of the original Coombs building to create a new and contemporary workplace for academics, visiting scholars and students.