The City of Perth has revealed initial plans and design concepts for an "interpretive facility" that combines the functions of a museum, a park and an events space at a site on the South Perth foreshore.
The Westralia Centre, designed by SIA Architects, which would contain a lecture theatre, event spaces, cafes and restaurants, would be "buried" under existing parkland at the centre of the 60-hectare public reserve. The council will now begin preparatory works for the project, which will include soliciting feedback from the public and seeking funding from the state and federal governments.
The City of South Perth's South Perth Foreshow Strategy and Management Plan, released in 2015, divided the South Perth foreshore into sections and laid out planning and development goals for each. In the plan, "A landmark site, representing national, state, local and Aboriginal significance, that expresses the historical background of the area" would be occupied by the site.
SIA Architects was tasked with producing a design that unifies the different ways in which the site and the city are important to the histories different groups. Among these disparate influences are the Australian Light Horse brigades, which fought in World War I, most notably at Gallipoli.
SIA principal Sasha Ivanovich said that this part of Australian history was relevant in Western Australia" because the horses mainly came from Western Australia," and because "the presence of German warships in the northern Pacific ocean and around South-East Asia meant that the powers that be decided that the safest route was […] overland to Western Australia where soldiers would be put on ships."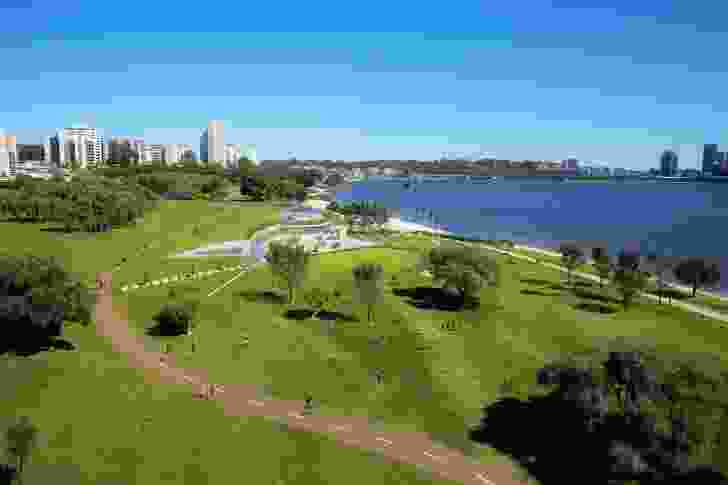 "There's also other local history, which is partly Indigenous and there's early settlement history, all of which will appear in the exhibits."
City of South Perth mayor Sue Doherty said, "It's rare to find an opportunity to create a unique tourism attraction to commemorate our diverse social history, while taking advantage of one of Perth's best natural locations."
"The proposed concept celebrates and pays respect to our rich local history, including our Aboriginal heritage, early settlers and the many migrants who have contributed to the development of South Perth."
"It will also tell the story behind many of our state's important military contributions by complementing the commemorative role of the State War Memorial in Kings Park to which the foreshore site has a strong visual connection." Kings Park is located to the north-west.
The City of South Perth was firm in its requirement that the design have a limited effect on the foreshore reserve and on the view to the Perth CBD over the Swan River. "The first proposition was to minimize its impact. To respond to the site in an integrated way," said Ivanovich. "We did not want the building to overtake a space which is basically now green."
By "burying" the bulk of the centre under the green space, Invanovich said he intended the centre to be a "powerful sculptural object" that is independently interesting without obscuring "the magnificent view over the river."
"I am a big fan of the concept that we have to connect to the envrionment, whether we have to connect to the city, or to the natural landscape. This prompted me to be very enthusastic about following this solution."
Related topics