The JamFactory's latest exhibition, Prototyping: Making Ideas, reveals new directions and developments for Australian designers by showcasing the outcomes of a significant part of the design process – the prototype. Curator Margaret Hancock Davis has selected functional, full-scale prototypes from Australian designers and design firms for exhibition: Björn Rust, Oliver Smith, Andrew Simpson, Trent Jansen, John Quan, Elliat Rich, Simone LeAmon, Rohan Nicol, Adam Goodrum, Daniel Emma, Illumini Glass and Koskela.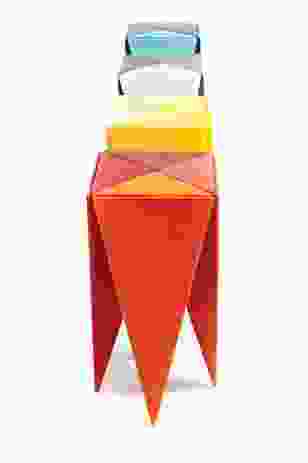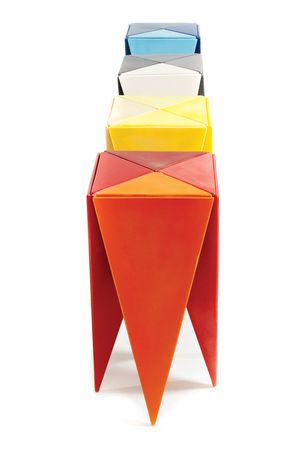 Prototyping is arguably the most experimental and risky design phase and, as such, it is always inventive, enabling new directions in material, form, use and making processes. Prototyping can also corroborate (or resist) the design concept. The pieces exhibited in Prototyping: Making Ideas are the results of an experimental process and many are finished works in their own right. John Quan's lamp tests material capacity, Illumini's decanter and tumblers test form, Elliat Rich's Yala sofa tests user response, Trent Jansen's pieces test the making process and Oliver Smith's Universal Utensil tests all aspects of material, form, use and making. The exhibition informs its audience as to what innovation is and how it happens in design.
Simone LeAmon and Rohan Nicol's lighting prototypes are evidence of an elusive type of innovation that is sought after by our federal and state governments, regularly articulated in policy, but hard to identify as a contribution of the design sector to the economy. LeAmon undertook an extensive residency with Victorian lampshade manufacturer Rakumba, working with its craftswomen to create distinctive new products based on her respectful understanding of traditional manufacturing techniques. The Ballerina prototype is a theatrical, contemporary extension of a traditional standard lampshade that was first produced by Rakumba in the 1960s. Nicol's Stretchlight and Peppered Sunlight pendant prototypes were produced through painstaking research with Wagga Wagga signage company Precision Signs to create a new product through effective use of the company's manufacturing capability.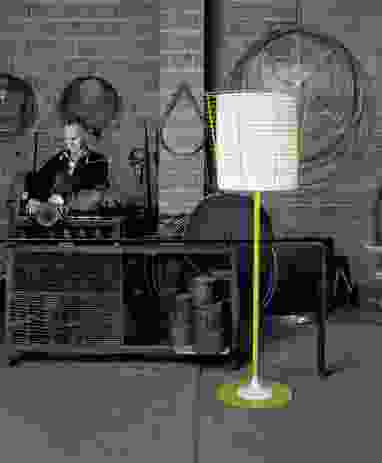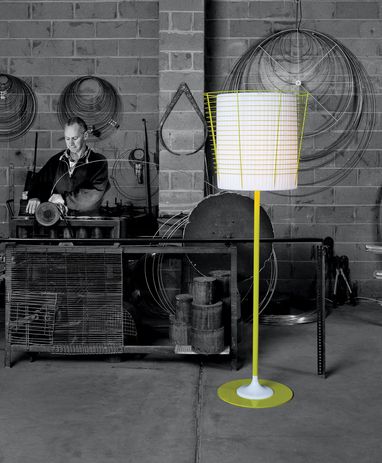 A Design Victoria report on the utilization of design by companies in the 2008 BRW Fast Starters list revealed that 78 percent included design as part of their business strategy and 76 percent included designers as part of their team.1 As LeAmon's and Nicol's works so effectively show, established companies with traditional processes can also innovate through design.
Historically, government innovation policy has been restricted to the science and technology sector and driven through investment in research and development. It is increasingly being recognized that for most businesses, innovation "starts with an idea from a supplier or customer."2 Often that supplier or customer is a designer and the resulting collaboration of testing ideas through prototyping can lead to product innovation and economic benefits from efficiency, sales and export.
The exhibition was opened by South Australia's Commissioner for Integrated Design, Tim Horton. Following Victoria and Queensland, South Australia has established a design strategy and Horton's remarks at the exhibition opening, and in the catalogue foreword, are evidence of Australia's third state government to recognize the contribution of design to all aspects of the state's endeavours. Prototyping: Making Ideas expresses the link between prototyping as a fundamental phase of the design process and innovation, not just within design practise itself, but beyond, in the manufacturing sector. The exhibition educates its audience about the design process and the contribution of design to culture, society, the environment and the economy.
Prototyping: Making Ideas ran 3 September – 23 October 2011 at the JamFactory, Adelaide.
1. K. Smyrnios, Fast Starters: Adoption of and Barriers to the Application of Design, (Melbourne: Design Victoria, 2008), 15.
2. J. Steen, cited in Jill Rowbotham, "Bid to Measure and Boost Innovation," The Australian Higher Education, 22 June 2011, 22.
Source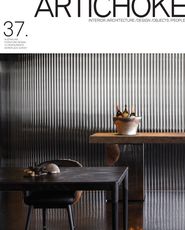 Discussion
Published online: 1 Dec 2011
Words: Joanne Cys

Issue
Artichoke, December 2011
Related topics