SIR ZELMAN COWEN AWARD FOR PUBLIC ARCHITECTURE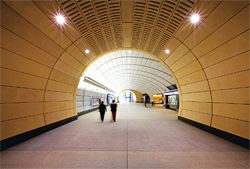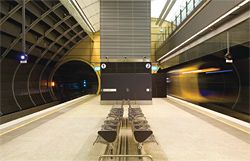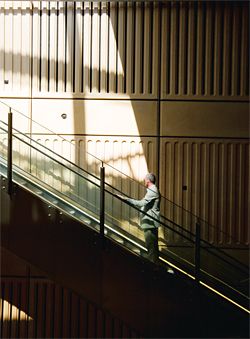 Epping to Chatswood Rail Link, Intermediate Stations – Hassell
JURY CITATION
The Epping to Chatswood Rail Link Intermediate Stations demonstrate clever movement through contiguous space, in which functional strategies provide architectural opportunities. Elegant glass rooms at street level give no indication of the experiential nature of the journey to follow. These stations are designed to prioritize the efficient movement of people while maintaining an evocative architectural environment. The entry room is a cleverly balanced, top-lit volume occupied simply by three elements of vertical access: stair, escalator and lift. These elements appear as sculptures within a space which is free of ornamentation, beautifully ordered and reliant only on light and people to colour the architecture. The entry hall below is an elegant, asymmetrical, double-loaded volume that combines simple but effective scheduling with easy movement through to the centralized, singular, ticketed gates.
Access down onto the train platforms is equally direct, with relative reductions in scale as one descends the final of nine levels into the horizontal tunnel zone.
Finishes are modified here to reflect the nature of a train environment and the management of a corrosive and fire environment. The entire project presents a remarkable clarity. There is restraint within the material palette and a clever adjustment of both space and functional finishes as one descends from street to train line, along with a genuinely visionary approach to station management and work environments. This all contributes to a project of unusual competence and beauty that derives its architecture from common sense with sensitive design decisions.
For full coverage see Architecture Australia vol 98 no 3, May/June 2009.
NATIONAL AWARD FOR PUBLIC ARCHITECTURE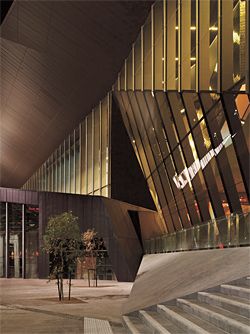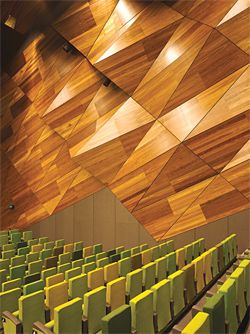 The Melbourne Convention and Exhibition Centre – Joint venture architects Woods Bagot and NH Architecture
JURY CITATION
Set adjacent to the Yarra River and adjoining the existing Melbourne Exhibition Centre, the new Melbourne Convention Centre establishes a critical link with the inner city's fabric. The project brings order to a complex brief, organizing planning to enable flexibility and delineated functional movement throughout the building. The entry foyer is a mighty space that manages scale with merit and ease, the sculpturally articulated auditorium wall contributes a sense of art and the glazed wall to the city provides a tough, definite edge to adjacent land and river. The elaborate array of internal finishes is a constant source of stimulation and decoration throughout the building. They offer a unique artistic licence rarely found to this extent within the fitout of a large public building. The plenary hall is a magnificent room. Reminiscent of Aalto's lecture halls, it can be subdivided to make three smaller, fully sound-isolated auditoriums. Flexibility is increased further with the installation of fully automated gala seating and staging that can be lowered to extend the flat performance space. This building speculates on the future of convention centres, integrating art, sustainable systems and operational flexibility as key considerations. Unquestionably a building of urban presence, the Convention Centre builds upon Melbourne's knowledge of artistically infused, sculptured buildings.
For full coverage see Artichoke 29.
NATIONAL AWARD FOR PUBLIC ARCHITECTURE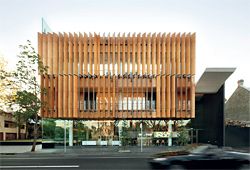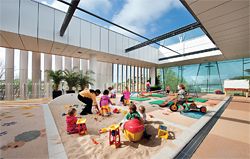 Surry Hills Library and Community Centre – Francis-Jones Morehen Thorp (FJMT)
JURY CITATION
Located on a busy inner-city street front, the Surry Hills Library cleverly accommodates a variety of functions with relative ease and remarkable spatial accuracy. Planning is driven "off the back" of an innovative glazed thermal green wall. The building employs this southern facade to provide soft light and aspect over a small formalized park on all above-ground levels. Planning is unpredictable.
The library is located on basement and ground level, making it easily accessible to the public, and community services and childcare are on the upper levels. A laneway adjacent to adjoining shops provides vertical access and, along with the spiral library stair, creates spatial zones that both link and contrast the horizontal work environments. There is conspicuous refinement in both planning strategies and detail.
Junctions, alignments and set-outs communicate a high level of coordination and, in general, the selection of materials confirms that approach. This building could be likened to a refined machine, and the bespoke sun control louvre system to the street and park beyond contributes another layer of integrated technology to the workings of the building.
The Surry Hills Library exhibits planning and facade detail that limits waste and touches beauty through the resolution of clearly defined strategies.
For full coverage see Architecture Australia vol 99 no 2, March/April 2010.
NATIONAL COMMENDATION FOR PUBLIC ARCHITECTURE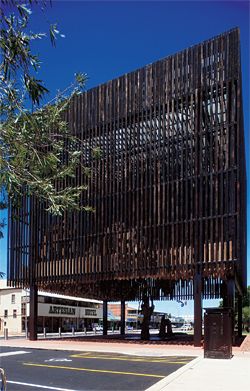 Barcaldine Tree of Knowledge Memorial – Brian Hooper Architect and m3architecture, architects in association
JURY CITATION
Australian outback towns no longer live "off the sheep's back" but need to find new ways of inventing themselves. Barcaldine, located in Central Western Queensland, was once famous for the number of pubs fronting its main street, along with the historic tree under which striking shearers established what is now known as the labour movement.
Political foes recently poisoned the tree but its historic significance demanded respect. Barcaldine Regional Council commissioned a memorial. The architects, with vision and tenacity, have created a structure that commemorates, represents and respects the tree, inspiring visitors to consider the significance of this event and this place.
In addition to the building memorial, the architects have cleverly enhanced the structure of the original tree, exposing the root ball below ground in a way that goes beyond preservation.
Such a building is rare in its simplicity. That it has become a destination for contemplation and celebration is testament to the evocative nature of the architecture.
The Tree of Knowledge has brought new life to an outback town in recession. It provides an environment that is fully accessible to the public and shelters a remarkable memory that may or may not be past.
For full coverage see Architecture Australia vol 99 no 2, March/April 2010.
Credits
Architect

Woods Bagot Melbourne
Melbourne, Vic, Australia
Project Team

Lyndon Hayward, Andy Gentry, Hamish Lyon, Paul Evans, Roger Dalling, Nik Karalis, Jeff Arnold, Peter Korkolis, Mieke Vinju, Lucinda Mason,
Architect
Consultants

Acoustic consultant Marshall Day Acoustics
Builder Brookfield Multiplex
Building surveyor PLP Building Surveyors & Consultants
DDA Davis Langdon
Environmental consultant Advanced Environmental Concepts
Heritage consultant Trethowan Architecture
Landscape consultant ASPECT Studios
Operable auditorium seating Gala Systems Inc
Services consultant WSP Lincolne Scott
Structural consultant WSP
Traffic engineers GTA Consultants

Site Details

Location 2 Clarendon Street, South Wharf, Melbourne, Vic, Australia
Site type Urban

Project Details

Status Built
Website http://www.mcec.com.au/
Category Public / commercial
Type Culture / arts

Credits
Architect

fjmt
Australia
Project Team

Richard Francis-Jones, Jeff Morehen, Simon Barr, Lance White, Alison Jones, Misha De Moyer, James Perry, Josephine Turner, Peter Wise, Matthew Todd, Mark Brandon, Chris Thomas, Michael Harvey, Elizabeth Sandoval, Jason Green, Andrew Stanton,
Consultants

Acoustic consultant Acoustic Studio
Audiovisual consultant Noisebox Entertainment Systems
Builder ProBuild
Code consultant Davis Langdon
Design management City of Sydney
ESD, mechanical, electrical and fire Steensen Varming
Fire engineering Arup Sydney
Hydraulic consultant Warren Smith & Partners
Landscape architects fjmt
Project management City of Sydney
Quantity surveyor Rider Levett Bucknall Sydney
Signage consultant Collider
Structural consultant Taylor Thomson Whitting

Site Details

Location 405 Crown Street, Surry Hills, Sydney, NSW, Australia
Site type Suburban

Project Details

Status Built
Website http://www.cityofsydney.nsw.gov.au/development/cityimprovements/CompletedProjects/SurryHillsLibraryCommunityCentre.asp
Category Education, Public / commercial
Type Public / civic

Credits
Architect

Brian Hooper Architect
Yeppoon, Qld, Australia
Project Team

Michael Lavery, Ben Vielle, Helder Pereira, Emma Healy, Angela Winkle, Brian Hooper, John Angel, Allen Dwyer
Architect

m3architecture
Qld, Australia
Consultants

Builder McNab Constructions
Building surveyor Philip Chun & Associates, Michael Moran
Council engineer Barcaldine Shire Council
Electrical Hawkins Jenkins Ross, Virendra Khatri
Heritage Gordon Grimwade & Associates, Martin Rowney
Hydraulic services Thomson Kane Hydraulic, Mark Kane
Landscape Gamble McKinnon Green Brisbane
Landscape consultant Ross Gamble
Project manager Angel Consulting, Barcaldine Shire Council
Structural Bligh Tanner, Paul Callum
Town planning John Gaskell Planning Consultants, John Gaskell
Traffic consultant Viney Traffic Engineering Pty Ltd, Neil Viney

Site Details

Location Barcaldine, Qld, Australia
Site type Rural

Project Details

Status Built
Category Landscape / urban
Type Culture / arts, Installations

Related topics