Creating a new stadium in the heart of Melbourne, arguably Australia's sporting mecca, is a challenge. Ensuring that it suits the requirements of four highly competitive, emerging football codes is almost impossible. However, the architects have successfully established AAMI Park stadium as a much-loved and instantly recognizable player on the Melbourne skyline. Incorporating a multi-sports campus, it is a vibrant example of a public building put to maximum use seven days a week.
The already iconic roof is a lightweight steel structure that uses no more material than is absolutely necessary. Each bioframe shell is unique in form and designed to suit its position. The end result is a dramatic atmosphere – every spectator enjoys an uninterrupted view around the ground.
The original brief was altered mid-project and the capacity increased by 10,000 seats to 30,500. Undoubtedly, this must have caused the architects a few headaches, but for the spectator there is no evidence that this was ever a problem. Making that level of adjustment without compromising on comfort is indeed a skill.
The base of the stadium is put to full use, with offices for various sports organizations, club training rooms, therapy areas, swimming pools and gyms. While the judges were on site, team members from Melbourne Storm demonstrated the rejuvenating properties of the spa and ice plunge pool. From what we could see, all was in perfect working order.
– Jury citation
The unique structure not only reflects the ideal seating bowl; it provides a new hybrid structural system of shell, arch and cantilever that has delivered a distinctive addition to Melbourne.
– Cox Architecture
For a full list of awarded projects read 2011 National Architecture Awards – the winners and for more awards discussion see the Rachel Hurst and Rory Hyde's responses to the awards and the jury overview by Karl Fender.
Credits
Architect

Cox Architecture Melbourne
Melbourne, Vic, Australia
Project Team

Philip Cox, Patrick Ness, Jonathan Gardiner, Philip Rowe, Graham French, Ian Enderby, Anthony Crozier, Amanda Barker, Simon Haussegger, Joachim Clauss, Andrew Lyons, John Lucy, Matthew Murfett, Maja Belic
Consultants

Acoustic consultant Marshall Day Acoustics
Builder Grocon
Building surveyor Gardner Group
Catering consultant McCartney Taylor Dimitroff
Cost consultant WT Partnership
DDA Architecture & Access
Fire engineering Norman Disney Young
Landscape consultant Land Design Partnership
Project manager Major Projects Victoria
Services consultant Norman Disney Young
Structural and civil consultant Arup Melbourne
Traffic consultant GTA Consultants

Site Details

Location Melbourne, Vic, Australia
Site type Urban

Project Details

Status Built
Website http://www.coxarchitecture.com.au/#/project/11615
Category Public / commercial
Type Culture / arts

Source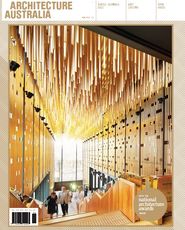 Issue
Architecture Australia, November 2011
Related topics