The Eastern Precinct development is the final phase of an overall site development plan for the Australian War Memorial (AWM), Canberra. The brief was complex. The architect was required not only to solve the logistical problems of improving the movement, parking and arrival of thousands of buses and their passengers, but also to provide an appropriate site and surroundings for the National Service Memorial, which honours the 212 National Servicemen who died in active service. Rarely does a brief combine such prosaic outcomes with the emotional responsibility of creating a site of reflection.
The most important intervention is not what you see, but what you don't. The old car park has been re-sited underground, opening up the entire Eastern Precinct to be liberated and returned to the use for which it was originally intended – reflection and celebration.
The cafe and amenities block to the far east of the site is understated and beautifully executed, with materials and proportions that respect the AWM. It is evident that all involved, including the tradespeople and suppliers of materials, viewed this project as a labour of love and responsibility.
The actual memorial is a dignified tribute made from granite, stone and bronze and set in a landscaped courtyard. The National Servicemen's Association must be proud of the final memorial for which they have lobbied and fundraised for years.
– Jury citation
The Nashos, our families, their children and all Australians can at last be remembered very publicly [for] our contribution.
– Mervyn William Boardman, A220079 RAAF, Point Cook, Victoria.
Today we dedicate this handsome, solid ballast of granite, stone and bronze to the steady, gallant and devoted effort of Australian men called up for national service between 1959 and 1972 … From this day hence, their service and their sacrifice are enshrined here for relatives and loved ones to recall and cherish and for all Australians to observe and be thankful for.
– Her Excellency Ms Quentin Bryce AC, Governor-General of the Commonwealth of Australia on the occasion of the official unveiling of the National Service Memorial at Canberra, ACT.
For further coverage see Australian War Memorial.
For more awards coverage see the jury overview by Karl Fender and the Rachel Hurst and Rory Hyde's responses to the awards.
Credits
Architect

Johnson Pilton Walker
Sydney, NSW, Australia
Project Team

Richard Johnson, Kiong Lee, Supinder Matharu, Sophie Blain, Andrew Christie, Adam Deutsh, Jorg Hartig, Mat Howard, Matthias Knauss, Adrian Pilton, Ben Rainsford, Richard Rowell
Consultants

Access consultant Eric Martin & Associates
BCA consultant Fire Safety Science
Builder PBS Building
Civil and structural engineer Taylor Thomson Whitting
Cost consultant Coffey Projects
Heritage consultant Godden Mackay Logan
Kitchen consultant Cini Little
Project management Coffey Projects
Project team Maggie Liang
Services engineer WSP Lincolne Scott
Traffic engineers WSP Parsons Brinkerhoff
Water feature specialist contractor Waterforms International

Site Details

Location Treloar Crescent, Campbell, Canberra, ACT, Australia
Site type Urban

Project Details

Status Built
Design, documentation 9 months
Construction 12 months
Website http://www.awm.gov.au/
Category Landscape / urban, Public / commercial
Type Culture / arts

Source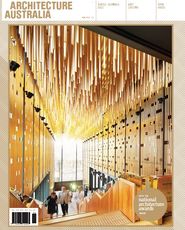 Issue
Architecture Australia, November 2011
Related topics