Sir Zelman Cowen Award for Public Architecture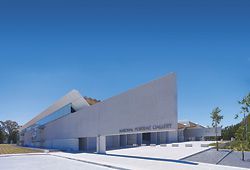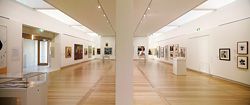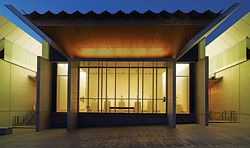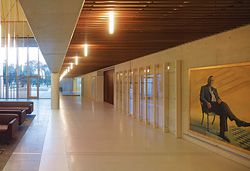 National Portrait Gallery
Johnson Pilton Walker

JURY CITATION
Canberra's Parliamentary Axis holds Australia's most important example of a monumental civic grouping, and it is vital that any new structure contribute to the whole, while also being an outstanding work of contemporary architecture. The imposing concrete edifices of the National Gallery and the High Court dominate this precinct. Smaller, more precious, the National Portrait Gallery seeks to resolve a public presence and public role with the intimate, often domestic, scale of portraiture.
A series of linear blocks recall Griffin's intention to build alongside the national capital's axis. They house the primary working spaces of the building and are separated by open-ended corridors, with glimpses of location and landscape. Externally the building recalls traditional Japanese pavilions and scaled-up Glenn Murcutt works. Giant cantilevered concrete blades define the forecourt.
The building combines off-form and precast concrete, terrazzo panels, metal roofs, stone and timber flooring, rich timber accents, and relatively plain plaster backdrops for the display of art. A complex vocabulary is layered and understated. Considerable effort was made to resolve spaces and heights, and the acceptable admission of natural light. Kahn's top-lit Kimbell Art Museum in Fort Worth is a given reference.
The building, while a triumph in cultural terms and popular appreciation, is clearly too small for its public role, a reflection of contemporary governments' aspirations and budgets. Government probably never foresaw that this would be an attraction to rival the National Gallery and the War Memorial.
The portrait gallery is designed to be extended to the west in a series of pavilions, which may achieve a more substantial, permanent dimension and better integration with the park.
The building is an important addition to the capital, and reaffirms the necessary role of government in providing worthy public buildings.

Architect
Johnson Pilton Walker—directors in charge Richard Johnson, Graeme Dix; project architect Adrian Yap; project team Mark Berlangieri, Naigel Carusi, Andrew Christie, Andrew Clemenza, Andrew Daly, Monique Clark, Wayne Dickerson, Jorg Hartig, Meiling Honson, Mathew Howard, Dickson Leung, Timothy Osborne, Georg Petzold, Adrian Pilton, Duncan Reed, Roger To, Carlie Waterman

Acoustic, civil, fire and structural engineer
Arup

Electrical, environmental, lighting, mechanical and security consultant
Steensen Varming

Building surveyor
Advance Building Approvals

Communications consultant
Webb Australia

Cost and programming consultant
Provided by Commonwealth

Hydraulic consultant
Warren Smith and Partners

Vertical transport
Norman Disney and Young

Access consultant
Morris Goding

Food and beverage consultant
Sangster Design Group

Builder and construction manager
John Holland Group

Project manager
APP, for Department of Finance and Deregulation

Photographer
Brett Boardman


For further coverage see Architecture Australia vol 98 no 2, March/April 2009.
National Award for Public Architecture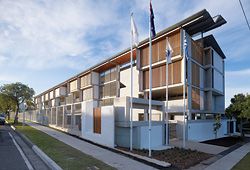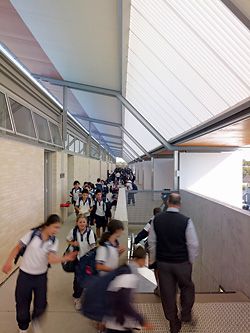 All Saints Primary School
Candalepas Associates

JURY CITATION
Sited on a gentle rise in Sydney's south-western suburbs, and across the road from its parent Greek Orthodox Church, All Saints Primary School is a robust educational structure, built to a brief that sought a hundred-year life.
In one sense it is a simple linear extruded form, but within that form is variety and interest and an appreciation of what will suit children and work for teachers.
Conventional teaching spaces are located over four levels reached from continuous external walkways to the west. On the upper levels the walkway and breakout areas progressively increase in width to provide, on the top level, a 5.5-metre open gallery or school street, sheltered by a sculptural angled roof clad in corrugated steel and polycarbonate.
The building has a subdued palette of concrete, white render, slim pale-coloured bricks, galvanized steel, timber slats and an occasional flourish of pearlescent glazed brick. Rendered masonry panels in terracotta hues form angled blades to the east elevation and provide sun and glare control while limiting overlooking of the neighbouring suburban bungalows. The building was built to a tight budget and in places is not finely crafted; however, the strength of the design and the robustness of the materials ensures a satisfactory result.
The building has high thermal mass, excellent cross-ventilation and rainwater storage.
Designed and built on a tight budget, the result is a very workable school on a restricted site, with a strong character and practical teaching arrangements. It has the intriguing playfulness one has come to expect from Angelo Candalepas. In a time of large government grants for school buildings, where haste is often taking precedence over a lasting legacy, the All Saints Primary School shows the virtues of considered design and offers an important model for schools on limited urban and suburban sites.

Architect
Candalepas Associates—design architect Angelo Candalepas; project architect David Tordoff; project team Evan Pearson, Andrew Scott, Stefano Bedetti, Andrew McCloskey, Martin Christensen, Thomas Hale, David Mitchell, Marco Damic

Structural consultant
OPUS International

Mechanical and electrical consultant
HBA Consulting Engineers

Hydraulic consultant
Whipps Wood Consulting

Landscape consultant
Taylor Brammer Landscape Architects

PCA
Steve Watson & Partners

Builder
Soz Developments

Photographer
Brett Boardman


For further coverage see Architecture Australia vol 98 no 4, July/August 2009.
National Award for Public Architecture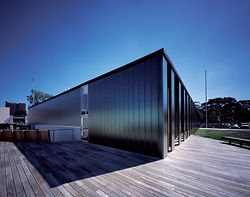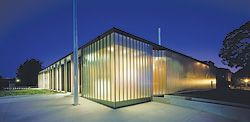 Monash Centre for Electron Microscopy
Architectus Melbourne

JURY CITATION
The Monash campus – typified by native plantings and brown brick – is the setting for this highly specialized building, created to house nine microscopes of the highest resolution.
The particularities of the brief required virtually nil vibration, absolute quiet and no interference from electrical fields. No lifts were allowed, nor fluorescent lights; airconditioning had to be low-velocity, with the plant located in a neighbouring building.
These considerations required complex construction solutions, all thoughtfully resolved in a building of quiet but accomplished character, with carefully modulated interiors providing a subtle sense of discovery. The accommodation is carefully arranged on several levels, with offices and meeting rooms on two sides, and with microscopes isolated in central chambers, all linked by ramps.
The interiors unfold as a succession of unusually proportioned spaces, with translucent walls of vertical glass planking admitting muted light, plus circular skylights, both giving an ethereal feeling to the circulation spaces, and providing, externally, a backlit volume at night.
The microscope chambers are clad in plywood. The building structure is largely timber-framed, as no significant or continuous metal elements could be used.
This was the most highly technical of the buildings inspected by the jury, and remarkable for its resolution and serenity. Externally, it is an understated and abstract temple form set on a grassy knoll. The architect has created a special spatial experience out of what could have been a standard research building, albeit one requiring very specific construction.

Architect
Architectus Melbourne—director in charge Peter Slifirski; design architect Peter Brew; project team Ruth Wilson, Mark Baldwin, Gernot Stick, Scott Jackman; contract administrator Nick Gammaldi

Landscape consultant
Oculus

Services consultant
Bassett

Civil and structural consultant
JMP

Acoustic consultant
Bassett Acoustics

Quantity surveyor
Davis Langdon

Building surveyor
McKenzie Group

Builder and construction manager
Walton Constructions

Photographer
Trevor Mein
National Commendation for Public Architecture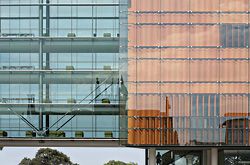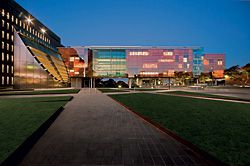 The University of Sydney Faculty of Law, Library and Teaching Complex Francis-Jones Morehen Thorp

JURY CITATION
The University of Sydney's historic core is now linked by a pedestrian boulevard to the newer Darlington Campus. The boulevard begins at the bronze-clad Fisher Library of 1963, and the new Law School adjoins it. Both were commissioned as symbols of the modern university. The new project comprises a substantial plinth containing the new law library, lecture halls and underground parking. Above, a vast, open terrace links the new boulevard to grand steps leading into the park, and alongside and overhead, pavilion-like elements house the faculty offices and other facilities.
This is a huge project and an impressive orchestration of accommodation, construction and innovation. The design reinforces the campus's axial planning and its above-podium forms – a floating composition of transparent and layered glass and timber elements – bring visual delight to the prominent site. A metal-clad light cone to the library provides a natural vent and a sculptural accent against the Fisher Library stack. Within the podium are attractively modelled lecture halls and seminar rooms and a very large library. The tower block contains well-resolved offices linked by a suspended glazed bridge (on the cross axis) for informal meetings.
The jury puzzled over some of the grand gestures, including the steps, which are yet to connect with Victoria Park and which preclude natural light and outlook to the library, and also queried the library's light cone, which logically would celebrate a special role. The elegant glazed facades and the smartly furnished interiors will require careful maintenance to retain their crisp presentation.
The imposing platform, with its framed views and refined superstructures, adds a worthwhile dimension to this part of the campus. The double curtain wall, in particular its adjustable scalloped plywood screens, represents an important innovation.

Architect
FJMT (Francis-Jones Morehen Thorp)—project team Richard Francis-Jones, Jeff Morehen, Johnathan Redman, Lina Sjögren, Alison Jones, Richard Desgrand, Christopher Bridge, Ian Brumby, Anthony Clarke, Nataly Ernst, James Feghali, Kate Grooch, Martin Hallen, Prudence Ho, Pei Katty Huang, Conrad Johnston, David Lam, Jason Luk, Phillip Ng, Vikram Mukherjee, Alexander Pienaar, James Sandwith, Daniel Schagemann, Bernd Schlinke, Samuel To, Richard Thorp, Karla Wilford

Mechanical, electrical, communication, av services and vertical transportation
Lincolne Scott

Structural consultant
Taylor Thomson Whitting

Hydraulic and fire services
Warren Smith & Partners

Facade engineer
Connell Wagner

Landscape
Jeppe Aagaard Andersen, Tinka Sack, Turf Design Studio

Fire and acoustic engineering
Arup

Quantity surveyor and code compliance
Davis Langdon Australia

Access
Accessibility Solutions

Environmental consultant
Advanced Environmental

Lighting consultant
Vision Design

Traffic
Halcrow MWT

Geotechnical engineer
Douglas Partners

Substation design
DEP Consulting

Irrigation
Hydroplan

Wind engineering
The University of Sydney Wind Engineering Services

Builder
Baulderstone Hornibrook

Project manager
Capital Insight

Photographer
Andrew Chung (top)
John Gollings (bottom)