The City of Melbourne's inaugural Public Art Melbourne Biennial Lab has launched, with performances and "activations" on display at the Queen Victoria Market from 17 to 23 October.
Following a two-week intensive artists' laboratory in June, eight experimental artworks curated by Natalie King come together under the title What Happens Now?.
The Melbourne Biennial Lab was convened by the City of Melbourne, with Claire Doherty, director of Situations, and professor David Cross of Deakin University.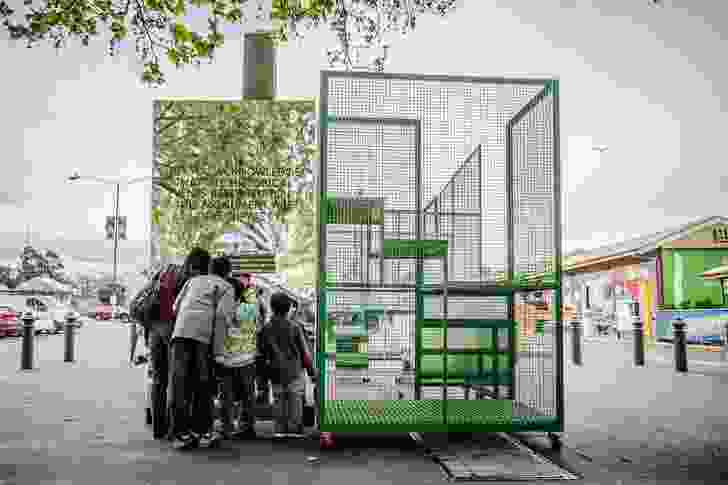 Architecture practice Sibling was one of the participants selected to exhibit.
Sibling's installation, Over Obelisk, is an architectural folly that surrounds the John Batman monument, built in 1881 and located on the north-east corner of the Queen Victoria Market. An inscription on the monument states that Melbourne was "unoccupied" prior to 1835.
A plaque was installed by the City of Melbourne in 1992 which "acknowledge[d] that the historical events and perceptions referred to by this memorial are inaccurate."
Sibling's installation asks: "What do we write on this monument today?" And "How do we talk about this monument?"
Printed on the physical installation in both the Woiwurrung language and English is the question: "Do you acknowledge that the historical events referred to by this monument are inaccurate?"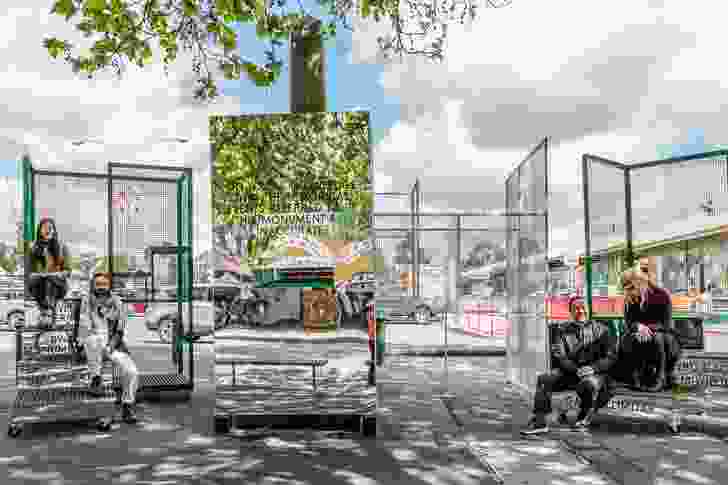 "Our project is not a proposal for a new monument: We wish to draw attention to it. The renewal of the market provides an opportunity to address its presence, and how we remember the past at the market, including the thousands of bodies beneath that are not as well marked as Batman, including Aboriginal burials," reads Sibling's design statement.
"A folly is a piece of architecture without a sense of purpose. We wish to infuse something that seems purposeless, or something that seems like a place making embellishment – seats – into something more meaningful."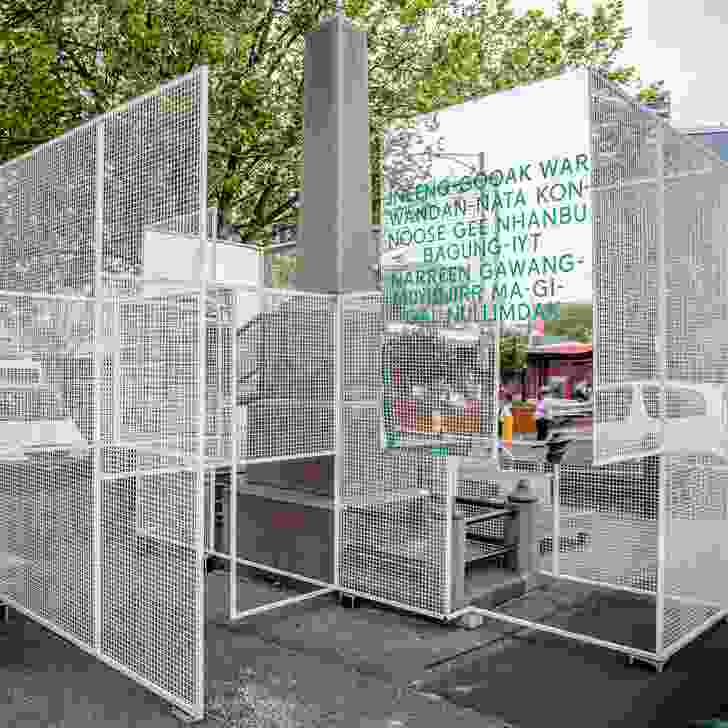 The installation comprises a series of frames that surrounds the monument. Two of the components or follies, which feature stair-like elements, can be separated moved to different locations around the market. The follies act as resting places, seating places and areas for discussion.
Sibling states the stairs represent "a domestic scale in a public space. This scale avoids becoming a spectacle, and makes any two users on it come into contact."
Other selected artists in the Public Art Biennial Lab are: Hiromi Tango, Kiron Robinson, Steven Rhall, Sanné Mestrom, Jamie Hall from The Mechanic's Institute, Isobel Knowles and Van Sowerwine from Isobel and Van, Jason Maling and Martyn Coutts from Field Theory, Will Foster from A Centre for Everything.
On 19 October, Sibling's Timothy Moore will participate in a free discussion at MPavilion with curators Khairuddin Hori and Natalie King about what makes the biennial lab so intriguing.
The Public Art Melbourne Biennial Lab program runs from 17–23 October. To view the full program visit the biennial lab website.
Related topics