One of the many memorable things Robert Venturi said was "Americans don't need piazzas, they should be at home watching TV." He could have been speaking about Perth. Perth is a classic case of sprawl radiating from a modern central business district. Despite now stretching 160 kilometres from top to bottom, much of the city's rapid growth continues to be suburban. For over a decade, governments have attempted to partially resist this growth by declaring at least 50 percent infill development targets. These targets have not been met, but where density has increased, so too has the realization that public open space must be well designed.
Over the past decade Perth has also become exceptionally self-conscious. About its image, about its global liveability ranking, about why bright young things tend to leave and, most notoriously, about how to shake off the "Dullsville" tag that its citizens regrettably assigned it in a pique of self-flagellation. Like other cities with self-imposed inferiority complexes, Perth sought counselling. The global nice guys - Jan Gehl, Charles Landry, Andres Duany, and most recently Fred Kent - have all appeared over the horizon and left us with one common theme: public space. As obvious as it seems, this message is revolutionary for a city that really only knows two kinds of space: the private suburban domain, and that which is provided by providence, namely the bush, the beaches and the river.
It would be too much to say there is now a wave of public space design in Perth, but there is definitely something in the air, and landscape architects should hold their noses higher. People across the sociopolitical spectrum (by now all well travelled) have developed a thirst for urbanity, along with the beaches, the rivers and the suburbs.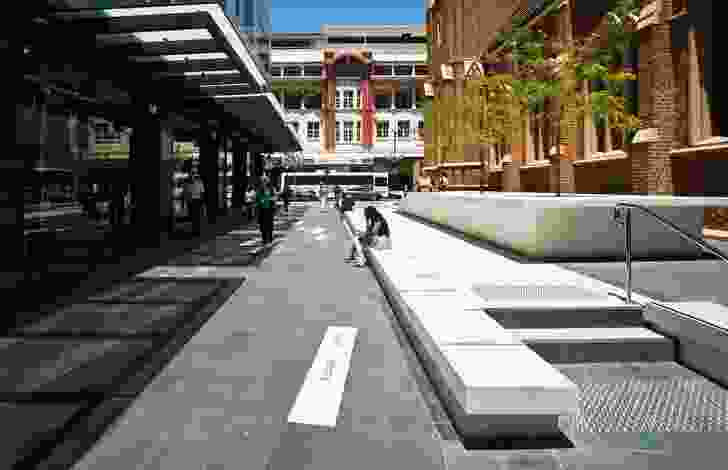 While we don't have a Kennett to kick a few heads and get big things done, we do have an inspired and open-minded mayor, Lisa Scaffidi, who along with her bureaucracy, the Perth City Council (PCC), is determined to bring the CBD to life. The East Perth Redevelopment Authority (EPRA), whose borders overlap with the PCC, also wants urban vitality and places a premium on design. It might not be your or my idea of design, but they are pushing hard for density and quality public space to match. The Department for Planning and Infrastructure and Landcorp (the state government development agency) are also keen to be involved in rejuvenating the CBD by increasing its residential population and turning soil on a new $3 billion waterfront. Architecturally, Ashton Raggatt McDougall will give the locals a fright when they open their new entertainment arena and Kerry Hill is putting the finishing touches on an elegant new theatre. We also have a government architect championing the vernacular, and the Urban Design Centre lobbying for more than New Urbanism. Added to this, almost every office in town has recently been sketching and exhibiting what they think should happen to a range of the city's sore points. Things other than digging up stuff and sending it to China are happening. They have to.
Adding to this momentum are a few noteworthy inner-city projects from the quiet profession: landscape architecture. Hassell has done some smart work around a new shopping precinct off Hay Street and the PCC has livened up Howard Lane, one of many it hopes to convert. The most notable landscape project of late, however, is the Northbridge Piazza. This project by the PCC received the WA AILA's highest award for 2009 and has been shortlisted for the Australian Urban Design Award, so is worth a closer look.
Designed by UWA alumni Julie Meehan, the 3,500-square-metre piazza sits right in the heart of Perth's night-life zone. This area is renowned for delinquency and real estate is not cheap, so the Council deserves to be congratulated for taking the risk of committing to quality public space. The design is interesting because it combines the classical idea of a piazza with a suburban park. The way in which these unlikely partners have been hybridized is the key to the project's success.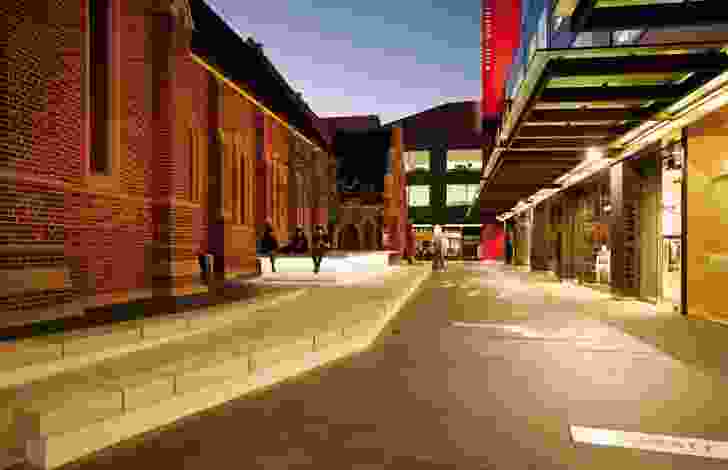 The roads that flank the project have been paved in fine Kimberley sandstone, the same as is used in the pedestrian zone, and the intersection is punctuated by a spectacular public artwork by West Australian artist Lorenna Grant. Together, the paving and the artwork effectively calm traffic, but the design also works on the principle that the roads can be shut down so the whole space becomes a piazza in the true sense of the term. Big events can be programmed under the glare of, you guessed it, a media screen. When not used for events the piazza functions as a pocket park by virtue of a swath of grass, a green wall, a few olive trees and some well-designed furnishings. Although south-facing, a cafe and community centre are integrated with the open space and add to the project's civility.
Northbridge Piazza has been carefully orchestrated to function at all times of day and night. The design's execution expresses genuine care and expense, and the public appears to be responding accordingly. Most importantly, the design's identity and function are clear. It looks and feels contemporary and urbane and it doesn't turn a sense of place into mere symbolism. Refreshingly, this project is a break with the usual repertoire of representation in so much West Australian landscape architecture. And even though the council, after a trip to Melbourne's Fed Square, insisted on materials such as the Kimberley sandstone, the essential clarity of the design has not been compromised by committee or risk assessment.
Indeed, this project is a little Fed Square and compared to Melbourne, Perth is a little city. But not for long. Increased density will produce many problems, but one thing we can look forward to as a consequence is an increasingly sophisticated culture of urban landscape architecture in the west. And by that I mean we can not only look forward to a higher level of craft, but also a higher level of originality. Venturi was right. Venturi was wrong!
Source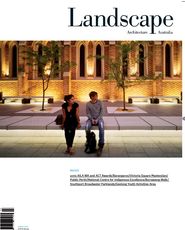 Issue
Landscape Architecture Australia, August 2010
Related topics