REVIEW PETER HOBBS PHOTOGRAPHY ROBERT FRITH
Review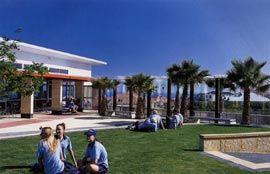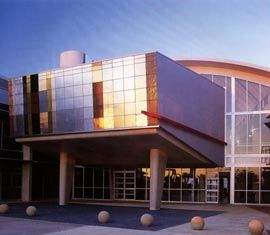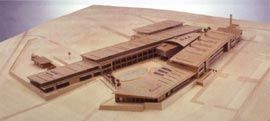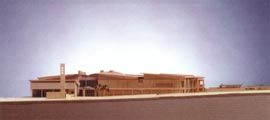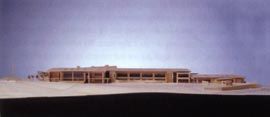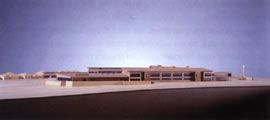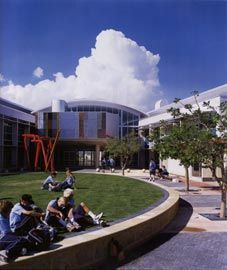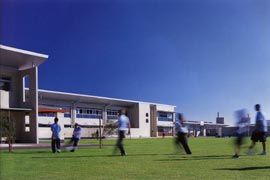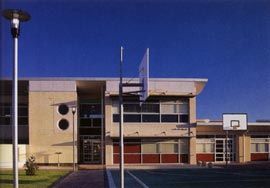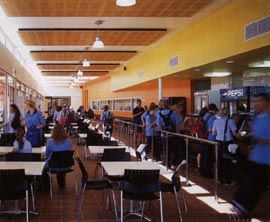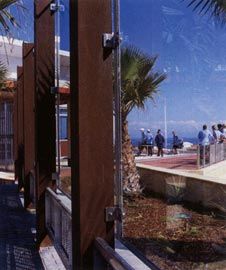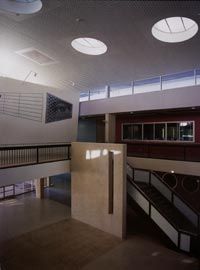 PERTH'S GREAT TRADITION of public works has been the backbone of Western Australia's built opportunity. A small population scratching out an identity on an infertile sandy plain has never had the critical mass to sustain grand projects, and architectural endeavour struggles against an overwhelming economic pragmatism and a cultural insecurity that places design at the bottom of most lists of priority. Even the boom times – the Gold Rush of the 1900s, the minerals boom of the 1960s and the short-lived fiasco of the America's Cup – produced glitzy stage-set buildings of puffed up self-importance rather than of any significant architectural dialogue.
The exceptions to this rather bleak architectural environment have been houses commissioned by urbane patrons, and a large portfolio of public works – schools, museums, libraries, hospitals and sewer pump houses. These buildings were welldesigned, well-built, and exude a sense of civic pride. Now, despite having dismantled the Public Works Department machine in favour of economically rationalized and outsourced design, the State Government is still a major procurer of buildings. Of all the government agencies, the Department of Education and Training, with a capital works budget of some $150 million a year, provides a staple for many architectural practices, and the opportunity for some old-fashioned, utilitarian, quality work.
Donaldson + Warn's Mindarie Senior Campus is one of WA's most recent public works, and is rightfully being hailed as the most successful in many years. Mindarie is beach-side suburb some 50 kilometres north of Perth city, at almost the end of the line of a corridor of sprawl arranged along the Indian Ocean. The windswept limestone heath land has gradually given way to an inexorable spread of Tuscan-inspired late-Federation housing stock. Recently though, Mindarie has begun to attain a sense of community, and with its reasonably priced land and superb beach lifestyle, it is a wonderful place to raise a family.
Arriving at Mindarie Senior Campus, a college for years 11 and 12, one marvels that the developers zoned such a magnificent site for the high school. Dick Donaldson, principal of Donaldson + Warn, admits that his first site visit during the tendering process inspired him to chase the job. The five-hectare site sits high on a limestone knoll, with extraordinary panoramic views west to the ocean. For most of the year, the climate is benign – glorious autumns and springs – while in summer the light is surgery-white and hot: most afternoons the sea breeze howls in. Winter is temperate but can get very, very wet. The air is clean with the smell of salt spray.
The accepted practice for masterplanning this kind of facility is to create a campus from a number of discrete buildings arranged around a sequence of courtyards and gardens. D + W have broken with this tradition in favour a single large building with two double-storey wings splayed around a central courtyard space and linked by a large double-height atrium entry. This decision to combine a number of learning areas in a single larger building reflects the current educational philosophy of encouraging seamless integration of learning across a number of curriculum areas.
One enters the atrium from the east. Arranged off this space are an administration area, performance studios and sundry other teaching spaces. Internal first floor balconies overlook the vaulted atrium, giving it a bustling souk-like character. D + W have combined the entry space with the area normally briefed for a covered assembly area, allowing the creation of a grand space that can double as a school and community meeting space. At the western end of this space, a seminar room pod, supported by beautifully cast concrete struts, creates a portal to the courtyard beyond.
The school's basic circulation pattern emanates from the atrium, with ground and first floor corridors arranged overlooking the central courtyard. The architects have cleverly integrated these corridors into a series of learning niches and anterooms that allows these normally unbriefed areas to have a real usefulness. This move subverts the normal way of reading a school – a series of classrooms off a circulation space – and makes the corridors places of learning and interaction. The wonderful views from the corridor windows, and pieces of built-in furniture, ensure these spaces are fun to meet in and chat. Teaching spaces have been designed as an assortment of different sized and shaped rooms that can be combined or separated to suit class size. This spatial customization gives both teachers and students a sense of ownership and control over of their environment. The interiors are crisp and light, with large wall of vibrant colour adding some fun, while plywood acoustic panels float below and add warmth to the ceiling plane. Nautical references abound, with round port whole windows being worked into all manner of place, stairwell walls, skylights above, and an intriguing piece of installation art that videos the ocean beyond and projects a circular image high on a wall in the atrium space.
Externally, the building tiers comfortably down the deceptively sloping site. Materials have been selected for their ability to withstand the coastal conditions, and combine a robust structural system of precast limestone-coloured concrete fin columns with a curtain of anodized framing of glass and compressed sheet walling. Vertical circulation is expressed on the outer walls; brick stairwells with inset concrete panels contain view framing picture windows. Coloured glass spandrels create dado horizontal bands. The ground floor glass colour is brown ochre, while the upper floor is coloured a deep blue.
Donaldson is un-apologetic about the symbolism of these colours: brown for the earth, blue for the sky. Throw-away lines, perhaps, but they work to provide a nice sense of horizontality in contrast to the expressed vertical structural elements. External walkways connect lightly to the building, and have been detailed as floating pergolas rather than attached verandahs.
Donaldson explains that, on a formal level, his work investigates notions of transparency, layer and plane. Wherever possible, he has maximized visual distances creating as sense of space and lightness. Long vistas looks through and beyond a series of filtering layers, glazed classroom partitions, corridors, and external walk way. The construction system reinforces this notion, with building elements being carefully articulated and assembled into a composition of plane and frame. The overall effect is of a rich and textured building that while large and impressive has a complex surface of a tangibly human scale.
The landscape treatment of the central courtyard is sophisticated, Donaldson and public art specialist Stewart Green have squeezed maximum value out of the government's "A Percent for Art" requirement by integrating Green's sculptures successfully into the fabric of the building. A large red, twisted steel sculpture provides a dynamic centrepiece to the courtyard, extends up and attaches itself the building then continues into the interior of the atrium. Green also devised a mixed-metal cladding for the inserted auditorium pod – burnished squares of stainless steel, brass copper and zinc are arranged in a metal mosaic that captures the western sun and blazes brilliantly as it sets.
At the western end of the courtyard, the D + W team has designed a beautifully detailed freestanding glazed screen supported by rusty weather-resistant steel stanchions, that deflects the prevailing sea breeze while maintaining a view to it. Within the space, furniture that could be art provides opportunity to chat and mingle.
D + W has achieved environmental sustainability with sensible and innovative ideas.
The wings of the building both run generally east west, allowing suitably shaded solar gain from the north, while arranged the more light sensitive areas, especially computer rooms to the south sides. On the vexed issue of on-screen reflections versus light and airy spaces, Donaldson considers it more important to create a space that makes you want to study than one that has perfect conditions for the computer screen. The most innovative environmental aspect of the building is the large air scoops on the roof that funnel fresh air down to the ground floor.
Donaldson talks about the educational aspects of the building with a commitment that explains why Mindarie Senior Campus has been hailed as the leading example of its kind. Designed for 15 to 17 year olds, Donaldson challenges our memory of school as contained classrooms where the drudgery of learning was an endurance test between each school bell. At Mindarie, the school canteen is now an Internet cafe – more cappuccino than coke – which sits side by side with the school library, and has been set up so that the general community can use it after hours. The school gym is not a "gym" but a "fitness centre" – a small touch, but one that connects the student more with their future adult life than their past child one. Anecdotal evidence from teachers, students and parents support this, all confirming that the spaces are so pleasant that students consider the school a hip place to hang out. It is the kind of building that gives architects a good name.
PETER HOBBS IS AN ARCHITECT AT JCY ARCHITECTS IN PERTH.
Project Credits
MINDARIE SENIOR CAMPUS
Architects Donaldson + Warn—project director Dick Donaldson; project team Dick Donaldson, John Sunderland, Nicole Francois, Jeremy Feldhusen, Mark Giles, Michelle Hon, Niall Browne, Sara Beeck, James Webb. Model maker Bradley Day. Structural engineer Capital House Engineering. Electrical engineer CCD Australia.
Mechanical engineer SMW&C. Hydraulic engineer Hydraulic Design Australia. Landscape Blackwell & Associates. Quantity surveyor Ralph & Beattie, Bosworth.
Environmental Gabriels Environmental Design. Time planner D.W. Kolagow and Associates. Artists Stuart Green, Rick Vermey, Mark Datodi, Anne Neil. Loose furniture Duro Consultancy. Builder Doric Construction.
Project Manager Department of Housing and Works (WA).
Client Department of Education and Training (WA).