Back in the 1960s, the Sebel Townhouse injected a dose of high glamour into Sydney's Kings Cross. Architects Lipson and Kaad designed the hotel and everyone who was anyone stayed there, dined there and partied there through to the late 80s. Since its transformation into luxe apartments, there hasn't been an Australian hotel that has claimed an international reputation as the entertainer's destination of choice.
By contrast, New York boasts the likes of the Mercer, outside which Karl Lagerfeld saw indie musician Cat Power sitting on a suitcase smoking and decided on the spot to cast her in a Chanel campaign. Los Angeles has the sleek Mondrian, the legendary Chateau Marmont and others that all teem with famous faces. Buenos Aires has the Philippe Starck-designed Faena, whose corridors are lined with framed, signed images of its many celebrity guests.
Now Sydney's QT steps into the spotlight to vie for its slice of the action and attention. Since opening in September 2012, QT Sydney has lured Twilight star Robert Pattinson for an extended stay and is courting talent from parent company AHL's film and music industry contacts. While occupancy rates are yet to spike, the in-house Gowings Bar and Grill, along with the cocktail lounges and parlour spaces, are already magnets for young creative and entrepreneurial types.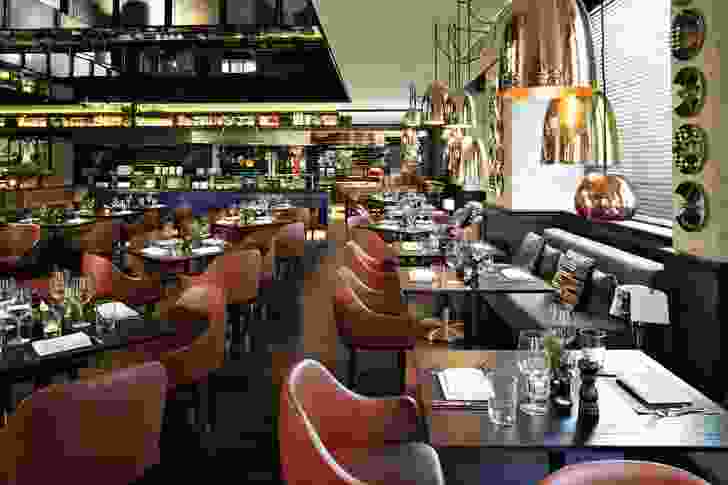 This QT hotel is the third on which AHL and Sydney interior architects Nicholas Graham and Associates (G+A) have collaborated (the others are in Port Douglas and on the Gold Coast) and presented the challenge of integrating modern interiors into the upper floors of two CBD heritage buildings – the Gowings Building and the State Theatre. Both opened in 1929, with the Palazzo-style Gowings becoming one of the most famous department stores in Sydney, and the baroque-Gothic-art-deco State Theatre building remaining a Sydney icon for more than eighty years.
AHL CEO David Seargeant's investment in QT Sydney goes well beyond signing the $65 million dollar cheque for the refurbishment of the Gowings and State Theatre buildings into a two-hundred-room establishment. Staying in leading design hotels on his travels, such as those of the US-based SLS Hotels chain, made Seargeant realize there was a gap in the market for a true design hotel experience in Sydney.
In essence, the scheme for QT Sydney involved thoroughly restoring the exteriors of the two heritage buildings and reworking the interiors to celebrate their respective histories, embrace new technologies and showcase contemporary art and cutting-edge design. Project architects Woodhead worked closely with heritage consultant Jonathan Bryant from Graham Brooks and Associates, and G+A took up the challenge of designing all of the public spaces, bringing to bear its experience on QT Gold Coast and W Hotels in Hong Kong and Shanghai.
Architect Shelley Indyk, director of Indyk Architects, led the interior design of the rooms and suites. Her practice has reinvigorated some of Sydney's notable bars and pubs, including Green Park and the Darlo Bar in Darlinghurst.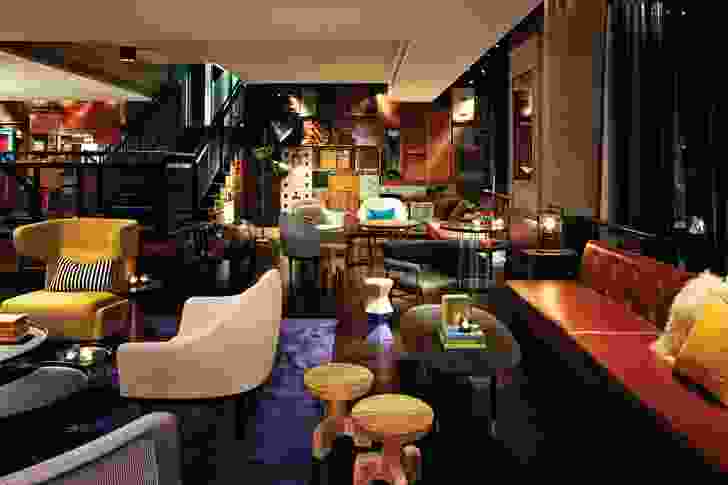 Indyk researched both buildings and created an approach and palette to suit the character of each. The rooms in the former State Theatre building, with its theatrical feel and history as Australia's first vertical shopping arcade, are more flamboyant. In contrast, the Gowings rooms have more of an understated masculinity and reference the many artisans who ran their businesses above the retail floors. There are nods to them in the use of bowler hats as light shades, chalk-stripe fabrics and Rothko-inspired woven rugs that reference the work of tailors. Bespoke pieces and displays of cut crystal tie in with the building's art deco elements.
Unlike most hotels that maximize cost efficiencies by adopting a cookie-cutter look for each room type, the rooms on each of QT Sydney's floors are individually designed and styled. Repetition only occurs in columns. The net result is that visitors could stay at QT more than a dozen times and always have a different style of room.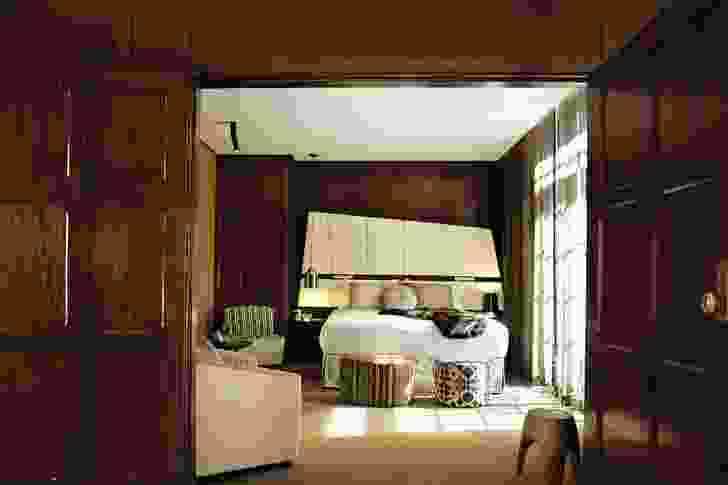 Art plays a big part in adding to the design. Indyk decided on three-dimensional works, and the collection, curated by art consultant Amanda Love, includes steel wall sculptures by Morgan Shimeld, video art by Grant Stevens and line works by Richard Blackwell. The scale of the artworks increases in the public areas – see the LED wall at the entry of Gowings Bar and Grill that plays Daniel Crooks' time-lapse video art.
Innumerable details are testament to G+A's seriously playful aesthetic, which adds a contemporary twist to the sense of stepping back in time. It is evident in the arcade shopfronts traced with a brass inlay seam in the Queensland maple floors, and in the reinstated gargoyles and original Gowings signage on the building's exterior. The foyer features an installation by Swedish artist Michael Johansson, who has composed an entire wall of found objects, doors, desktops, window frames, lockers and signage elements, all sourced from within a three-kilometre radius of the hotel.
It might take some time for it to develop its celebrity associations, but like any good starlet on the rise, QT Sydney has certainly made a bold entrance.
Products and materials
Walls and ceilings

Heritage stucco work and green encaustic tiles in ground-floor cafe. Custom graphics by Fabio Ongarato Design, custom handpainted wall murals by Will Lyons and custom timber panelling, all in mezzanine day spa. Custom timber panelling, heritage stucco work, flocked wall panels, raw walls unfinished with exposed brick, custom French wash finish by The Painted Image and LED artwork by Daniel Crookes in reception, members bar and restaurant areas. Gowings Bedroom walls painted in Dulux Wash and Wear 'Lexicon' half-strength and 'Homebush'. State Theatre rooms painted in Dulux Wash and Wear 'Lexicon' half-strength and 'Lahar'. Gowings hallways painted in Dulux Wash and Wear 'Homebush'. State Theatre hallway walls painted in Resene 'Space Shuttle'.
Windows

Steel-framed pivoting internal windows on level three. Timber venetians and red velvet curtain by Simple Studio. Bedrooms use Yamia and Web fabric window sheers and block out curtain in Shield fabric by Zepel, all manufactured by The Emporium.
Doors

Oak framing with dark stain. New timber doors with bronze Ving Card harware used in Gowings rooms. Doors painted in Resene 'Space Shuttle' with chrome Ving Card harware in State Theatre rooms. Bathroom door hardware by Madinoz.
Flooring

Existing mosaic floor restored in ground-floor cafe. Terrazzo floor reinterpreted with Forbo Marmoleum in mezzanine. All other floors are ironbark with dark stain. Rooms use heritage timber floors, custom rugs designed by Indyk Architects and manufactured by Brintons.
Lighting

Lighting by Roll and Hill, Hub, Golightly, Tom Dixon and Dunlin Home. Custom lighting by Nick Glasson at Nocturnal Lighting. Rooms use lights from Euroluce, About Space, Tecnolumen and UEL.
Furniture

Vitra, Stellar Works, James Richardson, Industria X, District 8 and Mezai furniture. Rooms use custom furniture by Indyk Architects and furniture from Yazz, Exhibit, Fashion For Home, Made in Design, Space Furniture, Mark Tuckey, Rocket St George, Anthropologie and Hub Furniture.
Joinery

Rooms have bathroom glass cabinet, built-in joinery, wardrobe, bedheads and desk wall stand designed by Indyk Architects and manufactured by Classique.
Bathroom

Roca basins. Astra Walker tapware. Rooms use vanity tables by Nefiko Marble, and bathroom accessories by Abey, Studio Bagno, Rogerseller and Skheme.
Other

Michael Johansson installation in reception. Jane Frosh installations in ground-floor display cases. Jacqueline Cleyton scientific glassware installation in mezzanine heritage shopfronts. Will Lyons handpainted period murals throughout. Bedroom artworks co-ordinated by Indyk Architects and Artduo, including Morgan Shimeld wire sculptures and Richard Blackwell laser cut artworks.
Credits
Design practice
Project Team

Nic Graham, Matt Nadilo, Gen Hromas, Nadine Hassan, Shelley Indyk, Christine Correard, Johan Van Arkel, Bjorn Dannenmaeir
Design practice

Indyk Architects
Paddington, Sydney, NSW, Australia
Consultants

Art consultant Amanda Love
Builder Built
Engineer Enstruct Group, Arup Sydney
Graphic design Fabio Ongarato Design
Lighting Point of View
Project manager Built

Site details

Location 49 Market Street, Sydney, NSW, Australia
Site type Urban
Category Interiors, Public / commercial
Type Adaptive re-use, Commercial, Hospitality, Hotels

Project Details

Status Built
Design, documentation 12 months
Construction 12 months

Client

Client QT Sdyney
Website qtsydney.com.au

Source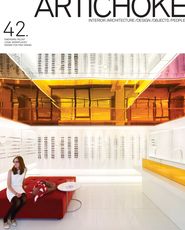 Issue
Artichoke, March 2013
Related topics