Houses are like time machines. They ebb and flow with the moments in our lives. They offer respite from the day, a sense of promise for the future and the security of belonging. When it comes to renovating older houses, much of any project is dedicated to making daily life run more smoothly. Improve the spaces, improve the light and ventilation, improve the functionality, and the quality of life improves with them. Le Corbusier's suggestion that a house be a "machine for living" is writ large in a project like Queens Park House by Fox Johnston.
The architects came to this project via mutual friends. Their clients had long lived in a tree-lined street near Bondi Junction shopping centre in Sydney. It's an area of easy amenity for a fast-growing family with two young children and another on the way. "When this larger neighbouring house came up for sale, they were determined to buy it despite its derelict state," notes principal Conrad Johnston.
Fortunately the structure was sound, with the solid bones that favour major alterations and extensions. The couple resolved to tackle their renovation in two major phases. Approximately six years ago they engaged Fox Johnston to consolidate and refine the existing dwelling so they could live in it while plans for the contemporary addition could be developed and channelled through the local council's protracted development application approval process. From the outset, the approach was to create a practical and inviting family home in which a series of flexible spaces could adapt to diverse uses over time.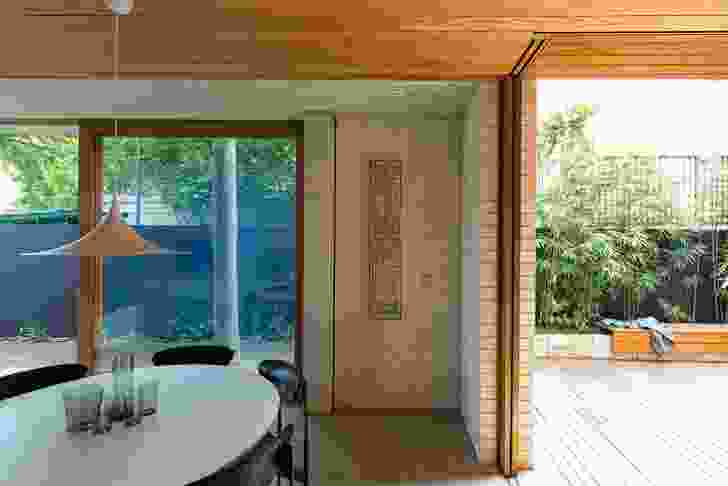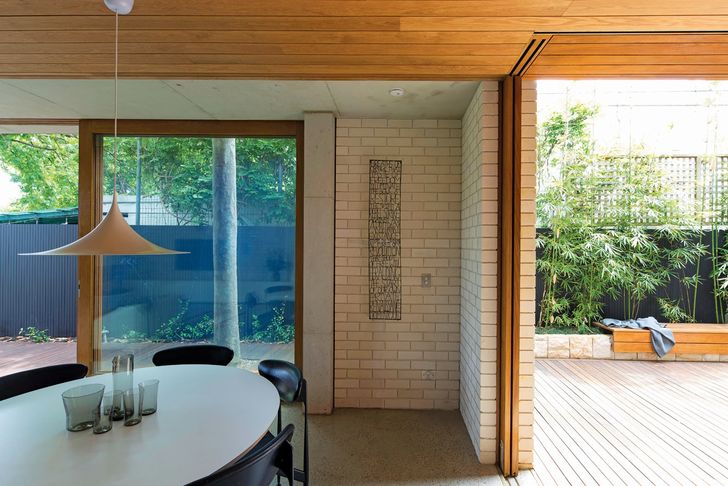 When it came to conceptualizing the extension, the deep and sloping block presented Fox Johnston an opportunity to work with split levels. The new space has been orchestrated to provide a generous kitchen, dining and living area downstairs that flows into a side courtyard and lush garden, and a parents' retreat complete with walk-in robes, an ensuite and a studio upstairs. Beyond the garden, above the garage, Fox Johnston has tucked in a guest retreat that can be accessed from a rear lane. Its timber-clad window peeks up above its green roof to draw in light and air. This space could easily accommodate a nanny or visiting grandparents, and will quickly transition into the kids' hideout as they grow into teenagers.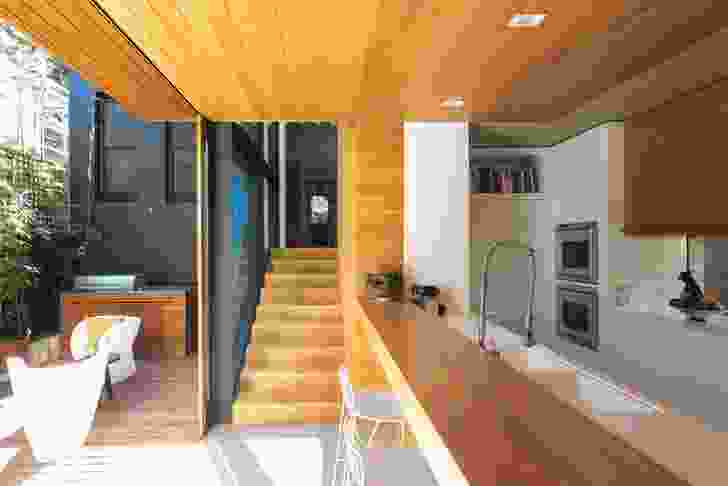 A small, north-facing internal courtyard announces the junction between the old and new buildings. From the entrance corridor, vertical timber batons signal a bold approach to the modern open-plan living zone beyond. The material palette changes as soon as you step into the stairwell, which is crafted from American oak. White brickwork and exposed concrete floors are complemented by the rich blonde timber. These materials were chosen for their robust structural qualities and durability. There is a strong textural interplay between each, and the timber adds warmth and character to the clean lines that define the volume.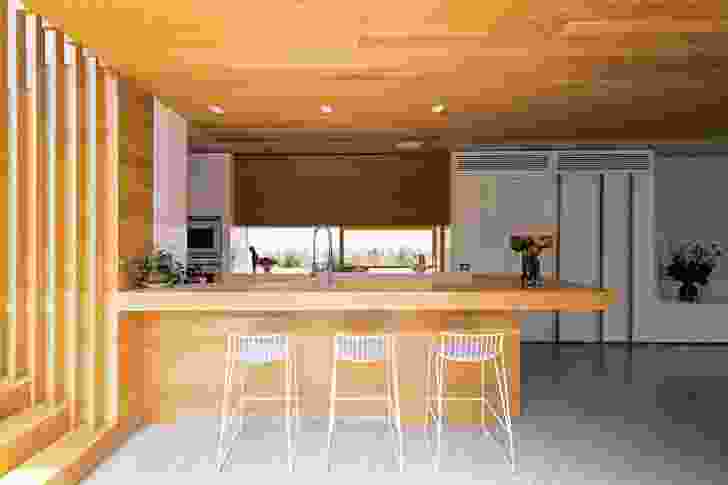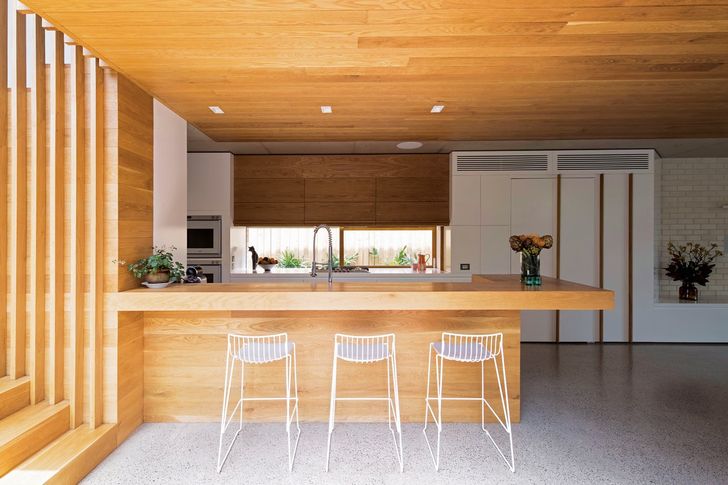 Given the east–west orientation of the property, Fox Johnston programmed the bulk of the extension to open up to the north and into the garden at the western end. Sliding glass walls open into a courtyard space complete with a built-in barbecue and alfresco dining area that extends the kitchen zone into the outdoors. Deep overhangs protect the recessed glazing from the heat of direct afternoon sun. Native plantings and large established gum trees frame the garden views and provide additional shading. The effect is akin to that of being transported from inner-city suburbia to a woodland glade. According to the owners, connecting indoors and outdoors so seamlessly has been the key to making the home
fully functional.
Energy efficiency further enhances both form and function. "We also made a conscious decision to orientate the new addition to ensure optimum light and ventilation were achieved throughout the house – hence relying very little on artificial heating and cooling," explains Conrad. The extension utilizes the thermal mass of the concrete slab to moderate extreme temperatures. To supplement this, the existing house is retrofitted with radiator units that run off a central boiler that also controls the underfloor hydronic heating and domestic hot water. The stair void vents hot air through temperature-controlled mechanical exhaust fans. Large doors on the lower level are fitted with sashless windows that allow cool air from the garden to be provided as make-up air inside. All fenestration utilizes performance glass, and large tracts of glazing are provided with overhangs to prevent heat load.
Upstairs, the main bedroom is planimetrically expressed as a timber box that slots in place to line the ceiling of the downstairs living area. "This device allows us to have the polished ground slab, softened by the timber ceiling above, which is complemented by timber joinery, wall cladding and stairs," Conrad says. The articulated volume is wrapped in a detailed concrete carapace that has been carefully sculpted to minimize bulk and the overshadowing of the neighbour to the south. Its longitudinal window, slatted timber screens, niche window seat and generous balcony make it a perfect platform for relaxing in the treetops.
After its two-stage renovation, this house impresses as an expansive solution that elegantly and efficiently meets the changing needs of a young family.
Products and materials
Roofing

Klip-lok roof decking in Colorbond 'Monument'; Bradford R4.0 ceiling batts.
Internal and external walls

Woodform Architectural Expression cladding in Intergrain Ultradeck clear finish; Austral Bricks Charlais Creme brickwork; off-form concrete; painted plasterboard.
Windows and doors

Custom-made Victorian ash timber windows with Intergrain Ultradeck clear finish by J Toskas Joinery, with Viridian glazing; Centor door hardware.
Flooring

Polished concrete floor; American white oak timber floorboards with Whittle Wax Treatex Traditional finish; existing Baltic pine floorboards, sanded and repolished.
Lighting

Artemide Surf uplights; LA Lounge downlights and wall lights; Groppi LED Is More pendant from Euroluce; Gubi pendant from Corporate Culture.
Kitchen

Gaggenau oven; Miele dishwasher and cooktop; Qasair rangehood; Electrolux fridges; Corian and American white oak benchtops; Blum joinery with 2-pac polyurethane and timber veneers.
Bathroom

Rogerseller undermount sink, taps and shower rose; Grigio Argento wall and floor tiles, honed, and Bisazza mosaics, white, from Surface Gallery; custom-made American white oak joinery by Constantain Kitchens.
Heating and cooling

Edmonds Ecopower fan; Urban Energy hydronic heating.
External elements

Woodform Architectural decking; custom polished concrete pavers.
Other

Moroso Bloomy and Phoenix tables, Gan Mangas rug, and assorted glassware, all from Hub Furniture; B & B Italia Charles bed and sofa and Eames dining table from Living Edge; Falcon chair; custom joinery by Constantain Kitchens.
Credits
Architect

Fox Johnston
Surry Hills, Sydney, NSW, Australia
Project Team

Rana Abboud, Conrad Johnston, Emili Fox, Felix Junker, Zara Lyons
Consultants

Builder Ellis Constructions
Engineer SDA Structures
Landscaping 360 Degrees Landscape Architects

Site details

Location Queens Park, Sydney, NSW, Australia
Site area 436 m2
Building area 230 m2
Category Residential
Type New houses, Residential

Project Details

Status Built
Design, documentation 12 months
Construction 112 months

Source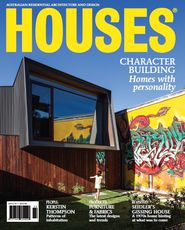 Related topics