Queensland architect Stephen Trotter dies, aged 84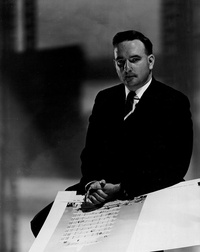 Stephen Trotter, a former partner and director of Queensland architecture practice Fulton Trotter Architects has passed away on 30 July 2015, aged 84.
Trotter joined the practice, previously known as Fulton Collin Job in 1951 and was made a partner in 1962. He designed some of Queensland's most iconic and enduring buildings including International House and Schonell Theatre at the University of Queensland, Tower Mill Hotel, Twin Towns Services Club and Club Banora.
In 1962, Trotter was awarded the national Sisalcraft travelling scholarship which he used to spend three months in subtropical regions of the world to develop knowledge relevant for the vernacular of Brisbane. His study tour culminated in the report, Cities in the Sun, published in 1963, which detailed energy efficient and environmentally friendly design methods that were better suited to Queensland's climate than the prevailing European styles emerging in Sydney, Melbourne and Brisbane.
Climate, geometry and innovative construction techniques were the hallmarks of Trotter's architecture.
In addition to practice, Trotter was a lecturer at the Queensland Institute of Technology (now Queensland University of Technology) for 19 years. He was also involved with the Queensland Chapter Council of the Australian Institute of Architects with a particular interest in architectural education.
In 1999, Trotter retired from practice and in 2012, he was awarded a Life Fellowship by the Institute for his five decades of contribution to Australian architecture.
Trotter's legacy carries on through his sons, Mark and Paul Trotter who are current directors of Fulton Trotter.