Queensland's Department of Housing and Public Works has begun a program to deliver 20 social housing demonstration projects across the state designed by award-winning architects.
The projects are an extension of the Density and Diversity Done Well ideas competition, conducted by the Queensland government in 2017, which sought new housing ideas for types of dwellings described as the "missing middle" – between that of high-rise, high-density living and free-standing suburban house.
With substantial landholdings in middle ring suburbs, the Department of Housing and Public Works considers its social housing program a "key influencer" of missing middle development. At the end of 2018, the state's housing minister Mick de Brenni announced the department would deliver 20 social housing demonstration projects to be designed by architects from the private sector.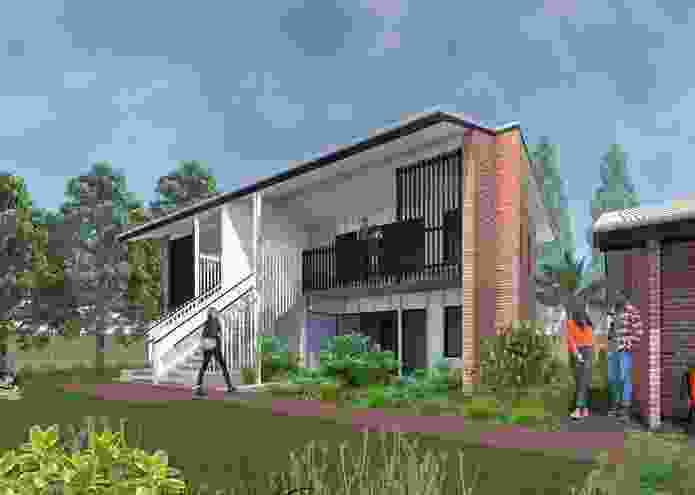 A number of the practices chosen for the first designs had developed winning and commended schemes in the 2017 competition. All of the designs for the demonstration projects are required to respond the original challenge of the competition: "to be a good neighbour and to create good neighbourhood."
To date, four projects have been designed, including seven dwellings in Southport by Anna O'Gorman, multi-unit complex in Labrador by Cox Architecture, a youth shelter project in Hervey Bay by Push Architecture and a multi-unit complex in Ipswich by Conrad Gargett.
Another six practices – Gresley Abas, Arkhefield, Vokes and Peters, KO and Co, Bligh Graham, and M3 Architecture – have been engaged to develop schemes and ideas that are in early stages or awaiting the right development-ready sites.
Architects for the remaining 10 projects will be selected through an open tender expressions of interest process.
The department will use the lessons learned from the first 10 demonstration projects to develop new guidelines for social housing.