Woods Bagot has been appointed to lead the architectural, interior and branding redesign of an 82-year-old former textile mill in the Chinese city of Xi'an.
The redesign will see the 65,000-square-metre space reborn as a retail and entertainment centre divided into six "workshops" that will offer distinct experiences. The "amusement workshop," for instance, will initially feature the Cirque du Soleil, while the "power workshop" will be home to sporting goods stores.
The redesign comes after a previous renovation of the complex by Chinese practice Land-based Rationalism D. R. C. in 2014.
Established in 1935, the cotton mill was the largest in Shaanxi province, employing 3,000 workers at its peak. It was bombed out of production in the winter of 1939 during the second Sino-Japanese War.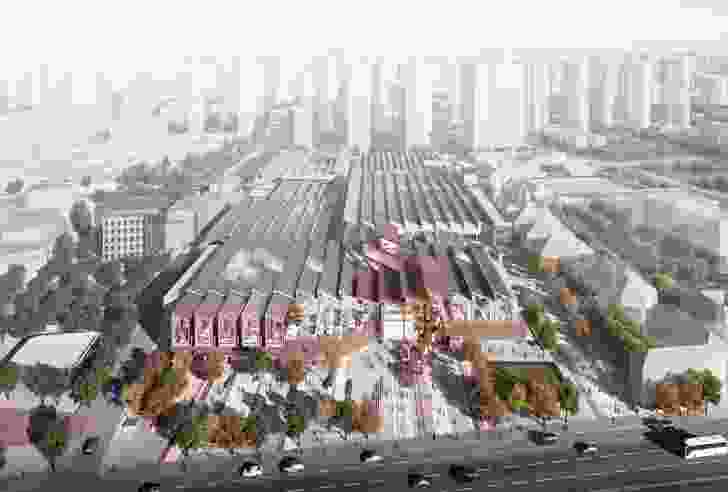 The design will follow a "line" theme – the word in Chinese is "xiàn," which is similar to the name of the city.
In a statement, the architects said the word "references the efficiency of the traditional linear, grid-like layout of the textile mill itself, a collection of buildings and courtyards that provide exciting possibilities for zoning and navigation."
The theme will also be expressed in a series of "string and line-formed art and sculptures" across the site.
Ian Png, principal at Woods Bagot, said the design would respect the heritage fabric of the complex.
"These historic buildings already have their own story to tell. We want to let them speak for themselves and then build on that story by writing the next chapter," he said.
"Our design binds together old and new and turns conflict into dialogue, creating vitality from contrast. When it's complete, Dahua 1935 will set the bar for retail-led historic renovation projects in China and create a world-class retail and entertainment destination for this vibrant city."
Related topics