The new Rail Operations Centre in Alexandria, in Sydney's south, recently completed by Jacobs and Smart Design Studio, centralizes rail operations from multiple Sydney locations in one room, making incident responses more efficient, collaborative and personal. The ROC, as the building is known, recalls a little bygone grandeur to make a public architecture of rail infrastructure.
For an architect, the first observation of ROC's huge red-brick arches and tie beams, and its geometric monumental singularity, might echo Louis Kahn's National Assembly Building of Bangladesh, with its geometric shapes, or the deep offset facades of his Exeter Library. But for the rest, it reflects the architecture of infrastructure: bridges, viaducts and tunnels from Cronulla to Lithgow in brick from the State Brickworks. These touchstones are made familiar by daily commutes, walks to school or footy in the park. Aldo Rossi, in his autobiography, wrote, "I could ask myself what 'the real' signifies in architecture. For example, might it be a dimensional, functional, stylistic, or technological fact? … But instead I think of a certain lighthouse, of a memory and of summer." 1
Architecture is a spatial artform, its experience choreographed and anchored in our senses. But the experience of architecture is also entwined with our prior knowledge and memories of the world. Memories are idiosyncratic and personal; they can be acute or erratic, fading or vibrant; they can summon a smile or a hot flush of shame. Memories and knowledge conjure associations as the mind seeks to make meaning. Our experience of architecture is cognitive just as it is visceral. ROC is a materially dense building, heavy and monumental, but it borrows from memory for an architecture that creates a narrative of associations.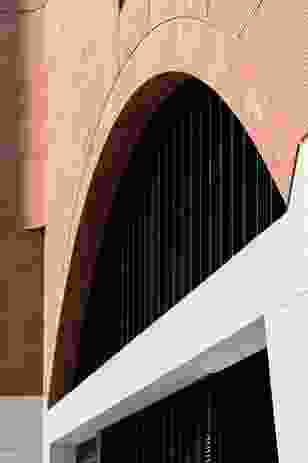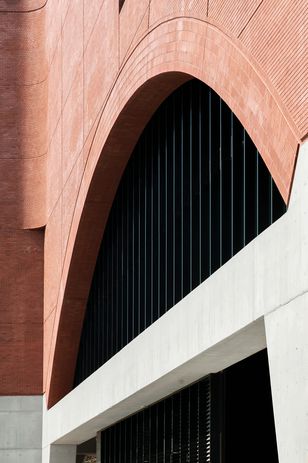 Approaching the building, I'm struck first by the scale. It's not tall; instead, its presence is in its mass. The general arrangement is top-heavy because the control room (the building's central function space) was required to be clear span and top-lit, with few windows. The resulting stack puts the control room at the top and rear of the building, with offices, ancillary staff spaces and reception below.
There is necessarily a lot of wall. Smart Design Studio was primarily responsible for the facades after winning a design competition to join the project team. The facades are almost entirely red brick, with concrete tie beams, abutments and a single arch on each of the two visible sides. ROC's arches are glazed, recalling Louis Sullivan's National Farmers' Bank of Owatonna in Minnesota – the first of his "jewel box" banks. But with black mullions and dark glass, this Australian version recalls the Harbour Bridge. It's possible for architecture to be more than one thing at a time, to contain more than one idea, or even opposing ideas. Architecture is both local and international. Its context is both immediate and reaching into time and culture.
The brick arches are sleeves for post-tensioned concrete beams. Above, the facade is striped by expansion joints, composed as if from huge voussoir stones. Slot windows are cut as needed to provide views from the control room. The composition resists articulation as a doctrine of acceptable urban form, its singular monumentality signifying its status as public architecture.
ROC will become a frame of reference for the future development of this area, which is undergoing rapid transformation. It provides a new context for local character. New does not have to mean generic, infrastructure does not have to mean utilitarian, local does not have to mean common. The city will grow up around ROC. Where there are now single-storey brick warehouses, multi-storey apartments and office buildings will soon define the scale and character of the area.
ROC's ground floor and street address are trying to be generous but the security requirements for critical infrastructure don't make it easy. Heavy barriers against attack frustrate true engagement with the street. Level changes negotiated by ramp and stair, combined with a deep undercroft, create a sense of ceremony but not a particularly welcoming one. The tall slots over each corner draw the eye up, offering a reason to crane your neck (a perpetual habit of architects), and denote a form of public address.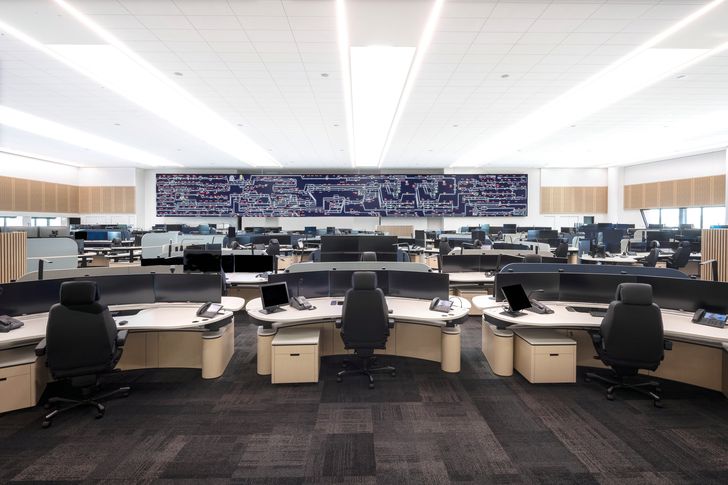 The ground-floor crash barriers, steps and paving are all in Bowral Blue bricks, their dark patina a contrast to the red brick above. Bowral Blues are so familiar to Sydneysiders as to be virtually invisible, but they are peculiar to the city and contribute a great deal to the character of the inner-city suburbs. Once, styles and technologies of architecture around the world were defined by locality; materials, skills and methods were refined by responding to place. The deep history of Indigenous built environments is evidence of this, but even in Australian colonial history, we can see regional difference. The taught timber of the Queenslander, the parsimonious masonry of South Australia, the sunny sandstone of Sydney and the sombre bluestone of Victoria – these materials made buildings that were literally of a place, created from the same dirt in which they were founded. The contemporary globalization of industrially fabricated materials creates a kind of common denominator for architecture.
ROC's bricks memorialize local industry and neighbourhood character; the finest brick clays were once mined nearby and fired by companies such as Bedford Brickworks, Warren, Carrington, St Peters and City Brick. In time, all these were owned by another local, the Austral Brick Company. Locally sourced material and industry baked the character of the city into the buildings. ROC's bricks were laid by local firm Favetti. ROC has provided the opportunity for Australian architects and industry to continue the development of skills and methods for this millennia-old construction material.
Looking at ROC, I also see Robert Venturi and Denise Scott Brown. Their egalitarianism towards the built environment and their analysis of high architecture and common urbanism validated the familiar forms of the city as worthy of architecture. They believed that the everyday contained signs, predilections and memories that are appropriate for a contemporary expression of architecture. This analysis and conflation of high and low expanded the vocabulary of architecture and encouraged architects to appreciate and value their familiar environments and places. Now, more than fifty years on, ROC's memorializing of tunnels and bridges, its affection for simple materials and nineteenth-century suburban train stations, its emblematic oversized keystone joints and big-box scale, makes infrastructure architecture all the richer. Venturi would have called it "the difficult unity through inclusion rather than the easy unity through exclusion." 2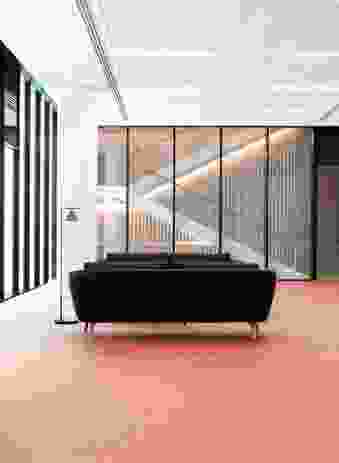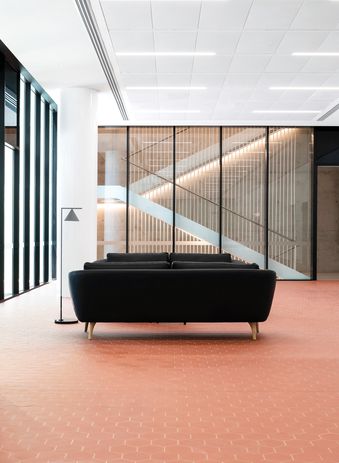 The control room is a huge open-span, flat-floor hall. Custom workstations are arranged in clusters and an extravagant screen spans almost the entire side of the room, displaying network information, disruptions, weather data, staff notices, cricket scores and the rest. The screen, even if not strictly necessary, is the focal point of the room, a banner under which diverse clusters and disciplines are rallied. The workstation clusters represent different teams, each of which is responsible for resolving incidents and disruptions on the network. ROC has made the collaboration between teams simpler, more immediate and more personal. The workstations have been carefully designed to suit the specific needs of operations staff on round-the-clock shifts, with multiple screens, optimal task lighting, ergonomic arrangement and technological redundancies.
Long skylights provide the top-lit conditions required by the brief, while strip windows to the north and south provide views to the world outside. Light is carefully controlled: daylight is augmented by LED lighting that shifts in colour and intensity throughout the day to ensure optimal conditions for concentration and comfort. In a cost-cutting measure, two large circular steel columns were added, reducing the steel required to make the large span of the control room. The columns lend a vertical scaling element, an expression of structure that may frustrate the room's open-plan design but contributes to defining its grandeur.
ROC is an appropriate acronym for the building, which is designed to survive the Seven Seals: fortified blast walls, crash barriers and 100 percent redundancy in the building systems anticipate catastrophe. The interiors, however, are not austere. Breakout spaces and amenities are comfortable, well-appointed and pragmatically planned. ROC is an investment in workers. I'm told that the New South Wales branch of the Rail, Tram and Bus Union wrote to congratulate and thank the team that delivered ROC.
There is a quiet proposition to this building. In an age of global architecture, there should remain a place for local practitioners, with local knowledge, working with local materials and makers to continue the narratives of Australia. ROC is built to last; it recalls the past in order to make a new character for a city still becoming.
— Mark Raggatt is a director of ARM Architecture based in Sydney.
Rail Operations Centre is built on the land of the Gadigal people of the Eora nation.
Footnotes
1. Aldo Rossi, A scientific autobiography (Cambridge, Massachusetts: The MIT Press, 1981), 24.
2. Robert Venturi, Complexity and contradiction in architecture (New York: The Museum of Modern Art, 1977), 16.
Credits
Architect
Project Team

Nando Nicotra, William Smart, Ron Keir, Glenn O'Loughlin, Adrian Walsh, Marco Caldarola, Ehsan Khoshima, James Lee, Adrienne Cheng, Harry Pham, Yuwan Zhang, Natalie Hardbattle, Zicci Zhou
Architect

Smart Design Studio
Sydney, NSW, Australia
Consultants

Acoustic engineer Acoustic Logic
BASIX consultant, civil, electrical, hydraulic, mechanical and structural engineer Jacobs Group
Geotechnical consultants Douglas Partners
Landscape architect Tract Consultants
Planning consultant Aurecon
Quantity surveyor Rider Levett Bucknall Sydney

Aboriginal Nation

Built on the land of the Gadigal people of the Eora nation.
Site Details

Location Alexandria, Sydney, NSW, Australia
Site type Suburban

Project Details

Status Built
Completion date 2019
Category Commercial
Type Workplace

Source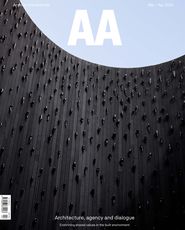 Issue
Architecture Australia, March 2020
Related topics