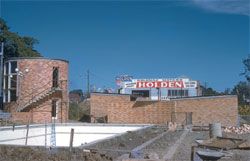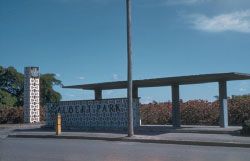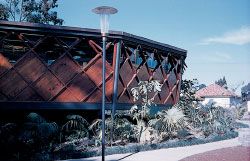 JAMES BIRRELL is this year's RAIA Gold Medallist, and this issue of Architecture Australia celebrates his oeuvre and the significant contribution he has made to architecture in this country. Birrell is an architect with work in Brisbane, regional Queensland and Papua New Guinea. He is a planner, from the time when architects saw planning as a discipline with great potential, an author and an expert on Walter Burley Griffin.
Putting this coverage together has been a great pleasure – reading John Macarthur and Andrew Wilson's book Birrell: Work from the Office of James Birrell, delving into the large box of material Jim sent down, sorting through CDs of images from his slide collection, compiling the amusing and affectionate tributes sent in by Jim's friends and colleagues around Australia and the interview between Jim and John Macarthur, all have reinforced my interest in work that I already admired.
Many of Birrell's major public works stud Brisbane and are part of the collective memory of that city's inhabitants – the Centenary Swimming Pools, Wickham Terrace Carpark, the Toowong and Annerley Libraries, and the suite of buildings at the University of Queensland, to mention a few, have formed a generous backdrop to the life of the city. The particularity of Don Watson's childhood recollections, published here, is but one demonstration of the wonder generated by these projects and of the enormous contribution strong public architecture makes to a city, in ways that cannot be predicted by its creators. There is a parallel here in Birrell's own discussion of his childhood memories of the Melbourne work of the Griffins. Birrell comments that he knew about the Griffins before he knew about architecture; for many in Brisbane, Birrell probably came first.
Given the impact of Birrell's works it is disappointing that many of these buildings have been unsympathetically altered, or even destroyed. Nelson Ross's memory of the public meeting to "save" the Toowong Library reminds us of the importance of valuing the architecture of the recent past, particularly in the decades between the first enthusiasms for it and the work being "rediscovered" as heritage. Ross and others also emphasize the importance of Birrell's work as a planner, work which is less immediately visible but equally vital, while Annabelle Pegrum tells us of the important role Birrell has played on the National Capital Authority. And almost all of our contributors mention Birrell's wit and his love of life and the long lunch.
Best known for his large Brisbane projects, there is also, as John Macarthur mentions in his interview, a significant body of smaller work – substations, toilets, a park entry. Less immediate and dramatic, they were more likely to be experienced in a state of distraction than one of wonder, yet the quality of these small public works means they also enhance the life of the city in incremental ways.
It is apt, then, that this issue of Architecture Australia also brings together a series of contemporary small public projects: toilets and a bus stop, changing rooms, an installation negotiating the boundary between art and architecture, a stage set, a sound studio. These have been produced in a very different public and political environment from the one in which Birrell thrived and produced his exceptional work. However, such projects present an opportunity for smaller practices to work in the public realm, and the architects published here demonstrate a clear commitment to that realm.
The question of how to negotiate the complexities of the contemporary public environment is also one of the concerns of this year's RAIA National Conference. "Exchange" is being structured to invite discussion between participants – speakers and audience, local and international – about the various ways in which architecture might proceed in the range of particular circumstances architects now find themselves. Such conversations are vital if we are to continue to have strong public architecture, small and large, around which memories can be built.
JUSTINE CLARK