CRITICISM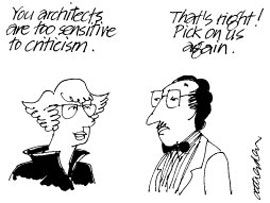 NAOMI STEAD'S "Three Complaints about Architectural Criticism" has generated more response from readers than any other single item published in Architecture Australia in the last few years ( Architecture Australia vol 92 no 6, Nov/Dec 2003). Letters to the editor, an unsolicited article in response, informal comment and third-hand gossip all indicate that these two simply presented pages – text-heavy with no pictures – have impressed our readers to an unexpected extent. Not everyone agrees with Naomi's analysis of the state of criticism in Australia, but most, it seems, are pleased that the magazine has generated an occasion for discussion.
We, in turn, are delighted at the response. Editors and writers are, of course, interested in the fraught complexities of criticism. How do we present and write about work? What are reasonable boundaries for criticism? What are the responsibilities of critic, architect, photographer and editor? What is possible in the context of a professional journal? Questions of this kind are always, implicitly, under consideration.
It is encouraging that the wider profession also thinks such issues worth contemplating.
This interest in the role of criticism suggests that the profession and discipline are in good heart. It also suggests that the frequent refrain "I only look at the pictures" is not quite true. (Although images, of course, have their own critical cultures and effects.)
The desire for a strong (which is not the same as negative) critical culture suggests a healthy profession, one in which architects are confident enough to allow their work to have its own life, a life which might exceed or differ from their intentions. In turn, such a strong critical culture is vital to the ongoing viability and richness of the profession.
Criticism has many functions and many modes – it is not a simple matter of declaring a work "good" or "bad", although the exercise of judgment has its place. Nor does it simply reiterate what the architect thought she or he was doing. Good criticism involves interpretation, but the frame of interpretation may vary widely – a result of both the particulars of the project and the background and interests of the critics. Effective criticism brings varied types of knowledge and experience to bear on a work. It opens a project to the wider world, while also using the specificities of a project to reflect on more general conditions. It might place a project in a historical, political or theoretical context; it might convey a sense of experiential pleasures; or it might use the project to reflect on the disciplinary structures of architecture. The best criticism tells both architect and reader something they didn't already know.
At Architecture Australia we commission writers who have some affinity with the work in question – who will have something productive to say about it, whether positive or negative. We also believe that it is vital to have a range of voices in the public realm.
There are strong alliances between certain architects and critics – these are often effective but it is important to introduce other voices and other frames for interpretation.
We aim for a richness and complexity of interpretation, rather than the reiteration of accepted responses and explanations.
Criticism always occurs within certain parameters – pragmatic, social, economic.
The critic, editor and publisher must negotiate these constraints, just as an architect must negotiate the many constraints that attend any project. Within these parameters, Architecture Australia seeks to foster a critical culture and to broadly reflect the real achievements of the profession. Part of this involves commissioning analytical and speculative essays, such as "Three Complaints about Architectural Criticism". As Architecture Australia makes its way through its centenary year, such essays are as important for reflecting on where we might go as for reflecting on where we have been.
JUSTINE CLARK