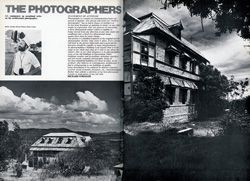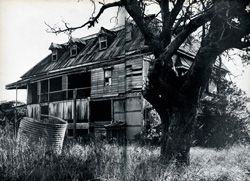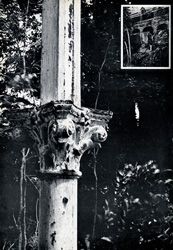 WHAT IS IT TO put a photograph taken in the early 1970s of an ageing building on the cover of this issue of Architecture Australia? Covers are one place where a magazine stamps its identity, but they are also the place where a publication generally proclaims its up-to-dateness, its newness, through swish images of contemporary projects. So why an old photo of an older building?
The selection of a cover for each issue is an imprecise art. Will the cover entice new readers to pick it up off the newsstand? Will it engage the architects who form our core readership? What will the advertisers think?
What does it say about architecture here? Or about the aims of the magazine? Does it capture the qualities of a particular issue? Is it glamorous? Should it be? Covers need to respond to a range of questions. But beyond this, the best covers have an elusive quality which fires the reader's imagination. A cover should make a reader reach for the mag in an instant, but it should also stay with them, encouraging contemplation.
The image chosen for the cover of this issue has the requisite striking good looks (even if its subject is rather romantically down at heel). It is engagingly enigmatic, but it completely fails the "up-to-the-minute" test.
As such, it raises an array of interrelated issues about what is valued in architecture, about photography, and about the perceived need for magazines to be up-to-date. That is, it performs as a cover while also making us think about broader questions around architecture and publishing.
Richard Stringer's photograph of the then-derelict St Mary's Convent, Cooktown, was first published in the December 1974 issue of Architecture in Australia, as part of a profile on Richard's work. This was the first in an occasional series "The Photographers". It was drawn to our attention when, as part of the magazine's centenary celebrations, I asked a number of eminent photographers to nominate images which have stayed with them.
Photographs which have captivated them in some way. Patrick Bingham-Hall, in his inimitable manner, suggested a series of images of which this is one. All the photographs that surfaced as part of this exercise engaged us, but this one, in its unexpectedness, seemed right for the cover. A striking image, its dishevelled subject, once juxtaposed with the masthead of Architecture Australia, suggests a rather whimsical take on architecture here, while also reminding us of the value of history and time – both architectural and photographic. (In an added twist, the building pictured has subsequently been restored and has an elegant addition by Rex Addison, which Patrick photographed and Architecture Australia published.)
The need for magazines to be seen to be up-to-the-minute often results in buildings being photographed too early, before the building has settled and the landscaping has grown – indeed, often before it is finished.
Editors, photographers and architects all know this, yet, while we might try to resist it, the competitive nature of architectural publishing, awards entry dates and so on make it difficult to avoid. And much architectural photography emphasizes this desire for newness, picturing buildings in pristine conditions, under perfect skies, prior to inhabitation. This photograph is a reminder that architectural photography can do many other things as well and that architecture can benefit from engaging with photography's diverse practices.
JUSTINE CLARK