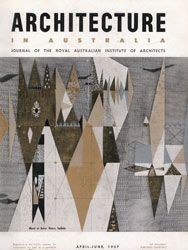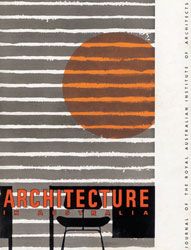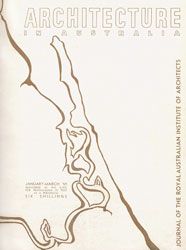 THIS ISSUE IS the last in Architecture Australia's centenary year. The centenary has given us a great opportunity to delve into the shelves and shelves of back issues that comprise the magazine's history. Many wonderful and curious things are contained in these issues, and the covers themselves are often gems – sparkling, colourful moments which continue to captivate both eye and imagination decades later. Some have been republished in Architecture Australia over this year, and three more of my favourites sit alongside.
As the year has progressed a range of contributors have offered different insights into the magazine's history. Philip Goad introduced the series with an overview of the publication and what it has meant to Australian architecture; Paul Hogben discussed the role of advertising; various contemporary photographers drew readers' attention to some of the century's most interesting photographs, while Adrian Boddy provided a succinct history of architectural photography here; previous editors reflected on their time with the publication; and in this issue Naomi Stead and Paul Hogben take us through some of the rhetorical flourishes and shifts in tone which have marked architectural writing and criticism in the pages of the journal. Together these pieces provide an eclectic, engaging account of Australian architecture. This is by no means exhaustive – there is much more to be rediscovered and reinterpreted, and other ways to approach the journal's history. One hundred years of architectural publishing is a significant achievement, and I hope that these various snapshots encourage readers to look again at older issues – to find themselves smiling (or grimacing) with recognition or fascination, at various architectural moments and the manner in which they are recorded.
Being November, this issue also celebrates the RAIA National Awards. Since 1981, when the Institute's national award programme began, Architecture Australia has devoted the last issue of each year to presenting these awards in detail. (Prior to this the journal covered the winners of the various state awards.) In 1981, the first Sir Zelman Cowen Award went to the Canberra School of Art by Daryl Jackson Evan Walker, while Glenn Murcutt won the inaugural Robin Boyd Award for his Mount Irvine Houses. Twenty-three years on, both Daryl Jackson and Glenn Murcutt feature in this issue, Glenn Murcutt as the recipient of the 25 Year Award (now in its second year) for his Kempsey Farmhouse, and Daryl Jackson Alastair Swayn as the winners of the Colorbond Steel Award for the Defence Network Operations Centre on HMAS Harman. The presence of these two architects in 1981 and today reminds us that architectural careers are built over long periods of time. Likewise the architectural culture of a country is built slowly, and through institutions such as the national awards and Architecture Australia. Murcutt and Jackson are not the only architects premiated this year to have won awards in the past (and of course both have received further awards in the intervening years). Romaldo Giurgola and MGT, Durbach Block, Clive Lucas Stapleton and Partners, Allom Lovell and Associates, City Projects at the City of Melbourne, Ashton Raggatt McDougall, Richard Johnson, Harry Seidler and Associates, Wood Marsh, Dawson Brown, Dale Jones-Evans, O'Connor and Houle – all have been honoured by national awards before. Harry Seidler's award-winning career stretches back furthest. Over half a century ago, in 1952, he won the Sulman Award for the Rose Seidler House (published in Architecture October–December 1952). But this year also sees young architects winning national awards for the first time. Where will they take Australian architecture as they continue to build their practices? What, for example, will Cassandra Fahey, winner of this year's Award for Interior Architecture, produce over the next twenty-three years?
And how will Architecture Australia record and analyse this and other new work? We don't know what the work or the magazine will look like, but Architecture Australia will continue to interpret and disseminate the architecture of this country for the next 100 years. By doing so it will continue to play a significant role in building Australian architectural culture.
JUSTINE CLARK