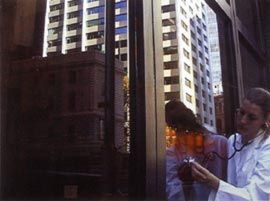 IT IS WITH GREAT sadness that we record the passing of Peter Johnson, architect and educator, who died on 8 May this year. (A tribute to Peter by Jennifer Taylor appears on page 36.)
As well as his professional activities in architectural practice and academia, Peter made a significant contribution to architectural publishing. As a councillor and president of the RAIA – in NSW and nationally – he was particularly interested in promoting architecture and the work of architects to both the profession and the wider community. In 1980, as chair of the Information Committee of the Institute, he led a working party of Council to revitalise Architecture Australia, which had become a serious financial liability to the RAIA.
Peter was committed not only to making Architecture Australia commercially viable but also to improving its editorial and design quality. Having secured a favourable publishing contract with Strand Publishing (then a division of what is now Rural Press), he continued for many years as the chair of the RAIA's editorial advisory committee, providing advice and feedback to the editorial and design team.
In 1987, Peter was instrumental in the formation of Architecture Media, an associate company of the RAIA, to publish Architecture Australia. Peter became chairman of the board of directors, a position he held until his death.
During this time, the company developed three new titles for the architectural community and an internet publishing arm, making Architecture Media the leading specialist publisher in this area. Peter was extraordinarily generous with his time and advice, and steered the company through this significant period of growth and change with integrity, sound judgment and humanity.
He will be sadly missed by all of us at Architecture Media.
A happier transition at Architecture Media has been the appointment of Justine Clark as editor of Architecture Australia, commencing with this issue.
Justine holds the degrees of Bachelor of Architecture (Honours) from the University of Auckland and Master of Architecture (with Distinction) from Victoria University of Wellington.
She has worked in architectural practice and in academia, as well as co-curating and co-designing a number of architectural exhibitions. Justine has contributed articles to many popular and academic publications, and, with Paul Walker, she wrote Looking for the Local: Architecture and the New Zealand Modern (2000), which explored the tensions between the local and the international as they were played out in postwar New Zealand architecture.
Justine has been an important part of the AA editorial team for the past three years, as assistant editor and recently as deputy editor. During this time she has been actively involved with the Australian architectural community, contributing to issues, criticism and debate through the pages of the magazine, conferences and events.We wish her well in her new role.
IAN CLOSE, PUBLISHER