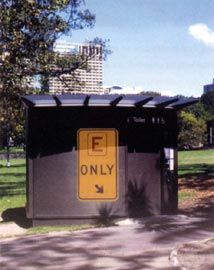 SOMEWHERE BETWEEN THE messiness of the building site and the puzzles of architectural theory lies the profession, discipline and art of architecture. It is always under construction.
Architecture is built through the development of ideas as much as through the erection of buildings. Informed discussion and debate is vital to its ongoing viability. This is particularly so at the present moment, when architecture increasingly runs the risk of being seen as irrelevant by the wider world. If we are to challenge this situation, we need to foster robust and thoughtful discussion about the profession/discipline/art and its relationship to the wider world. The aim is not to reach a consensus, but to articulate and explore the complexity of what we do in ongoing and developing ways.We need to engage ourselves if we are to engage others.
The difficulties entailed in making buildings continue to shift and multiply – they range across the tangle of shifting procurement practices, new techniques and changing technologies, cultural shifts and the conceptual problems that attend all of this. But architecture is also a source of delight and wonder, of visceral pleasures and physical responses.We need to explore and celebrate this too.
Contemplating such challenges (and joys) involves specialized discussion, that engages with the diversity of architectural production. Magazines and other publications are one place where such discussion can occur.
As the journal of the Royal Australian Institute of Architects, Architecture Australia has the opportunity to actively engage and promote such debate. It does so by presenting thought-provoking interpretations by Australia's best critics. But readers have responsibilities too – ideas must be taken up and explored in the wider architectural community. This is how we, collectively, build architecture. But "building architecture" is not achieved by making everything immediately accessible. Beautiful fluid texts can draw readers in, delighting and engaging them in compelling ways. But some issues are best explored and articulated through more difficult language. Centuries of architectural theory – from Vitruvius on – mean that we have access to highly developed language for engaging with such ideas. And sometimes we should use it. But this too means that readers have to do some work.
Architecture Australia's desire to generate discussion and debate about architecture, in all its richness, means that we constantly seek new ways of approaching architecture and different ways of sparking responses. This issue sees a number of new elements introduced to the mix. It includes the first of an occasional series of essays, and introduces a new series of "critical images". These visual critiques are produced for the magazine by Porosity Studio, a group organized by Richard Goodwin to explore the permeable edges between architecture and the public realm. The first of these, published adjacent to this "reflection", presents a wry comment on the apparent privatization of the public realm. In the first essay, Andrew Benjamin argues that the way architecture defines itself is crucial to its ability to be effective in the world. He makes a plea for architecture to open itself to broader cultural engagement by always understanding itself as a public activity, no matter the scale or type of building.
Architecture Australia has been contributing to the building of architecture in this country for nearly one hundred years. Over its life – as The Journal of the Institute of Architects of NSW, The Salon, Architecture, Architecture in Australia, and now Architecture Australia – it has played a major role in raising issues, provoking debate and recognizing Australian architecture and Australian architects. As Architecture Australia approaches its 100th birthday it is timely to reflect on and appreciate the significant contribution it has made.
JUSTINE CLARK