Interest in architecture with an Indigenous connection is currently at levels not seen for many years. Consequently, a series of questions have been swirling around that would benefit from exploration – principally: what is an Aboriginal architecture? How might I as a practitioner in the built environment contribute to this realm? And, is there a particular way in which I can engage that is culturally responsive?
As a proud Indigenous architect, I have been grappling with these and many allied questions for more than 20 years. This piece builds upon that process, which seeks to embrace the complexities that exist and move beyond aesthetics in favour of a more nuanced and embedded approach to what I call "Indigenous placemaking." It should not be seen as a definitive exploration, but a gentle prod towards developing a dialogue that is built through layers that question, provoke and engage.
Firstly, by way of clarification, I see an "Aboriginal architecture" as simply any form of architecture that is initiated by, for or with Aboriginal (or Torres Strait Islander) people. In short, it is work that has been duly authorised by Community and ensures that a tangible connection to that community is at the core of the project. I do, however, personally believe that we should favour a more holistic approach to the built environment disciplines, rather than separate them into silos. This initial starting point will help facilitate the spatial and temporal connectedness Indigenous communities expect of projects. For instance, the simple aspect of greeting or acknowledging elders is often a critical consideration in the spatial arrangement of a building, ideally one that amplifies this important exchange as a way of embracing a sharing of culture. Simply stated, Indigenous experience or expression is not distinguished from cultural practice.
The starting point is for practitioners to park the ego at the door in favour of a process that ensures engagement is focussed on deep listening. This critical technique embraces consultation, collaboration and real participation. It presents an opportunity to leave a legacy beyond a built form artefact, as it offers a means of empowerment, emancipation and self-determination through such things as up-skilling community, providing training or engaging in a way that equally values Indigenous knowledge, ingenuity and capacities.As best as I can determine, there are approximately 13 Indigenous people nationally who have graduated from schools of architecture in Australia – ever. The unfortunate reality is that there are not enough Indigenous practitioners to undertake all the work First Nations peoples need done here in Australia. Consequently, there is a role for all in shaping a meaningful exchange between Aboriginal and non-Aboriginal people within the built environment professions, particularly as far as creating a bi-cultural learning environment is concerned. A gulf remains between the rhetoric and the reality of how cultural identities co-exist with mutual respect here in Australia. By comparison, a bi-cultural experience is by-and-large acknowledged, encouraged and celebrated in our near neighbour New Zealand. Australians would benefit from seeing their ancient heritage as a source of pride rather than contestation.

Building cultural competency is also important to help practitioners navigate their trepidation, lack of experience or ignorance when dealing with Indigenous culture. This experience can feel like a type of "first contact", yet through developing cultural competency, practitioners are able to better connect with traditional owners or community members, to feel confident in developing pathways to acknowledge cultural protocols, to ask questions and to build the relationships that are so critical in the evolution of the process.
I have applied this approach firsthand in a simple commercial fit-out for the Lowitja Institute, a national Indigenous research body. This project was very much informed by a dialogue with the client body. There was an acute awareness of the need to be respectful to the Indigenous communities through a space that was legible, approachable and not "too flash." The design strategy was simple: develop an office that didn't feel like an office, which drew a connection to Country and prioritised what happens within the space over aesthetics. The design took a narrative rather than a figurative approach. It emphasised the spatial qualities of key areas to reflect their importance to the organisation. As a national health research institute, the spaces were divided to express areas of "fertile thinking" (the publications corner), "collaborative exchange" (the kitchen), "imaginative energy" (the core workspace) and the "flow of ideas" (the conference area). This technique also enabled a thematic use of colour to reference the landscape and Country as a way of reinforcing the importance of place to Aboriginal Australia.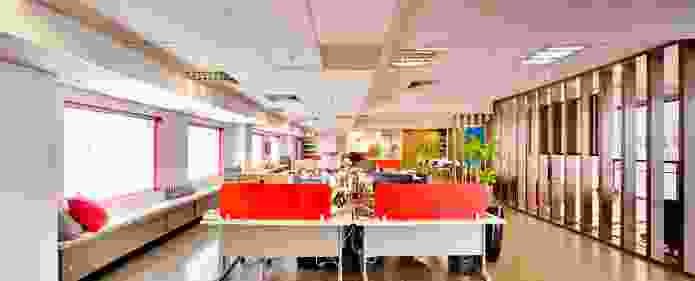 The client feedback on the result has highlighted a shift in work culture, which better aligns with the need for engagement, dialogue and connectedness in their work. On reflection, my personal viewpoint, which sees little distinction between the process of engaging architecturally and how one relates to cultural practise, was of real value. The client dialogue greatly added to the richness of the process, rather than being problematic. Other practitioners have also espoused the need to listen carefully, to question thoughtfully and design in considered ways: Gregory Burgess, Glenn Murcutt, Richard Leplastrier, Peter Stutchbury. This manner of operating is critical to working with Indigenous communities, as it provides the best opportunity to get the necessary buy-in and to facilitate a shared journey, whereby solutions cease to be imposed but are rather developed together.
Responsive and considered design is essential in meeting the needs of Indigenous communities. The other aspect I often seek to give voice to is the acknowledgement of the deep(er) layers of history and connections to place so often subsumed within this ancient continent. There is a tendency to focus on the history of building to the exclusion of other layers of history. Yet this does raise many intriguing questions; for instance: how might we give voice to 60,000+ years of habitation of Aboriginal people in Australia? How might we tell the stories of the changing landscape? How might we reference some of the pre-contact histories and stories? These are areas ripe for intellectual exploration or as potential drivers for a more engaged, specifically Australian form of architecture. It cannot be reiterated enough, though, that Aboriginal culture is a lived culture, evolving, growing and ever changing. The ability to reference the now, to acknowledge the youthful demographic of Aboriginal people, the majority of whom experience their culture within urban or regional contexts, is equally of value. In other words, Indigenous culture is not fixed in time or in deep history alone; it is and always has been dynamic. The emerging number of Indigenous practitioners has a pivotal role to play in advancing this exploration, by taking the lead and charting a way ahead.
Gone are the days of hanging a boomerang on a wall and saying, "That's Aboriginal." We have also moved on from simply badging a building by naming it alone. By weaving reference points throughout, meaning becomes deep seated, an integral part of the design language, a solution that moves beyond clichéd, stereotypical or potentially patronising references. Without diminishing the evident political act that is involved in building (particularly within the context of the contested spaces of a major metropolis, like Melbourne), I do see opportunities to explore not only the distinctions or differences but also the aspects that bind and connect Indigenous and non-Indigenous peoples. These ideas can be explored within the remit of architecture and can, in the best case scenario, develop a new way of doing that is both culturally rich and pays respect to our unique, shared heritage, of which we should all be proud.
Note: The terms "Indigenous" or "Aboriginal" within this article should also be understood as inclusive of Torres Strait Island people. For more information on Indigenous placemaking in Australia, see Indigenous Architecture Victoria.
Related topics