Refreshed $373m plan for St Kilda Triangle
Port Phillip City Council has endorsed a draft masterplan by ARM Architecture for the St Kilda Triangle site following the release of an interim plan in September.
A third gallery space for the National Gallery of Victoria (NGV) is explicitly mentioned in the new plan, meaning it's likely the large cultural facility featured in the plans will be an art space.
Open public space has increased in the latest plan, up from 16,000 square metres in the interim masterplan to almost 20,000 square metres, incorporating a forecourt, lawn, terrace, sloping gardens and a plaza.
The size of structures, which include the cultural institution and a hotel, has diminished under the new plan, dropping from 23,500 square metres to 21,310 square metres.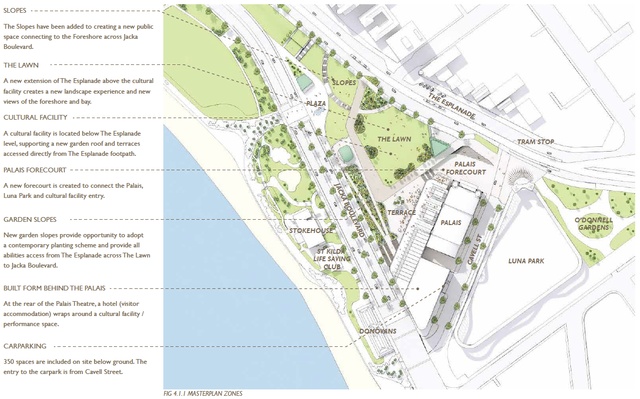 The documents accompanying the draft masterplan revealed the preliminary costing for the site was $373.3 million, with the estimated cost of the cultural facility more than $110 million.
A strong focus on community consultation has been a feature of the design process for the site, in part due to previous proposals for the triangle eliciting negative responses from local residents. A 2009 $400 million project designed by ARM Architecture was approved by the council but later dropped in the face of fierce public opposition.
Public comment on the draft masterplan can be submitted until Friday 29 January 2016, and a final masterplan will be developed in March next year.