The Regatta Walk project at Toronto, New South Wales, is in Awabakal country, south of Newcastle on Lake Macquarie. Beside the lake swimming pool, the project includes a boardwalk and seating, footpaths, stairs and ramps, a native garden, a terrace and stone walls, and a large timber-framed roof that shades timber boxes containing a cafe, toilets and showers. Visitors can relax on the generous terrace between a massive wall and a grassed slope rolling up to the streets of Toronto.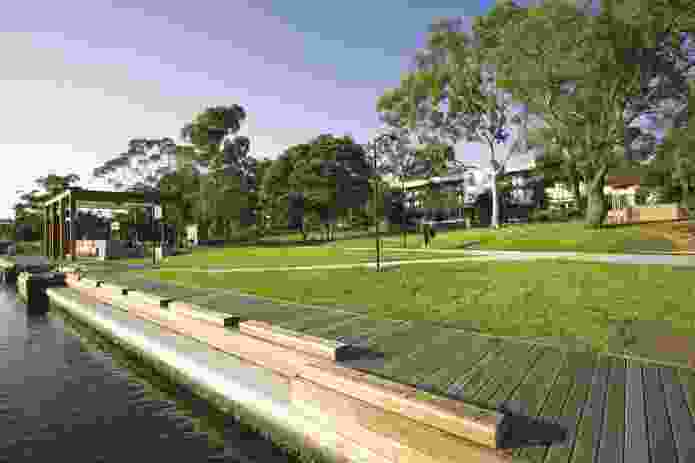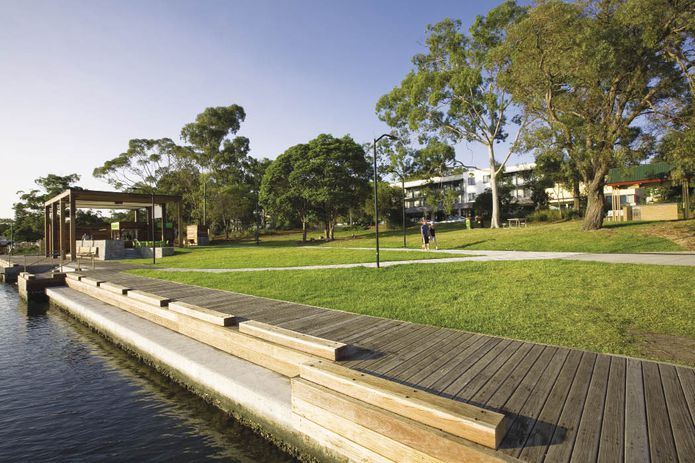 The Indigenous place name for Toronto was Pondee – "overlooking view" – and the locality was named Derah-bambah – "rising ground." These language relics catch the character of the site, looking north over Lake Macquarie to the low hills of Bolton Point and Croudace Bay and south-east to Belmont. Refreshingly joining landscape and architectural elements, Regatta Walk replaces a dour brick facility and wraps up the end of the foreshore reserve at a historic junction where the Fassifern rail line once terminated at a boatyard and jetty.
A collaboration by two Sydney practices, Pod Landscape Architecture and Day Bukh Architects for Lake Macquarie City Council, Regatta Walk is a remarkable synthesis of large-scale landscape strategies and small-scale buildings and shows the mutual benefits of landscape and architecture working together. Its success recalls architect David Leatherbarrow's special coinage of topography, "the ways that two disciplines, landscape architecture and architecture, contribute to the formation of a single cultural framework, topography."1
This collaborative project's strengths may lie in what it doesn't do as much as in what it does. It doesn't obstruct views, or "make a statement," or block sky, streets and sightlines as too often happens along Australian foreshores. This finely elemental project invites people to a particular landscape and offers just enough architecture for visitors to use to enjoy the place. It organizes site, program and identity into a singular solution using both landscape and architecture knowledge.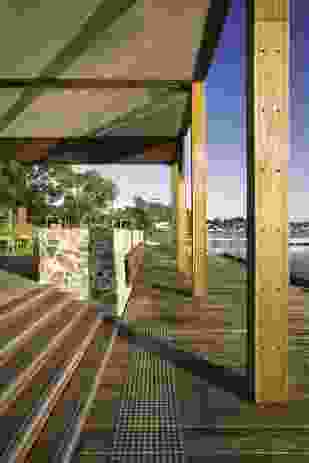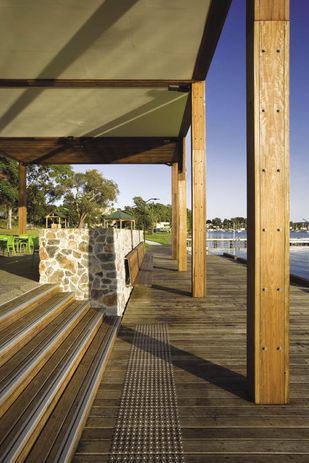 At the eastern end of the levelled terrace, four effectively detailed and minimal timber boxes have roofs, gutters and downpipes located on and within their fabric. The stone wall has a presence emanating both gravity and gravitas, a landscape element that looks like it might become architecture if necessary. Its securing volume of stone and concrete, embodying hours of stonemasons' care and labour, shelters visitors from sharp northeast breezes. Physically and metaphysically, this wall is more than a retaining structure between two levels: it anchors the whole scheme in place. Built with stone from a Seaham ballast quarry, it recalls Frank Lloyd Wright's rubble walls at Taliesin West (1940), similarly both directing movement and creating stillness in landscape space. This big, clever wall, both landscape anchor and play structure, abstract and haptic, is a welcome core for the project.
Above the walls and boxes a monumental three-bay timber structure roofs the terrace and defines views. It sits high over two levels, holding diverse elements – walkways, stairs and floors, walls and boxes – in place beneath it. It is also a grand landscape frame, a filter of space between lake and town. Following the material logic of the adjacent jetties, constructed ingeniously of blackbutt and recycled ironbark, it lofts its cornice five metres above the terrace, giving shade and vast openness. Its sheer tallness brings sky, clouds and horizon into a visitor's spatial experience as a lower structure could not.
This tall trabeated structure recalls memorable "architectural landscape" elements such as the Monument Hall at E. G. Asplund's Holy Cross Chapel at Stockholm (1935) and Jørn Utzon's western loggia for the Sydney Opera House. Both Asplund and Utzon informed their architecture with landscape knowledge and integrated fundamental natural elements – slope, horizon, sky – into their work. Similarly conceived between landscape and architecture, the Toronto roof offers shelter, frames views and mediates between the infinite beauty of limitless outdoor space and more contained and bounded inner conditions. The frame is tall enough to be seen through from the Toronto streets: it is a landscape element between terrace and sky, sun and shadow, shore and lake, town and horizon.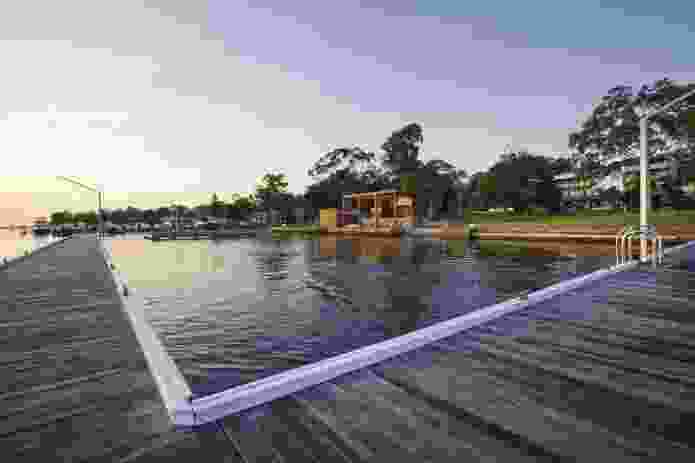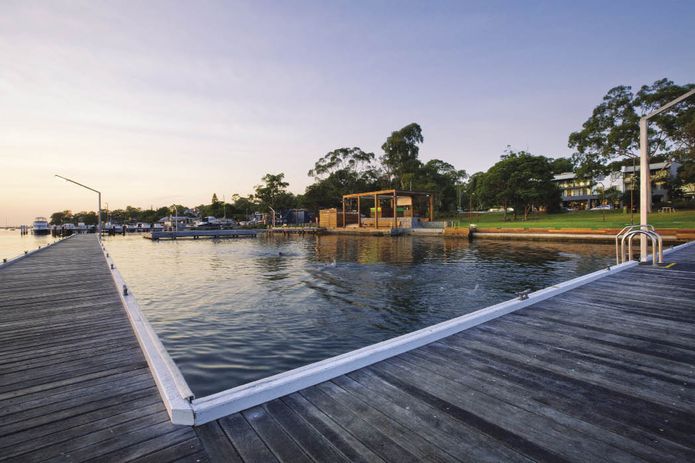 Overall, this project provides a finely considered place all too rare on Lake Macquarie – or anywhere in Australia – to quietly reorient beside the water, with restrained but concentrated architectural means and with significant clarity. It sets a standard and a precedent for how to think about locating people and building at the edge of land and water.
The Regatta Walk project deserves commendation for holding its line, for shunning "interesting" effects (diagonals, slats, multiple axes) and for providing the essentials of terrace, roof and enclosure, while creating a significant edge to the shoreline and an elegant frame for the sky. Designers of waterfront projects around Australia stand to learn much about civility, manners and elegance from this finely finished, serious and satisfying work of landscape and architecture.
– John W. Roberts
"Our concern with this project was that it is a sensitive location for commercial activities and there was the potential for over-privatization of the reserve by the cafe.
"The Regatta project aims to better engage Toronto with the waterfront as well as anchor and activate the southern end of the reserve. The site is currently used for the annual Lake Macquarie Classic Boatfest as well as daily swimming and park use.
"The introduction of new commercial activities into public spaces has both benefits and potential conflicts. Our concern with this project was that it is a sensitive location for commercial activities and there was the potential for over-privatization of the reserve by the cafe. The design, therefore, is a conscious and deliberate attempt to provide for the needs of a range of user types, while not impeding access or privatizing the space.
"The arrangement and placement of three small structures instead of a single, larger one helps dissolve the impact that it would have had on the site. Permanent formal and informal seating opportunities are provided around the cafe, allowing the space to be used even when the cafe is closed, which ensures that the space retains its emphasis on public use."
– Kris Petersen and Steven Hammond, POD Landscape Architecture
1 David Leatherbarrow, "Introduction: The Topographical Premises of Landscape and Architecture," in Topographical Stories: Studies in Landscape and Architecture (Philadelphia: University of Pennsylvania Press, 2004), 1.
Credits
Landscape architect

Pod Landscape Architecture
Newtown, Sydney, NSW, Australia
Project Team

Steven Hammond, Kris Petersen, Yanos Fill Dryden, Emma Sheppard-Simms, Adam Parsons
Consultants

Architect Day Bukh Architects
Contractor GMW Urban
Electrical contractor Monaghan Electrical
Geotechnical consultants Jeffrey and Katauskas
Heritage consultant Perumal Murphy Alessi
Hydraulic consultant LHO Group Pty Ltd
Structural engineer Day Bukh Architects, GCA Consultants

Site details

Location Toronto, NSW, Australia
Site type Suburban
Category Landscape / urban design
Type Public / civic

Project Details

Status Built
Design, documentation 12 months
Construction 6 months

Client

Client Lake Macquarie Council
Website Lake Macquarie Council

Source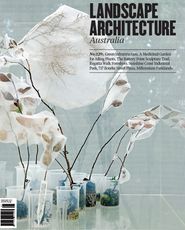 Issue
Landscape Architecture Australia, February 2011
Related topics