Australia is both large and small, in local and global terms. Australia's land area is similar to that of Brazil, a country with a population more than eight times the size of our own. Our island continent spans an area that is equivalent to more than twenty-five European countries, from Ireland to Ukraine and from Spain and Turkey to the south of Finland, yet 60 percent of our population lives in the five major capital cities of more than one million people. Across Australia there are fewer than twenty cities with populations of more than 100,000 people, which is the limit of the Australian Bureau of Statistics' definition of major urban centres. Beyond these centres there are hundreds of regional towns with smaller populations, many of which are geographically disconnected from major cities but central to the national economy. Some estimates wager that regional Australia accounts for around 40 percent of national economic output.
Regional towns and cities have historically been the backbone of Australia, yet they currently represent a blindspot in urban thinking. While national policy focuses on how to manage the continual growth of major metropolitan centres, there is an increasing acknowledgement that the regions are under-recognized for their potential to provide alternative urban futures. Speaking at a 2011 conference on reinventing regional Victoria, then-minister for agriculture and food security Peter Walsh said that although the state of Victoria is expected to grow by 44 percent to 2.7 million people in the coming decades, fewer than 500,000 of these people are projected to live in regional Victoria. The cost of providing infrastructure to accommodate Melbourne's growing population is estimated at $3.1 billion, but, Walsh argued, this cost could be reduced by two thirds if more people could be encouraged to move to regional areas.
Focusing on the regions highlights a range of opportunities that could assist the future social, economic and environmental sustainability of Australia's smaller towns and cities, and also provide alternative scenarios for the future of major cities. Paul Collits observes that regional Australia is frequently unified by enduring negative stereotypes that are both limited and inaccurate, and do not assist in understanding positive futures for regional and remote communities. He suggests that the myth of regional Australia as a "giant farm or mine" distorts the reality of how "regional economies now mirror the national economy, in terms of their industry structures and employment patterns." Collits contests that perpetuating the idea of regional Australia in decline overlooks the diversity of ways that many regions have grown in both population and cultural diversity.1
Central to understanding the future potential of the regions is an understanding of regional diversity. The Regional Australia Institute identifies four regional types:
Regional Cities with populations over 50,000;
Connected Lifestyle Regions that do not have a defined population but areclose to other major metropolitan regions and are influences by this connection;
Industry and Service Hubs with more than 15,000 people, dislocated from major metropolitan centres, their performance linked to industrial outcomes; and
Heartland Regions, small areas that are dislocated from both major metropolitan areas and Regional Cities but are shaped by a "local ingenuity."
Each regional type represents a diversity of conditions, opportunities and challenges. Some regional settlements are satellites of metropolitan centres, while others are remote and disconnected from other places, both large and small. Some regional cities are also state capitals, and this status confers benefits not afforded to other places of similar size. Some regional places are experiencing rapid change due to inward migration, economic shifts and increasing growth pressures, while others are struggling with challenges presented by low population and geographic dislocation. However, although many regional towns and cities lack a critical mass of population to ensure economic stability, they also offer conditions of affordability and liveability that rival larger cities. Approaches as diverse as the regions are being developed across Australia. This Dossier explores a small selection of innovative ideas, showcasing ways of reconceptualizing challenges and capitalizing on the opportunities of living beyond Australia's major urban centres.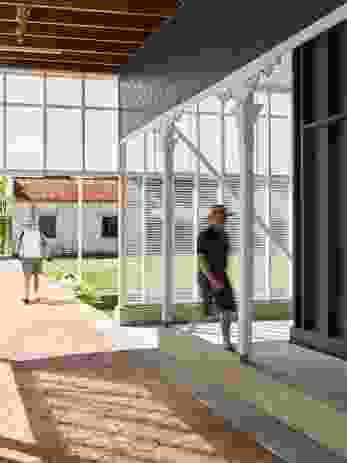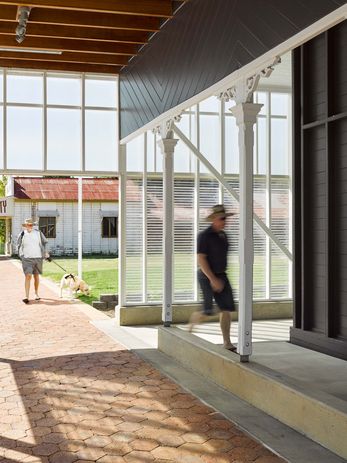 Regional thinking
Understanding the particularities of regions draws into focus issues of spatial, financial, social and cultural equity, which Judith Brett argues were at the foundation of the formation of the federation of Australia.2 The diversity of regional towns and cities that are spread across a large geographic area presents social, cultural and economic challenges as well as opportunities. The combination of small populations and disconnection from major centres creates issues for the provision of services, particularly health and education. At a financial level, municipalities with small populations generate a modest rate base that needs to cover a range of services. Major infrastructure projects can provide a boon to regional areas, with funding from state and federal governments facilitating projects that could not be funded locally. But as Paul Collits argues, although these projects may provide services and inject funding, they are not necessarily the key to regional revitalization. He emphasizes the need to distinguish between government spending on regional Australia and proper regional policy.3
The 2015 report "Local Government Growing Regional Australia" highlights the shift in regional economic development strategies over the past sixty years from a focus on comparative advantages/disadvantages in the 1950s and 60s to building competitive advantage between the 1970s and 90s, to the current approach of "drawing on collaborative advantage across public, private and community sectors."4 The report suggests that the change from comparative or competitive to collaborative approaches has involved a shift from hierarchical top-down processes to "place-based holistic" approaches that are evidence-based and supported by greater governmental cooperation.
Many regional communities are developing new ways of working together to create connections between places and people, exploring ways of fostering positive change. Recurring themes among transformative regional initiatives are central to developing place-based holistic approaches.
Character
Local knowledge of a region's "character" can offer a nuanced understanding of culture and context and question the limits of municipal boundaries, revealing alternative character-based narratives for future development. Collits suggests that communities should decide on regional boundaries in terms of "communities of interest" that may be conceptualized and formed in diverse ways.5 For example, regions may be defined in terms of patterns of use, visual connections, specific landscapes, commodities or produce. For architecture practices that have worked on several urban and infrastructure projects in one region, a localized, regional character can be identified in built form.
Connectivity
Physical connectivity is central to the provision of essential services, particularly transport and communication infrastructure that links regions economically, socially and culturally. Connectivity is both perceptual and conceptual: a sense of connectivity might be used to promote character or create collaborative relationships. For example, linking locations by a theme such as wine production or developing touring routes along historical trading lines can connect physically separated towns, emphasizing particular character and providing new meaning for places along these routes. Similarly, understanding heritage and past histories can reveal strong cultural and social connections that can be used to underpin future scenarios.
Collaboration
Many municipalities are collaborating to build networks in imaginative ways, working together to lobby state and federal governments. Reaching beyond the limits of municipal boundaries to form collaborative communities of interest breeds the cooperation that is key to developing shared strategic directions. The Evocities initiative in New South Wales, Regional Cities Victoria, the G21 Geelong Region Alliance and the Greater Cities initiatives in Launceston and Hobart are some examples of the ways municipalities have redefined their relationships in order to foster strategic regional thinking. Each involves different modes of engagement, with varied aims and outcomes.
Commitment
Regional leadership requires personal commitment and "intense personal ties, particularly cooperation of a group of connected individuals with a shared vision."6 Collits highlights the need for well-trained staff who are able to negotiate change and think strategically about innovative and collaborative ideas.7 Ongoing engagement, long-term association and enduring personal commitment are common traits among mayors and senior council staff in regional towns and cities that are successful in generating positive change.
Community engagement
The small population sizes of regional communities leads to a high degree of personal involvement. Garnering cooperation and drawing on local knowledge are important for establishing social agency and collaborative relationships between the council and the community. The International Association for Public Participation describes the parallel processes of community engagement as the "goal of participation" and the "promise to the public," and includes a spectrum with five levels that measure the degree of public participation. Understanding the diversity of models and the goal/promise helps identify the appropriate form of engagement.
Footnotes
1. Paul Collits, "Is There a Regional Australia, and Is It Worth Spending Big On?" Policy, vol 28 no 2, Winter 2012, 24.
2. Judith Brett, "Fair Share: Country and City in Australia," Quarterly Essay, no 42, June 2011, 68.
3. Paul Collits, "Is There a Regional Australia, and Is It Worth Spending Big On?" Policy , vol 28 no 2, 24.
4. Robyn Morris, Alex Gooding and Lucinda Molloy, "Local Government Growing Regional Australia," March 2015, Australian Centre of Excellence for Local Government, University of Technology Sydney, 10-11.
5. Collits, 29.
6. Michael Kroehn, Alaric Maude and Andrew Beer, "Leadership of place in the rural periphery: lessons from Australia's agricultural margins," Policy Studies, vol 31 issue 4, 2010, 501–502.
7. Collits, 29.
Source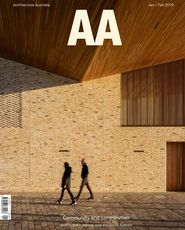 Issue
Architecture Australia, January 2019
Related topics