Two regional Australian projects have taken out the their respective categories following live presentations to the juries of the 2018 World Architecture Festival Awards.
Maitland Riverlink by Chrofi and McGregor Coxall was judged winner of the Civic and Community – Completed Buildings category. The project effectively forms a grand "sculptural gateway" arch for the town of Maitland in the NSW Lower Hunter region. It provides a link between the main street and the Hunter River.
The arch form of the building frames view from the main street to the river. The building comprises a cafe, public amenities and a covered public space.
The judges were impressed by the clarity and simplicity of the architects' designs in opening up the town to the river by removing existing buildings.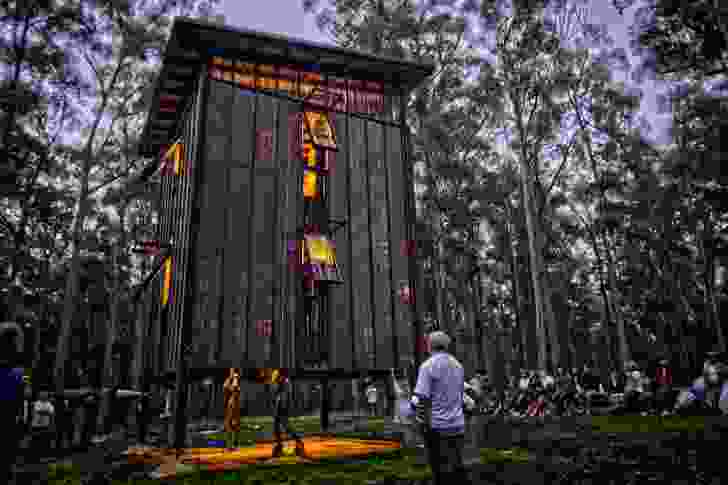 Elsewhere, the winner of the Culture – Completed Buildings category was the Piano Mill by Conrad Gargett. Simultaneously a building, a site-specific artwork and a musical instrument, the project, located in a forest on the Queensland/NSW border, pays homage to pianos and piano parlours of colonial Outback Australia.
The two storey structure houses 16 antique upright pianos (eight on each level), which have all been installed in their found condition. Externally, a series of operable flaps and an oversized funnel are used to moderate the sound that emanates from the structure.
The judges were excited by the building's shape and construction and described it as a "prime instrument in an orchestra of trees."
Woods Bagot and Warren and Mahoney took out Education – Future Project category for Lincoln University and AgResearch Joint Facility in Christchurch, New Zealand.
Australian-Singaporean practice Woha won the Mixed Use – Completed Buildings category for Kampung Admiralty.
In the School – Completed Buildings category, Iredale Pedersen Hook Architects' Highgate Primary School New Teaching Spaces was highly commended by the judges.
John Wardle Architects' Captain Kelly was also highly commended in the Villa - Completed Buildings category.
The category winners will be in the running for the World Building of Year award to the announced at the end of the World Architecture Festival is being held in Amsterdam from 28 to 30 November.
Australian projects were well represented in the 2018 awards, with the second highest number of entries from any country.
The World Architecture Festival Awards is held concurrently with Inside World Festival of Interiors Awards.
The Australian Embassy Bangkok by BVN was awarded the winner of the Civic, Culture and Transport category. The judges said the building has "great connection between the urban fabric and the public space with great transition between the Australian and Thai landscape elements."
BVN's Fraser Property Australia Head Office was highly commended in the Offices category and Russell and George's Space and Time was highly commended in Creative Re-use.