Across Australia, transformative regional initiatives are being developed through collaborative strategic thinking that involves different levels of government and leadership from local councils and the community. Connectivity between regions is being defined in different ways, fostering collaboration to create productive futures.
In New South Wales seven regional cities have joined together to form Evocities to "change perceptions of life in a regional city" and promote the cities' "lower cost of living, strong career and business opportunities and enhanced lifestyle." Launched in 2010 and sponsored by Qantas Link and the NSW state government, Evocities aims to encourage people to live, work and invest in Albury, Armidale, Bathurst, Dubbo, Orange, Tamworth and Wagga Wagga. Essentially a marketing campaign, this bottom-up initiative implemented locally joins geographically disconnected and diverse towns and cities, building a collective profile that can promote life beyond the metropolitan centres.
In Western Australia, where the state population is predicted to double by 2056, the state government's Royalties for Regions program has been reinvesting the state's resources royalties into a diverse range of initiatives since 2008. The program is currently funding a series of "SuperTowns," creating new business opportunities to attract investment and generate the jobs required to attract people to these regions. The first nine towns have been identified: the Connected Lifestyle Regions of Boddington and Northam, and the Heartland Regions of Collie, Esperance, Jurien Bay, Katanning, Manjimup, Margaret River and Morawa. Regional Economic Development Grants and the Creative Regions program provide funding for both facilities and activities.
Regional Cities Victoria (RCV), established in 2000, brings together the mayors and CEOs of the ten major regional cities in Victoria, with the aim to "achiev(e) real change in regional Victoria through policy development and active implementation of those policies." Collectively, Ballarat, Bendigo, Geelong, Horsham, Latrobe, Mildura, Shepparton, Wangaratta, Warrnambool and Wodonga account for 10.8 percent of the population of Victoria, and the RCV focuses on developing infrastructure and increasing liveability by encouraging new industries and fostering workforce capacity through education. Evidence-based research is central to this process, which involves tracking statistics on the economy, liveability and population to inform strategic initiatives that promote regional connectivity, both physically and conceptually. Data is used to develop strategies and to lobby local, state and federal governments to support projects such as a regional rail network that connects a series of "regional super hubs" across the state.
Some smaller regions are pursuing similar paths. The G21 Geelong Region Alliance develops collaboration between government, business and communities in Greater Geelong and the neighbouring municipalities of Queenscliffe, Surf Coast, Colac Otway and Golden Plains. From an alliance of more than 300 community leaders and specialists from the region, eight "pillar groups" were formed to address the region's priorities, from the arts, culture and the environment to economics and transport. The G21 Alliance is the official Strategic Planning Committee for the region, facilitating engagement in the Geelong City Deal and negotiating for infrastructure projects across Geelong and the Great Ocean Road.
The federal government's City Deals program, implemented in 2015, is intended to foster collaboration between three levels of government and to encourage councils to work together to identify local economic development opportunities that form the basis of a negotiation for federal funding. City Deals are framed around key national priorities, including jobs, housing and sustainability, governance and regulation, and innovation and digital opportunities. Five out of the seven cities that have signed up to this program are regional cities: Townsville, Launceston, Darwin, Geelong and Hobart.
Regional universities have played a part in many of the City Deals, highlighting their importance in the social and cultural life of regional towns and cities. Many regional universities are increasingly understanding their role beyond the service provision of education, exploring their potential as "civic players" by working collaboratively with local councils and communities to establish strategic alliances and creating publicly accessible buildings, spaces or infrastructure.1 James Cook University is central to Townsville's City Deal, developing health and knowledge precincts and promoting the city as a destination for education, edu-tourism, training and research. The centrepiece of Launceston's City Deal is the University of Tasmania's Northern Transformation project, which relocates suburban campuses into the city to create stronger community connections. Hobart's City Deal involves the relocation of the University of Tasmania's STEM facilities into the city, and the development of an Antarctic and science precinct on the waterfront. Although funding is yet to be committed, the coordination of the City Deal has involved cooperation between the five municipalities that make up Greater Hobart and it is the first step toward developing an integrated transport strategy and addressing affordable housing.
As a federal policy, City Deals have been criticized for a lack of transparency along with accusations of pork-barrelling to bolster votes in regional electorates and questions about the extent to which landmark projects actually make better places. But from the point of view of regional policy, the collaboration required to articulate arguments for funding is fostering strategic thinking that reaches beyond day-to-day operational issues, encouraging more transformative processes that might catalyse visions for alternative regional futures.
1. Helen Norrie, "Transformative participation and collaborative practice-led design research," in Marie Sierra and Kit Wise, Transformative Pedagogies and the Environment: Creative Agency Through Contemporary Art and Design (Champaign, Illinois: Common Ground Research Networks, 2018), 115–137.
Source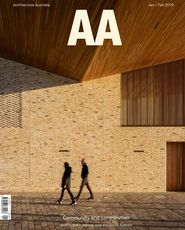 Discourse
Published online: 5 Jun 2019
Words: Helen Norrie
Images: City of Greater Geelong
Issue
Architecture Australia, January 2019
Related topics