The winners of the National Trust NSW's 2018 Heritage Awards have been announced at a ceremony in Sydney.
Spread across a range of categories that include built works, restoration projects and publications, the awards in 2018 included a new top prize: the Outstanding Project of the Year.
The inaugural winner of the prize was Interloop, a sculpture at Sydney's Wynyard Station that involved the repurposing of four ageing wooden escalators as a twisting installation.
The escalators were among the last wooden escalators still in service in the world. When the decision was made to remove them as part of the Cox Architecture-designed renewal of the station, they were retained and reworked into the ceiling-mounted sculpture by Sydney artist and sculptor Chris Fox.
Among the other winners was the adaptive reuse of Goonoo Goonoo Station by TKD Architects, which involved the sandwiching of a glass structure between a 19th Century century wool store and a 1950s shearing shed on a property in Tamworth. The new Glasshouse restaurant connects the previously separate structures with an events venue and restaurant.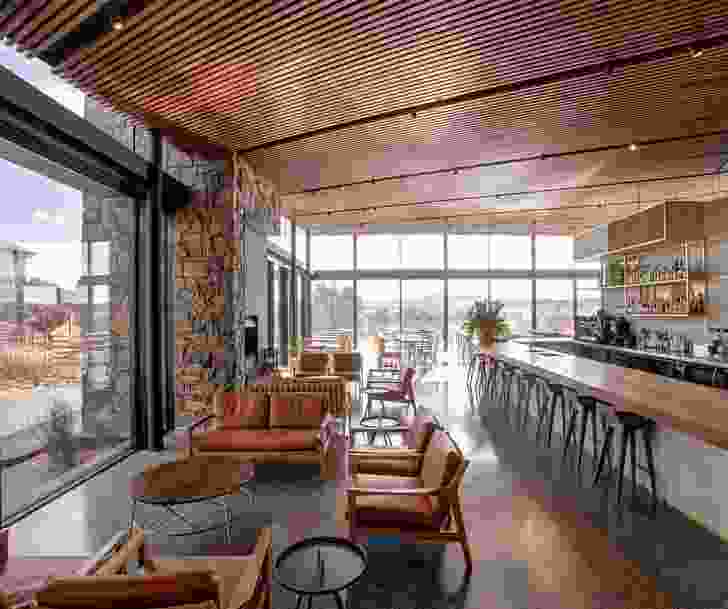 Sean Williams, heritage architect at TKD Architects, said, "New uses for the buildings were selected to achieve the best fit, both with their former historic functions and the ability to avoid or minimise adverse physical change.
"Original or early spaces and fabric have been retained, where possible. Where replacement materials were unavoidable, they were frequently sourced from salvaged materials on-site."
National Trust (NSW) CEO Debbie Mills said the winners "represent some amazing achievements on the part of organizations and individuals who are dedicated to conserving, revitalizing, inspiring, educating and exciting everyone about our built and natural heritage."
A number of individuals were also feted for their advocacy or conservation work, including broadcaster and comedian Tim Ross, who has, through his work, been a prominent advocate for Australian mid-century modernist architecture and design.
2018 Heritage Awards Winners
Outstanding Project of the Year
Interloop – a reinterpretation of 1950s escalators at Wynyard Station
Adaptive Re-use
O'Connell Street Primary School
Goonoo Goonoo Station
Conservation – Built
Hyde Park Barracks Stonework Remediation
Westpac Long Gallery
Conservation – Landscape
Berrima, Sutton Forest and Exeter Cultural Landscape Assessment
Conservation Interiors and Objects
The Birdwood Flag at Christ Church Cathedral, Newcastle
Continuing Tradition
Interior waiting room benches at Kiama and Bulli Railway Stations
Education and Interpretation
Interloop – a reinterpretation of 1950s escalators at Wynyard Station
Convict Sydney
Events, Exhibitions and Tours
The Moderns: European Designers in Sydney exhibition
History Here
Resources and Publications
Respecting the vision, Sydney Opera House - a Conservation Management Plan, Fourth Edition
Shack Life
Lifetime Achievement Award
David Sheedy
Cathy Donnelly Memorial Award
Elisha Long
Heritage Skills Award
Guido Gouverneur
Advocacy Award
Tim Ross
Related topics