Australian residential architecture is first-class. Perhaps this has something to do with the impressive conditions Australian architects are often responding to – picturesque landscape settings, expansive sites and a desirable climate. The mix of winning and commended residential projects at the 2011 National Architecture Awards is a clear indication that Australians are making the most of these opportunities.
Castlecrag House by Neeson Murcutt Architects won the Robin Boyd Award for Residential Architecture – Houses. The jury citation states, "The interconnections between a rich contextual response to site and a close attentiveness to physical and spatial manifestations of personal family history give the project a sort of seamlessness, so that it is hard to know where one stops and the other begins." This respect for context, both site and personal, gives this project an undeniably rich character.
Solis by Renato D'Ettorre Architects and the Gallery House by Denton Corker Marshall, both winners of National Awards for Residential Architecture – Houses, are impressive responses to clients' needs and desires. Of the Gallery House, the jury states, "This complex, sophisticated house brilliantly synthesizes art, design and one family's dignified living aspirations." Despite there being no brief, the close relationship between client and architect allowed the project to manifest regardless.
Many of the awarded projects this year have bold, strong architectural forms. The Marion Bay House by 1+2 Architecture, a commended project, emerges from the landscape as a giant macrocarpa wall. The triangular form of the plan pushes out towards the view of Marion Bay in Tasmania. The Garden House by Durbach Block Jaggers, the other commended project in this category, is comprises a "simple, L-shaped form." More significant for this house are the spatial experiences that unfold.
Other 2011 categories were also won by residential projects. The Small House by Domenic Alvaro won the award for Small Project, with Little Big House by Room 11 receiving a commendation in the same category. The Enduring Architecture Award went to the Magney House, 1982–84, by Glenn Murcutt. Read full jury citations here.
Source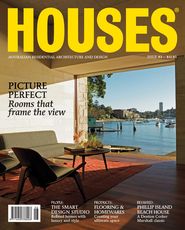 Issue
Houses, December 2011
Related topics