Robin Boyd Award for Residential Architecture – Houses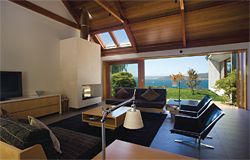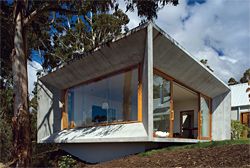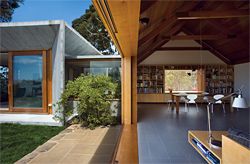 Trial Bay House by HBV Architects
JURY CITATION
An exceptional house may be one with such calmness and serenity that it is hard to leave. The remodelling and additions to the Trial Bay House have created such a house.
Two existing pavilions have been extensively remodelled and two new pavilions added, with enclosed linking passages.
The dominant new pavilion is strongly geometrical and robustly constructed of angled precast concrete walls, roofs and window sills, forming shutter-like apertures to the view. The view is further enhanced by the quality of light reflected off these shaped concrete reveals. Concrete was selected for its strength and durability, and despite the rigid, strong form succeeds in producing a structure of surprising softness and delicacy.
New windows and door openings have been added to the existing central pavilion, connecting house to landscape. It is not surprising that the immaculate and original details are the result of the architect carefully preparing reams of full-size drawings. The links between the pavilions are similarly carefully detailed, contributing to an ordered sense of calm.
The new pavilion is positioned to capture winter sun and the rebuilt old pergolas act as glazed greenhouses to naturally heat the existing pavilions.
There is a sense of striking originality yet extreme serenity in this understated house.
Images: Ray Joyce
For full coverage see Houses 76.
National Award for Residential Architecture – Houses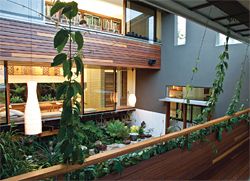 Z House by Donovan Hill
JURY CITATION
Responding to its steep hillside site, the Z House provides intrigue with a rich variety of spaces formed around a central, thickly vegetated, sloping central courtyard garden. This courtyard is the core of the house, relating building to landscape, a garden not just to look at but to be with.
The mood changes from the lofty lounge room, with subtle natural light from above and low-level courtyard windows, to the floating study loft opening to the sky and the outdoor terrace bridging over the courtyard vegetation.
Cabinetwork, stairs, windows and doors are all immaculately detailed and crafted to appear as refined works of art.
The notion of architecture as art continues externally. A small window projects to the street, displaying a fragment of the art within, while coloured tiles pattern the street facade and timber trellises encourage vigorous flowering vines.
The view from the street above is carefully considered, with abstract pebbled roofs framed by a large portal frame.
When an appreciative client proudly points out details of the house with the continual introduction "the genius of this design", you know this is unique architecture finely crafted for client and site.
Image: Sam Thies.
National Commendation for Residential Architecture – Houses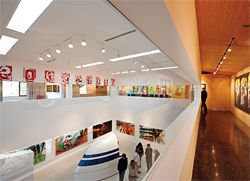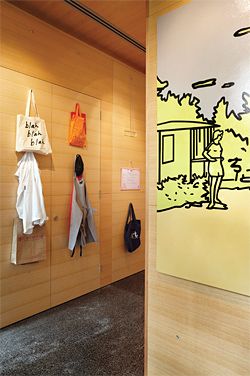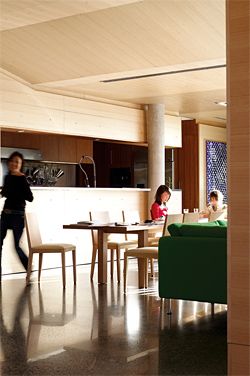 Lyon Housemuseum by Lyons
JURY CITATION
In this unique project, the requirements of a family home are combined with a public museum to display the owners' large collection of contemporary Australian art.
The majority of the space is devoted to art display, with two dominant spaces, one white and one black.
A white, light-filled, two-storey open cube with surrounding balconies allows for multiple views of artworks. The black room, by contrast, is closed for projection and video. Linking spaces come in a variety of shapes and sizes, designed for specific artworks.
Intermixed between the gallery spaces is the owners' space for private living. The blurred distinction between public and private space, between light and dark, and between large and small creates a compelling intrigue.
Finely detailed, elaborately crafted joinery pieces, pivoting doors and sliding panels provide flexibility in this experiment of combining the dual requirements of public gallery and family needs.
The external form is ambiguous, a wrapped skin of recessive dark zinc. Sculpture courtyards are formed between the museum and outer fences of textured brickwork, which relate to neighbours' buildings in the suburban context.
Generous and ingenious, the Housemuseum explores a new concept of living with and displaying art.
Images: Diana Snape, Derek Swalwell
For full coverage see Architecture Australia vol 99 no 1, Jan/Feb 2010.

Products and materials
Roofing
Internal walls

Custom-fabricated timber panels; Boral plasterboard.
Lighting

iGuzzini low-voltage lighting.
Kitchen
Bathroom

Grohe tapware and fittings; tiled surfaces.
Heating/cooling

Mitsubishi fully ducted airconditioning; hydronic panel radiator heating.
Credits
Architect

Lyons Architecture
Melbourne, Vic, Australia
Consultants

Acoustic consultant Marshall Day Acoustics
Audiovisual Urban Intelligence
Builder LBA Construction
Cost consultant Slattery Australia
Electrical consultant Umow Lai Melbourne
Furniture fabrication Xilo
Interior design Lyons Architecture
Landscape consultant Lyons Architecture
Lighting consultant Lyons Architecture
Panel lining fabrication and specialized joinery Mortice & Tenon
Polished concrete flooring LBA Construction
Structural consultant Bonacci Group
Town planning Urbis
Zinc cladding Academy Roofing

Site details

Location 219 Cotham Road, Kew, Melbourne, Vic, Australia
Number of stories 2
Site type Suburban
Building area 1060 m2
Category Public / commercial, Residential
Type Culture / arts, New house, Residential

Project Details

Status Built
Design, documentation 60 months
Construction 24 months
Website lyonhousemuseum.com.au/concept

Client

Client Corbett Lyon and Yueji Lyon
Website Lyon Housemuseum

Products and materials
Roofing

Lysaght Klip-Lok.
External Walls

Precast concrete with natural finish; existing blockwork; Sirex paint system.
Internal Walls

Existing masonry walls with hard set plaster; timber studwork walls; low-VOC paints.
Windows and Doors

Celery-top pine jambs, heads and sills; Western red cedar sliding shutters; celery-top pine internal doors. Irodori sudare reed blinds.
Flooring

Concrete; tiles.
Lighting

Megabay OMNYX3 spotlight and Zimano downlights; Fagurhult sidelight.
Kitchen

Miele oven, cooktop, microwave and dishwasher; Qasair rangehood; Liebherr fridge; Weatherfoil stainless steel sink; Rogerseller Midi sink mixer.
Bathroom

Rogerseller Pino Architect semi-recessed vanity basin, Midi basin mixer and shower mixer; Kaldewei bath; Duravit toilet; Caroma cistern; Madinoz bathroom accessories.
Heating/Cooling

In-slab heating; Cheminees fireplace.
Other

Stonework by Apollo Stone; joinery by Crescon Joinery and Bauhaus Kitchens.
Credits
Design architect

James Jones, Architectus
Architectural practice

HBV Architects
Hobart, Hobart, Tas, Australia
Project Team

Petrina Moore, Scott Christensen, Helen Daly
Consultants

Builder Bennett Construction
Building surveyor Peter Angus
Environmental consultant Steve Watson
Lighting Southern Lighting
Mechanical and electrical engineer Tasmanian Building Services
Structural engineer Gandy and Roberts Consulting Engineers

Site details

Location Trial Bay, Tas, Australia
Number of stories 1
Site type Rural
Building area 450 m2
Category Residential
Type New house, Residential

Project Details

Status Built
Design, documentation 12 months
Construction 12 months

Credits
Architect

Donovan Hill
Australia
Project Team

Brian Donovan, Timothy Hill, Michael Hogg, James Davidson, Jodie Cummins, Robert Myszkowski, Martin Arroyo, Anna O'Gorman, Peter Harding, Sandy Cavill, Briohny McKauge, Paul Jones
Consultants

Builder James Trowse Constructions
Hydraulic consultant Steve Paul and Partners Brisbane
Landscape consultant Donovan Hill, Steven Clegg Design
Structural consultant TFA Project Group

Site details

Location Teneriffe, Brisbane, Qld, Australia
Site type Suburban
Category Residential
Type Residential

Project Details

Status Built
Website http://www.donovanhill.com.au/images/residential/pdf/Z%20House%20Profile.pdf

Related topics