FREDERICK ROMBERG AWARD FOR RESIDENTIAL ARCHITECTURE — MULTIPLE HOUSING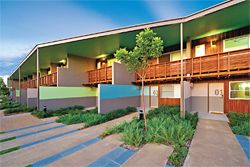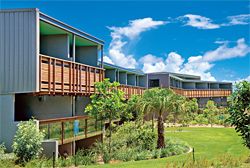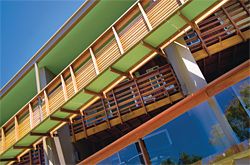 Seaspray Resort and Spa by Donovan Hill
Jury Citation
Located in an extremely hot climate and in an area of increasing development pressure, Seaspray at Zilzie is a masterful response to a specific locale and program while also positing an adaptable, broadly applicable multi-residential model.
The planning maximizes shared natural landscape by compacting the building to a sinuous edge mirroring the course of the natural creek. The building seems so right it is almost visually absorbed into its place – low slung and modest, the colours natural and shadowy, settling into the vegetation and land forms.
While the building politely defers to its neighbours, it has strong individual architectural character and offers real comfort and delight.
Architectural joy is extracted from a modest budget through the application of crafted detail to create the most human enjoyment. Good judgments have been made about resource expenditure, such as prioritizing social space over expensive car accommodation.
In this very hot and dry climate, the narrow townhouses planned tightly on a four-metre-wide grid offer great amenity. Porous ends north-east and south-west offer protected external living zones at both upper and lower levels. A soaring central atrium provides architectural interest and cooling natural cross-ventilation on even the hottest of summer days.
Upper-level bedrooms, some of which in these long narrow plans would be internal, open like mezzanines onto the atrium court. The clever spatial configuration encourages flexibility and could allow work from home or residential/commercial opportunities.
The Seaspray apartments are highly successful and popular, have increased the understanding of and desire for the benefits of good architecture, and offer a model for tight, economical and ecologically responsible housing development.
Images: John Casey
NATIONAL COMMENDATION FOR RESIDENTIAL ARCHITECTURE — MULTIPLE HOUSING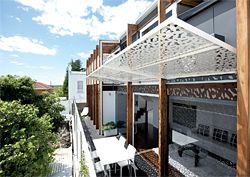 Yan Lane by Justin Mallia
Jury Citation
A once gritty inner-urban laneway in Richmond, Melbourne, has been transformed. The architect – here also the developer and financier – saw opportunity and potential in a compact, unloved, inner-urban laneway. Clever planning has yielded two pleasant houses where once were rubbish bins and parking.
Within uncommonly tight constraints, the architect has maximized the potential and yield by creating a truly responsive building. The section is stepped, responding to the tight envelope; the houses face due north, capturing surprisingly pleasant treed local views. Adjustable screens mediate sun and privacy to the remarkably spacious outdoor terraces. Each face of the building is specifically fitted to its immediate external context and internal functions, the exposed structural timber frame organizing this variously formal and material expression into a cohesive whole.
This is a good demonstration of strategic economy and smallness, the remediation of "left over" urban spaces, and the opportunity to increase residential density by intelligent infill in unexpected places.
For full coverage see Houses 77.
Images: Paul Cadenhead.
NATIONAL COMMENDATION FOR RESIDENTIAL ARCHITECTURE — MULTIPLE HOUSING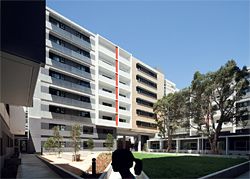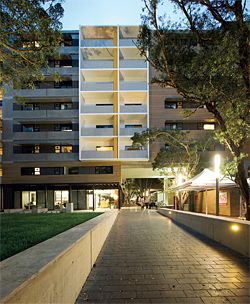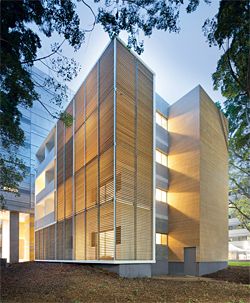 UNSW Village by Architectus
Jury Citation
This student housing building effectively forms the gateway to the UNSW campus at Randwick.
An important building typology with a high degree of design difficulty, this particular project presented the designers with a number of challenges, including an extremely tight budget.
The deftly planned complex houses over 1,000 students while retaining the major existing trees and respecting the scale of the public road and surrounds.
The rigorous, repetitive arrangement of five- and eight-storey thin-plan apartment buildings, their entry foyers and communal courtyards linked by a clear pedestrian spine, delivers amenity and social connectivity, and weaves comfortably into the campus masterplan and fabric.
Individual apartments are extremely pleasant living environments due to good planning and sophisticated design ingenuity in the building fabric. Well oriented, sunshaded and weather protected, all apartments have good light and views. Vented hollow-core slabs provide cross-ventilation while retaining privacy, and Thermomass wall panels insulate efficiently. The scheme incorporates responsible ecological design, with column-free construction allowing for future adaptation, solar hot water systems, grey water storage and reuse, and rainwater collection and storage.
UNSW Village adroitly balances community and privacy and provides a healthy environment for living, work and study.
Images: John Gollings.
Credits
Project Team

Brian Donovan, Timothy Hill, Paul Jones, Michael Hogg, James Davidson, Ron Van Sluys, Robert Myszkowski, Jonathan Goh, Phillip Hindmarsh, Jodie Cummins, Peter Harding, Briohny McKauge, Kim Baber, Sandy Cavill, Martin Arroyo,
Architect

Donovan Hill
Australia
Consultants

Builder Hutchinson Builders Brisbane
Certifier McCarthy Consulting Group
Civil consultant Graham Marsh Pty Ltd
Electrical consultant Basset
Hydraulic consultant Steve Paul and Partners Brisbane
Landscape consultant Edaw
Mechanical consultant Coolit
Structural consultant Mills Engineers

Site Details

Location Cocoanut Point Drive, Zilzie, Qld, Australia

Project Details

Status Built
Website http://www.seaspray.com.au/
Category Hospitality, Public / commercial

Credits
Architect

Architectus
Australia
Project Team

Kerry Clare, Lindsay Clare, Rosemarie Gidaro, Belinda Pajkovic, Renee Farah, Justin Magness, Jiunder Chung, Euckan Chan, Farah Akbar
Consultants

Construction manager Watpac Sydney
Mechanical, electrical and environmental consultant Steensen Varming
Structural consultant Robert Bird Group

Site Details

Location High Street, Randwick, Sydney, NSW, Australia
Site type Suburban

Project Details

Status Built
Website http://www.unswvillage.com.au/
Category Residential
Type Apartments, Multi-residential

Client

Client name University of New South Wales
Website The University of New South Wales

Related topics