Robin Boyd Award for Residential Architecture – Houses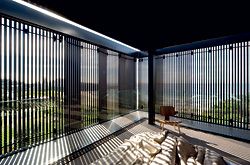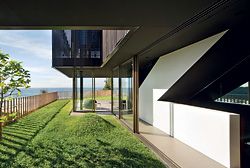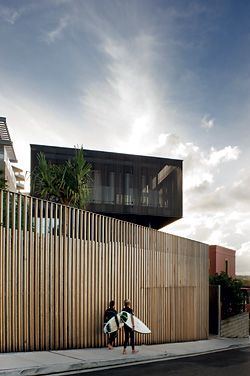 Freshwater House by Chenchow Little Architects
Jury Citation
Harbord is a somewhat neglected Sydney suburb, with a most glorious surf beach between two rocky headlands. The client had lived on this small 332-square-metre site for many years and loved its elevated relationship with bushland, beach and ocean.
The house is now two years old, and due to careful consideration of materials and detailing is standing up well to the marine environment. A neatly detailed palisade of weathered, recycled spotted gum fronts the street, conceals the garage and fences a garden terrace in a gentle allusion to suburban picketing. This forms a podium for the house, a somewhat Miesian pavilion with a cantilevered upper bedroom level sheltering the main living level.
The podium contains the garage, entry lobby and water storage tanks. The living level appears generous and expansive through the positioning of sliding doors which open to a level lawn (above the garage) and a cleverly integrated swimming pool, which presents all year as a beautifully tiled set of reflecting ponds. Children at play can be readily observed from the kitchen. The effective use of corner glazing opens up this level and channels diagonal views of the sea. This planning, allied with clever boundary fencing and planting screens, plays down the immediate neighbours.
The bedroom level is given a special quality by a series of slatted dark metal screens, which enable maximum glazing and outlook without compromising sun control and privacy. Interiors are stylishly fitted out, with an emphasis on glossy black and matt white finishes, and with lustrous Italian tiles enhancing the swimming pool upstand.
The design is an outstanding solution for an elevated site. It achieves a private compound, screened from the neighbours yet open and expansive towards an outdoor lawn terrace, the beach and the sea.
For further coverage see Houses , Issue 65.
National Award for Residential Architecture – Houses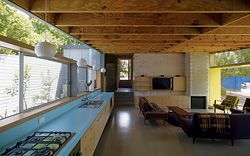 Zac's House by Neeson Murcutt Architects
Jury Citation
Located down a sandy track amongst ancient tea-tree and hardy clipped shrubs, this understated bungalow epitomizes a simpler beach-side existence reminiscent of the 1960s.
Its roof and levels follow the contours of the site, with lemon-yellow steel frames accenting the walls of slim grey concrete bricks and sheltering and screening the north-facing openings. A central room links directly with the lawn, dunk pool, garden and tennis court and is the focus of family life, centred on the fireplace in winter. The floors throughout are of dark polished concrete, walls are bagged brickwork and the sloping roof/ceiling has a strong framework of blond plywood beams. A cross-artery links the bedrooms and service areas, providing a garden vista to the west.
There is a directness and honesty throughout. The kitchen and bathrooms are simple, and along with all joinery, pivot doors and steel window framing, are well resolved and neatly detailed.
Discreet skylights and a small rear courtyard provide light and cross-ventilation. Sensible orientation, good thermal mass and water management are evident.
The house was kept low and compact to achieve complying development (and a faster approval). Negotiations allowed zero setbacks from the side and rear boundaries, maximizing northern garden areas. The house shares garden space with two related properties, and amongst the sloping dunes and canted tea-trees landscape designer Fiona Brockhoff has introduced distinctive sweeps of hardy shrubs.
Zac's House is concise and liveable, relatively inexpensive and a possible model for compact residential development. It represents simple strategies handled well.
National Award for Residential Architecture – Houses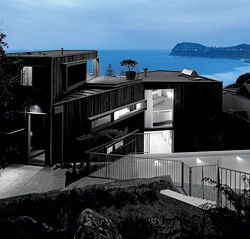 Whale Beach House by Neeson Murcutt Architects
Jury Citation
The Palm Beach peninsula, north of Sydney, is set between surf beaches and rocky headlands, and the great Pittwater estuary which divides it from Ku-ring-gai Chase National Park. The Whale Beach House sits in a sheltered fold in the topography, with a view over the beach and a rear garden of distinctive rocks, ferns and coastal trees. The cliff face to the north-west limits afternoon sun.
A winding path and steps ascend the hillside to the house, which presents as a series of blocky, irregular forms, some finished in white roughcast render, others in recycled spotted gum, alluding to both Mediterranean villages and Scandinavian domestic architecture. The entry route passes by tree ferns, an outdoor shower, a lawn edged by native plants and an indoor/outdoor terrace before arriving at the nodal point of the house and a panoramic outlook to the beach. Internal spaces are irregularly shaped around specific functions, and each window and opening has been positioned to catch the sun or to frame an exquisite view of the sea, the wild remnant woodland or domestic vignettes. Every room has an individual character; communal areas open onto large decks. The kitchen, located near the front door, is "operation central", and overlooks the main living areas and a swimming pool.
Different levels of the house are linked by secret stairs, so that each level seems discreet; the house looks at first completely open-plan, but concealed doors can slide into place to achieve private spaces.
Carefully positioned skylights and windows catch the sun, rainwater is collected and stored and the house is heated in winter by hot water radiators. Profound geotechnical and drainage problems had to be overcome on this site, and the house is cleverly integrated into the hillside. Native ferns and shrubs in the vicinity of the house were removed for nurturing and propagation during the works, and their reinstatement emphasizes the settled contexturalism of the design.
National Commendation for Residential Architecture – Houses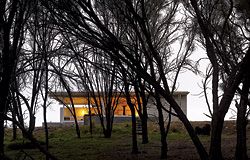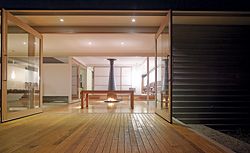 Arm End House by Stuart Tanner Architects
Jury Citation
Opossum Bay is located near the mouth of the Derwent estuary. The site of this house is protected from winds and screened from the water by a stand of old casuarina trees, through which one can descend to a sandy beach.
The clients, a musician and his wife, wished for a "Zen" house of no more than two bedrooms, centred on a special room which made the most of the site. They wanted the house to be both a home and a place of contemplation and retreat, a sanctuary from busy, worldly lives.
The house is very carefully detailed, and in places has joinery elements which are based on musical rhythms. The essence of the design is centred on the T-shaped living space designed with golden mean proportions, which has greater height and a freestanding hearth. A serene mood prevails. Large glazed doors open to enfold and shelter neat gravel terraces, and to engage with northern views to mountains and western views over the Derwent, filtered by the casuarina grove.
Projecting steel beams support wide sheltering eaves, and sliding screens temper the outlook from the bedrooms. The house turns a solid back to the south and has been designed with sustainability in mind: good thermal mass, rainwater harvesting and cross-ventilation are all evident.
Frederick Romberg Award for Residential Architecture Multiple Housing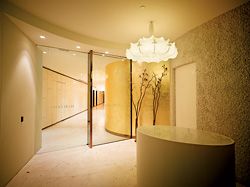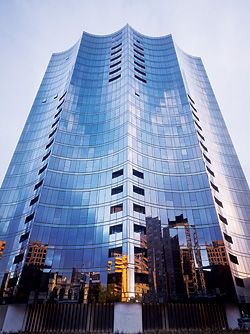 Balencea Apartments by Wood Marsh Architecture in association with Sunland Design
Jury Citation
Many architects have conceptualized the tower building as an elegantly shaped glass vessel. At Balencea, Wood Marsh has explored such a glazed sheathing for apartment use, ingeniously incorporating sheltered balconies and opening windows into the sleek envelope.
St Kilda Road, conceived as Melbourne's grand boulevard, was once lined by imposing houses, now largely replaced by dull high-rise buildings.
Balencea counters this trend, recognizing the importance of its position on a corner site and the opportunity to intrigue with its fluted, slender form. Mysterious inky blue glass gives a heightened fragility to the sculptured skin. The external envelope is refined and glamorous and rises from a well-modulated and urbanized ground plane, with an outdoor terrace for a cafe, stepped planting, an artfully decorated substation and a hidden car park entry.
The ground floor provides a public interface, through the cafe and the concierge, and shared facilities for the apartment dwellers, including a very atmospheric light-filled indoor swimming pool, gymnasium and sauna. The lobby is given richness by an undulating wall covered in gold leaf and its counterpoint covered in white padded leather. Upper hallways are calm spaces, quietly lit.
The tower houses eighty-four apartments. There are five different floor plans and some variety in individual apartments. The apartments are generous and well planned, with floor-to-ceiling glass. From within, the faceted facade frames different outlooks towards spectacular views.
The building is double-glazed and achieves a 5-star Green Star rating. There are twenty-two floors of apartments, an additional three floors granted by the authorities in recognition of design excellence.
National Award for Residential Architecture – Multiple Housing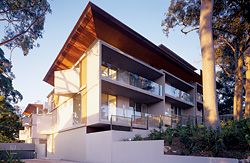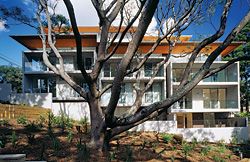 Pindari by Candalepas Associates
Jury Citation
Pindari is an intensive, medium-rise residential development overlooking Centennial Park, with distant views of the Blue Mountains. Its considered architectural planning and form provide a useful model for denser suburban living. The development contains sixty-six apartments and town houses.
Randwick was once an elegant suburb of Victorian and Edwardian houses, somewhat compromised in the 1960s by standard speculative walk-up flat buildings. Pindari confronts these mediocre dwellings with an architecturally resolved development of greater density and design integrity, set in an established garden of mature trees.
Attractive fencing and planting edge the margins of the site, with understated rendered (and unpainted) walls defining private courtyards and terraces. Building elements are finished in subtle earthen tones, with string course, triangular bays, battened screens and stone panels modulating the walls. Distinctive golden brown plywood eaves and tapered roof edges provide a strong concluding accent against the sky. Rain is collected and stored. Apartment circulation is sheltered but typically out of doors, allowing good cross-ventilation and sunlight penetration. Interiors are neutral in palette, with limestone floors and modelled plaster walls, generous courtyards and terraces and engaging idiosyncratic detailing. Parking is concealed below grade.
The jury felt that the pedestrian street between the town houses would benefit from some further planting or screening to temper overlooking. It noted that Pindari's otherwise highly considered siting and planning, inventive massing and robust detailing make it a desirable commercial product and a worthwhile prototype for the more intensive development of suburban land with a scale and character that can sit comfortably with existing townscapes.
National Commendation for Residential Architecture – Multiple Housing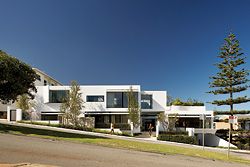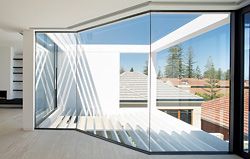 Apartments in Cottesloe by Blane Brackenridge
Jury Citation
These four house-sized luxury apartments in Cottesloe are located on a 1100-square-metre suburban site, in a cul-de-sac of individual houses and smaller unit blocks. The sloping ground provides an outlook to the Indian Ocean.
Parking is below grade and out of sight, and the development presents a low-rise scale to the street and the neighbours, typically of no more than two storeys, all generally within a seven-metre height control. The slope of the site encouraged stepped forms and sections, enabling roof terraces and outlooks for all apartments. The language of white-painted cubic concrete forms and travertine floors suits the bright light and Mediterranean climate of Perth.
A central vestibule with natural light and ventilation provides access to the four apartments. All are generous in scale and character, each with four bedrooms, with thoughtfully detailed kitchens and bathrooms. Each has lift access to the garage. The rectilinear planning is eased by the introduction of curving enclosures and stair landings. Courtyards, skylights and the central access spine allow good cross-ventilation and daylight into the complex. External blades direct views and provide a degree of privacy from neighbouring properties.
The clever planning and layering of the apartments, their outdoor areas, the central access way and the parking, combined with a low-rise presentation and the provision of four house-sized apartments on a single large residential block, make this a worthwhile model for more intensive housing within established suburbs.
Credits
Architect

Chenchow Little
Sydney, NSW, Australia
Project Team

Tony Chenchow, Stephanie Little, Janice Chenchow, Jenni Dang, Angela Rowson
Consultants

Builder Tecorp Constructions
Hydraulic consultant Taylor Consulting
Structural consultant Benvenuti S.C.

Site details

Location Sydney, NSW, Australia
Category Residential
Type New houses, Residential

Project Details

Status Built

Credits
Architect

Neeson Murcutt Architects
Sydney, NSW, Australia
Project Team

Rachel Neeson, Nicholas Murcutt, Sean Choo
Consultants

Builder Hudd Constructions
Joiner Burmack Cabinets
Landscape consultant Fiona Brockhoff Landscape Design
Steelwork Flinders Welding
Structural consultant Cuthbert Consulting

Site details

Category Residential
Type Residential

Project Details

Status Built

Credits
Architect

Neeson Murcutt Architects
Sydney, NSW, Australia
Project Team

Rachel Neeson, Nicholas Murcutt, Andrew Burns, Amelia Holliday, Jeff Morgan, Sean Choo, David Coleborne
Consultants

Aluminium joinery Donalco
Builder Coddington Constructions
Civil consultant Geotechnique
Hydraulic consultant ACOR
Joiner North Shore Custom Cabinetmaking
Landscape consultant Sue Barnsley Design
Structural consultant Tihanyi Consulting
Swimming pool consultant Waldon Pools
Timber doors and windows Bruce Baker and Co

Site details

Location Palm Beach, Sydney, NSW, Australia
Category Residential
Type New houses, Residential

Project Details

Status Built

Credits
Architect

Candalepas Associates
Sydney, NSW, Australia
Project Team

Angelo Candalepas, Martin Urakawa, Andrew McCloskey, John Wilkin, Marko Damic, Polly Harbison, Kevin Burns, Thomas Hale, Evan Pearson, Stefano Bedetti
Consultants

Builder Opportunity Investments
Developer Pindari Centennial Park Developments
Electrical consultant JHA Consulting Engineers
Hydraulic consultant Steve Paul & Partners
Landscape Taylor Brammer Landscape Architects
Mechanical consultant Eagle Air
Structural consultant MYD Consulting

Site details

Location Randwick, Sydney, NSW, Australia
Category Residential
Type Apartments, Residential

Project Details

Status Built

Credits
Architect

Blane Brackenridge
Dalkeith, Perth, WA, Australia
Project Team

Blane Brackenridge, Ian Brackenridge
Consultants

Builder 3D Build
Landscape consultant Taylor Landscaping
Structural consultant Airey Taylor Consultants

Site details

Location Cottesloe, WA, Australia
Category Residential
Type Apartments, Residential

Project Details

Status Built

Related topics