North Sydney Olympic Pool, the heritage landmark wedged between the Sydney Harbour Bridge and Luna Park, is set for a major transformation after being deemed structurally unsound.
Brewster Hjorth Architects' design for the redevelopment will see new concrete facilities for aquatic and fitness environments "discretely placed" within the historic framework of the Art Deco polychrome brick complex that has defined the site since 1936.
North Sydney Council has put the plans on public exhibition following the recent cancelation of the pool's annual New Year's Eve fireworks event due to a structural review finding the pool was unsafe for the event. The review found that while the load of people and equipment on the pool's concourse should be limited, the pool is safe for everyday use.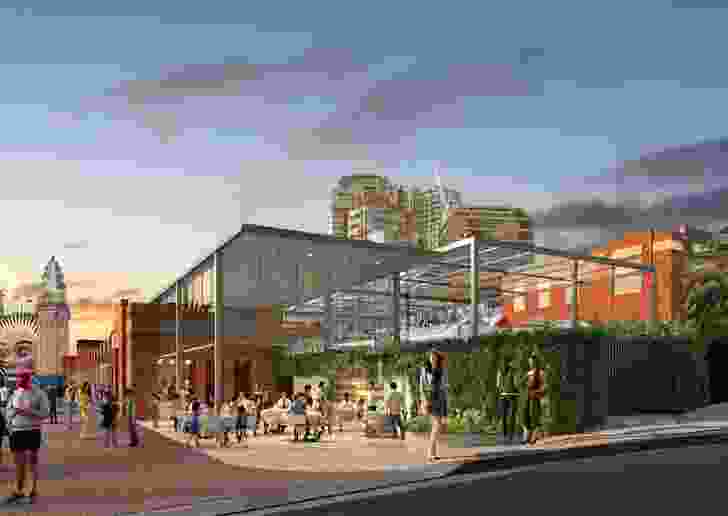 "The concept plan brings the pool and gym facilities into the twenty-first-century while retaining the heritage elements that our community treasures, including the entry stairwell, Art Deco wall along the harbour and a refreshed hall of fame," mayor Jilly Gibson said earlier this year.
"Council recognises that the pool plays two roles in our community. It is a much-loved and well-used local facility but it is also a Sydney icon that attracts people from across the world. These plans will ensure the Pool continues to meet community needs and remains one of the best outdoor pools in the world."
As part of the $44 million redevelopment, the existing main pool will be replaced with a 50-metre pool of a "similar appearance and in a similar location," while the grandstand will also be replaced with a new complying and safe structure with a similar size and capacity.
The modern grandstand design will allow room within its overall envelope for new gym and modern change rooms.
At the upper Alfred Street level, meanwhile, the 1998 facilities will be upgraded and expanded for greater capacity and a wider range of functional facilities. The expanded Indoor Pool Hall will house an upgraded 25m pool with an accessible ramp, a new warm water pool suitable for aquatic classes, as well as spas, a sauna and a steam room.
Brewster Hjorth note in a design statement that architectural screening elements as well as graphics will be developed from the characteristic Art Deco decorative schema of the existing buildings.
"A strong sense of cultural continuity will be reinforced through the recreation of the original entry pathway through the Eastern Entry Tower, as well as the re-interpretation of the historic material reflecting the unique sporting history of the NSOP along the recreated Hall of Fame in the new Grandstand structure," the statement reads.
"Expanded water play features and a re-created sundeck with gelato bar will be custom designed for the North Sydney site, re-interpreting and re-creating its historic role as a place of fun as well as competition for the local and wider Sydney community."
A development application is on exhibition for comment until 5 pm on Friday 13 December.
Related topics