Design statement
The Crumpler Doncaster store aims to reinvent the notion of a traditional retail interior and its components. Designed to be considered as a woven object rather than a store, it updates the notion of a traditional shopfront from being highly transparent into a kinetic and dynamic element that shifts from clear to solid depending on the perspective of the viewer. The flexible puck systems of the traditional shop interior are transformed into a custom sculptural display system that allows for a complete transformation of display. The store is essentially created from the materials of the product it sells: high-quality bags. Webbing used for the bags' robust shoulder straps and internal support structures becomes the shopfront and suspended display systems, while powdercoated steel employed for the rigid frames of larger travel items is used for display grandstands and adjustable hang rails. Elsewhere, rubber recognizable from the bags' internal linings creates a resilient layer for flat display areas. Using materials from the products themselves results in an immediate connection between the store and the product.
Jury comment – Retail Design
The awarded and commended projects in this category are acknowledged for successfully creating outstanding retail identities in busy retail environments. The Crumpler store is marked by its extraordinary shopfront, which immediately identifies the brand and marks the store entry clearly within the visual noise of the ubiquitous shopping mall. Every aspect of the design reinforces the Crumpler brand: the aesthetic is strong, clear and not at all overworked. The designer has selectively executed three key ideas that are true to the brand and add meaning to the Crumpler product. Materials from the manufacture of Crumpler's own products are brilliantly used within the interior as trussed, surface and suspension elements to display product. A glass display box at the entrance elevates the Crumpler bag to an object of desire. Overall, the store entry is an exercise in 3D form, material exploration, customer experience and brand identity.
Products and materials
Fixtures

Metal fixtures with Dulux powdercoat. Crumpler webbing over steel frames. Activa rubber to shelving.
Joinery

Australian white birch veneer plywood.
Credits
Design practice

Russell & George
Melbourne, Vic, Australia
Project Team

Ryan Russell, Rebecca Ransley, Emily Shannon, Josh Carmody, Brigette Cameron
Consultants

Builder EMAC Constructions
Project manager EMAC Constructions

Site details

Location Westfield Shopping Centre, Doncaster, Melbourne, Vic, Australia
Number of stories 1
Site type Suburban
Category Interiors
Type Retail

Project Details

Status Built
Design, documentation 1 months
Construction 1 months

Client

Client Crumpler
Website crumpler.com

Source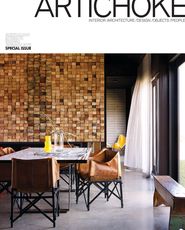 Issue
Artichoke, April 2011
Related topics