Retail stores consume. They consume products and services, energy, materials, water and lots of money. In a world that is becoming more unpredictable and rapidly changing to address sustainability as a means to deal with ecological issues such as climate change, excessive consumption remains the biggest barrier to its success.
Average leases in the retail industry in Australia are five years. This period of changeover results in the wastage of large quantities of materials and products, and the consumption of new resources through replacement. The retail sector also accounts for roughly 50 percent of total energy consumption in Australia's commercial-building sector, and the median water usage of shopping centres in Sydney is 1.7 kilolitres per square metre.
So how can retail stores and shopping centres turn this around? Consume less and be more positively productive? Reducing churn is a major step to reducing the environmental impacts of retail stores. Leases requiring "making good" or "updating" of a fitout should not demand unnecessary replacement. Requirements can be negotiated so only items that are worn or damaged are replaced.
Durable materials should be selected for high-wearing areas, for example floors and countertops, especially at point of sale, as well as materials that require low and easy maintenance without the use of toxic chemicals. For items that need constant updating such as signage, low impact materials (low toxicity and low embodied energy) can be easily recycled or biodegraded at end of life.
Reusing materials and products is another way to combat churn: their second lives are incorporated into a future design or have a future user. For example, a stone floor, when incorporated into a raised floor system, allows the floor tiles to be removed without damage at the end of its life and easily reused. Storage is often a requirement for effective reuse strategies. The fashion store C&A in Germany stockpiles all of its display and point-of-sale furniture in a warehouse for future distribution and reuse.
Items that need regular replacement should ideally be either recyclable within a local existing recycling system or be biodegradable, again within a local system. Selecting materials that fit into either of these two systems assists in reducing landfill waste and provides valuable resources for new materials.
Modular and systemic designs provide flexibility and variety, and also reduce the need for replacement. Longevity and durability are key concerns when selecting a modular system, including the ability to update, refresh and replace.
Selecting materials appropriately for their expected use across the whole life of the project is the first step to a more sustainable retail fitout, and selecting materials with the least negative environmental and social impact across their productive life cycle is the second step.
Lastly, the store or shopping centre may be able to give back, particularly to the local community, through initiatives such as on-site energy production, stormwater storage or edible gardens. Individual stores can be positively productive by organizing free reading lessons, fitness training, skills improvement, or donations of excess food to those in need or unwanted furniture to local schools and community centres.
The values of consumers are changing, and the retail industry needs to consider how they are going to respond to these changes to transform places of consumption to places of production.
Source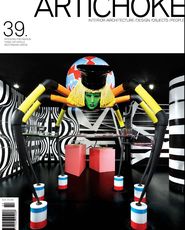 Issue
Artichoke, June 2012
Related topics