How do you "do" social sustainability? It's a complex task, and there is no single policy level or responsible authority that independently delivers socially sustainable outcomes. It requires an integrated approach and the coordination of many contributors, among which the profession of architecture offers a unique skill set. Wellbeing and social sustainability are emerging areas of focus in determining public policy around the world. For the profession of architecture, a better understanding of what social sustainability is, and a clear articulation of how the discipline contributes to it, are vital as we navigate a changing marketplace and advocate for the value our profession offers to the task of achieving socially sustainable communities.
In essence, social infrastructure can be both hard and soft, and architects and built environment professionals contribute to the creation of both. Research from two recent reports on the topic, Social Cities by the Grattan Institute and Design for Social Sustainability by the Young Foundation (UK), demonstrate that social connection is crucial to wellbeing. These reports demonstrate that there is a strong connection between the quality of social infrastructure and the wellbeing of residents. Humans are fundamentally social animals: relationships are critical to our wellbeing. A lack of social connection leads to loneliness and isolation, experiences far more harmful than previously realized. The importance of social connection to health and wellbeing means that, for many people, improved relationships are a much more realistic path to a better life than increased income.
What does this have to do with the design of cities? As the Social Cities report reminds us, the way we build and organize our cities can help or hinder social connection. This "way" of building cities refers not only to the formal structure of the city but the manner or systems through which we arrive at that structure. At worst, failed approaches can "build in" isolation, with long-term damage to quality of life and physical and mental health. Places deliver the conditions within which our social lives are sustained, and architects contribute to the delivery of places and their performance attributes. A greater understanding of how we create places that perform well is a vital step in realizing social sustainability and wellbeing for society. This "how" is something the architecture profession often struggles to articulate, and in the absence of a clear response to that question, the value of good design is often overlooked.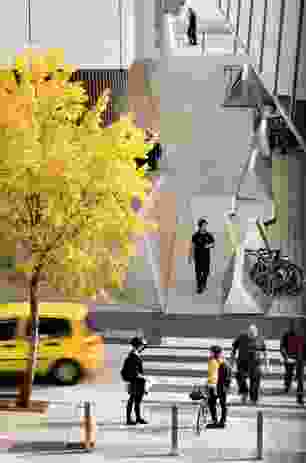 Over the past decade, the question of how we achieve wellbeing has been gaining momentum as international and local conversations reflect on the big questions: What does progress really mean? How do we decide what counts as progress? Human progress is increasingly understood as being much more complex than economic progress alone, and includes the values that underpin our lives together, the goals that relate to our wellbeing as individuals and as communities, and the effective and sustainable use of our resources for the wellbeing of future generations.
In October 2012, the 4th OECD world forum – Measuring Wellbeing for Development and Policy Making – was hosted in Delhi. Australian work profiled at the world forum included an Australian Bureau of Statistics project called Measuring Australia's Progress (MAP), and the Australian National Development Index (ANDI), a National Wellbeing project that aims to revitalize Australia's democracy while asking "what kind of Australia do we want?"
As concern about progress and wellbeing shape public policy priorities, and thus consequently determine funding expenditure, it is timely for the architecture profession to advocate for the value of design. City planning has focused for decades on questions of "where," of location of services or opportunity. In addition to this, in a digital age where many services are increasingly accessible regardless of physical location, the primary question of "where" is joined now by the question of "how." How do we experience social connection? What are the conditions that support and sustain our capacities as social creatures who are reliant on interaction, communication, collaboration and shared experience? Interest in the qualities of places, and how they support social connection, has taken centre stage.
In addressing this question of "how do we experience social connection?" there is opportunity to demonstrate the value of design as process, alongside the more accustomed value recognizing design's outcome as an object. In considering the "how" of human experience, the value of design-led public engagement is an important contributor to people's sense of agency, participation, engagement and connection to their community.
A recent example of this is the successful national pilot of 5000+, the Integrated Design Strategy for inner Adelaide (5000plus.net.au). 5000+ developed ways of working that demonstrate the value of design-led engagement at a city scale.It required thinking beyond the boundary of individual sites, and invited multiple stakeholders from all levels of government and a cross-section of society to participate in the process of design and consider their role in providing continuity of quality experience in the public realm. It advocated for an approach to city-making that recognizes the need for integration, and incentivized authentic collaborative approaches by contrast with silo-ed, piecemeal city-making.
We know that design excellence doesn't just happen. It needs an environment that values quality and supports good design. The growing conversation around wellbeing and social sustainability offers a new opportunity to raise the profile and value of design. In essence it's a value chain that goes something like this: Design-led processes underpin good design outcomes; good design outcomes create quality public realm; quality public realm provides the conditions that support social sustainability and wellbeing. It's a story that needs to be articulated and presented now to those shaping public policy and aspiring to achieve the broad kind of progress that includes socially sustainable outcomes.
If the architecture profession misses the opportunity to advocate for the value of our contribution, we risk being overlooked or possibly relegated to a minor role in one of the biggest movements of our era. The international shift away from a reliance on economic progress, plus growing interest in the conditions that create wellbeing and thriving social outcomes, mean this opportunity is too big to miss. It speaks to the core of what architecture is about – designing and delivering places that provide the conditions that underpin exceptional human experiences.
The Institute's National Sustainability Committee has drafted a new policy on social sustainability, which is due to be presented to National Council early in 2013, so you can expect to hear more on this topic.
Source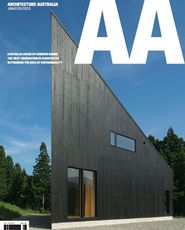 Discourse
Published online: 27 Mar 2013
Words: Angelique Edmonds
Images: Sam Noonan, supplied by IDC SA, Sam Noonan, supplied by the Integrated Design Commission South Australia (IDC SA)
Issue
Architecture Australia, January 2013
Related topics