A series of interviews with some of Melbourne's most significant modernist architects and designers forms part of a new series that will be screened publicly on 12 July at the Australian Centre for the Moving Image as part of the Open House Melbourne program.
Modern Melbourne includes interviews with industrial and interior designer Mary Featherston and architects Peter McIntyre, Daryl Jackson and Graeme Gunn, in conversation with Melbourne Open House executive director Emma Telfer. A common thread across the interviews is the work of architect Robin Boyd, who was associated personally and professionally with all four interviewees. Boyd is credited as being one of the most significant proponents of mid-20th century modernist architecture in Australia.
Over a 30-year period, Mary Featherston embarked on a professional and creative partnership with husband Grant Featherston that resulted in a number of significant interiors, exhibitions and pieces of furniture. Featherston's career is also defined by her particular interest in designing for educational spaces.
In her interview with Telfer, Featherston recalls her experiences working on the fit-out for the new, Roy Grounds-designed National Gallery of Victoria (NGV) on St Kilda Road with her husband, an intensive and significant piece of work which involved designing "every moving fitting but the phones."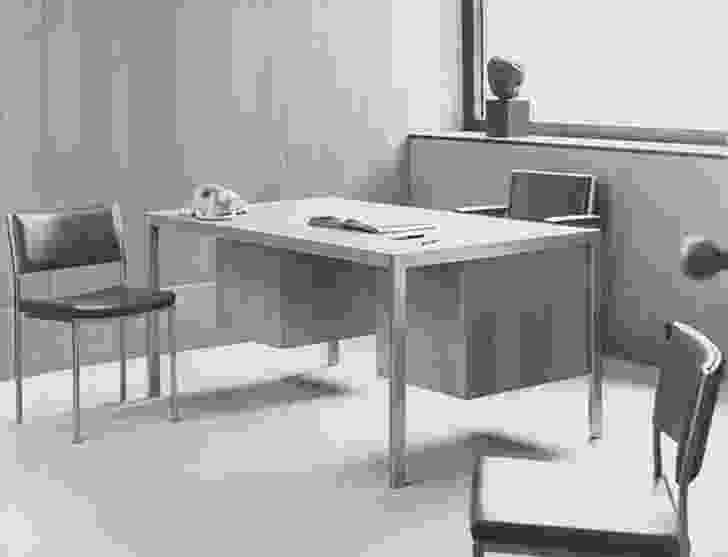 Speaking to Telfer, Featherston said, "That was a demanding job in a different way because the scope of the collection is so vast. All the way from tiny objects and Egyptian beads, through to the huge sculptures and enormous carpets. And really, the curators didn't know entirely what was in the collection, because a lot of it hadn't been seen for years. So that was most interesting, doing the initial research with the curatorial staff to understand what the needs were and then to rationalize it into a sort of modular system of free-standing display, study, and storage." The Featherstons' work was largely removed in 2003 as part of a remodelling by Mario Bellini and Metier 3.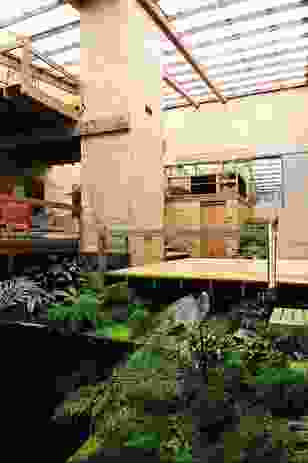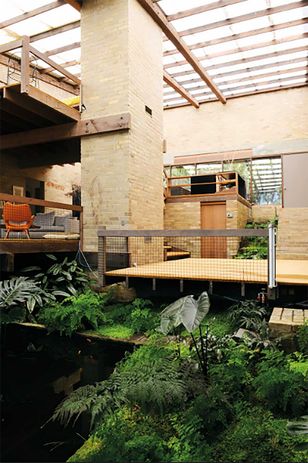 It was while working on the NGV that the Featherstons commissioned Robin Boyd to design a home for them on a site in the inner-north-east suburb of Ivanhoe. Featherston said that their house, which she still occupies, was representative of Boyd's way of "rethinking ways of living and wrapping architecture around that."
Boyd was an early champion of the Featherstons' work; commissioning their first work as partners – the innovative World Expo '67 Talking Chair for Boyd's Australian Pavilion at the 1967 World Expo in Montréal, Canada.
Speaking to ArchitectureAU's Linda Cheng at the relaunch of Featherston furniture by Grazia and Co, Featherston explained the genesis of the chair, which originally featured hidden speakers that provided audio information about Australia set into the tall curving backrest. "Robin said, you're walking through an international fair, you're absolutely exhausted, so let's design them something comfortable to sit in and a shag pile carpet. Can you imagine!"
Architect Peter McIntyre designed one of Melbourne's most iconic houses, River House, in 1955. In 1952, McIntyre designed the Swimming and Diving Stadium for the 1956 Melbourne Olympics with Kevin Borland and Phyllis and John Murphy. He also worked for Robin Boyd at Small Homes Service, a partnership between The Age and the then-Royal Victorian Institute of Architects.
Speaking to Telfer, McIntyre described Robin Boyd and Roy Grounds as the "greatest influences of my life."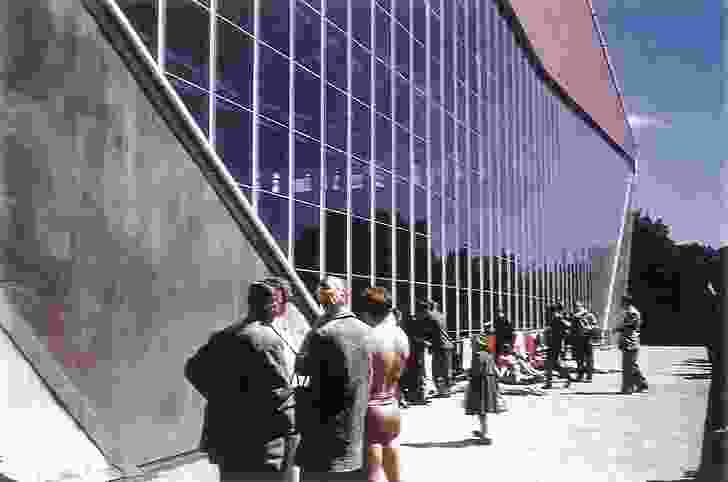 "Robin was an inspirational person. He was dedicated to spreading the word of how important design was. He loved Australia and he was just so sad that we weren't responding to developing Australia as we should have been, responding to the climate, understanding how cities were going to grow and why they where they should grow in certain ways."
Architect, urban designer and former head of RMIT University's architecture school Graeme Gunn was heavily involved with Merchant Builders, a company that offered architect-designed homes at affordable prices during a booming period of development along Melbourne's suburban fringe.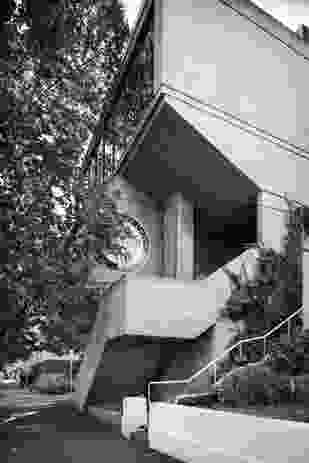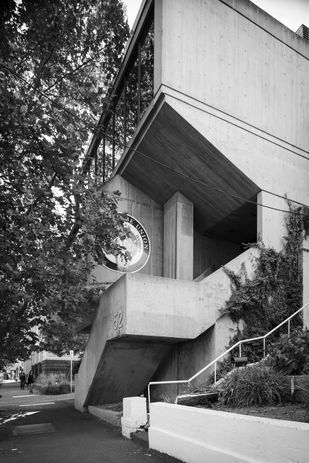 Completed in 1971 in collaboration with landscape architect Ellis Stones, the Plumbers and Gasfitters Union Building, in Carlton, is one of Gunn's most-celebrated works, in part because of its pioneering use of concrete. Gunn told Telfer, "It's an extraordinary material because while it indicates that there's a solidness in the substance of the building, which is impenetrable, on the other hand the nature of concrete lends itself to plasticity, adaptation and flexibility.
"If one thinks, as all architects do, beyond the satisfaction of the needs and aspirations of a client and goes into that zone where the architect wants to see their work as an art form – an expression of themselves that is not just symbolic but aesthetically stimulating ­­– well, concrete allowed me to do that."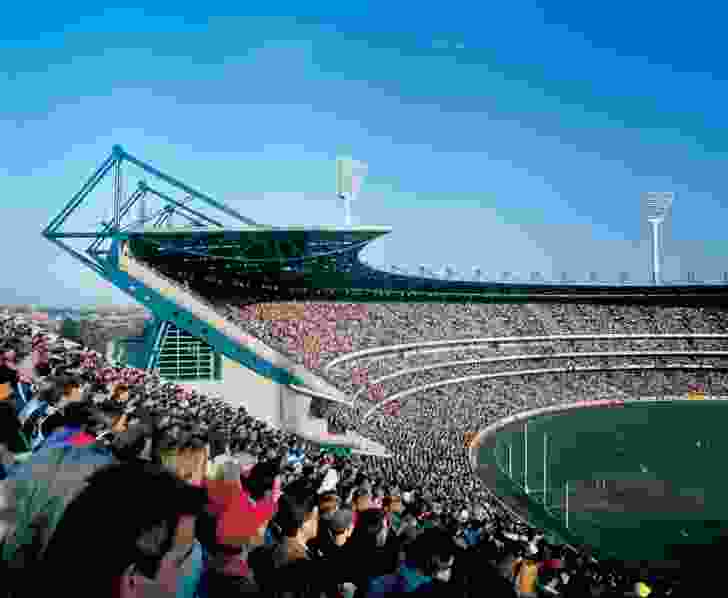 Architect Daryl Jackson is responsible for the design of a number of Melbourne's most iconic buildings, including the north and south stands of the Melbourne Cricket Ground and Southern Cross Station, in a joint venture with Grimshaw Architects. One of Jackson's earliest designs, the Harold Holt Memorial Swimming Centre, a collaboration with Kevin Borland, was an early example of Brutalist architecture in Australia and is listed on the Victoria Heritage Register.
Tickets to the Modern Melbourne screenings, part of Open House Melbourne, can be booked here. ArchitectureAU's editor's picks of the 2017 event can be read here.
Related topics