Scanning the dense crush of attractive faces, my eyes fell on a nose coloured brown with coffee grind. Instantly I knew this to be the face of Reuben Hills co-owner Russell Beard – a man constitutionally devout to the science and the art of coffee. As he does every Friday, Beard was preparing for a free public cupping (a practice a bit like wine tasting) in the purpose-built space above his cafe.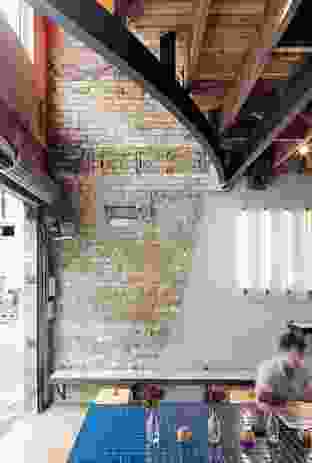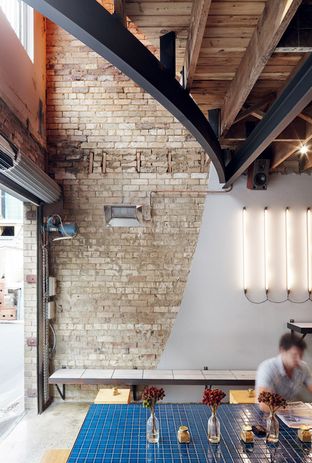 In the back-of-house area at Reuben Hills there is no mirror by the door in which to catch sight of a coffee-smeared nose before greeting patrons. This is because there is no back-of-house at Reuben Hills. Beard's philosophy of transparency and his passion for community engagement and connoisseurship is reflected in the design of an establishment that makes a feature of what is customarily hidden from public view.
Nestled away from the main drag in Surry Hills, Reuben Hills, designed by Melbourne-based boutique architecture firm Herbert & Mason, unashamedly declares itself a cut above. I spoke with Alana Cooke and Matthew Herbert about the challenge of designing a shrine to coffee given the constraints of the deep, narrow site of a former printing factory. The space spans the length between two parallel streets and comprises a coffee house on ground level with a grinding and roasting station, production office and cupping area overhead, with alfresco seating at the front entrance and potential to mirror this setup in the rear laneway.
From the street aspect, Reuben Hills is a very unassuming establishment. But stepping into the space your head instinctively cranes to glimpse just how deep it really is. And then you look up. Cooke and Herbert call these semicircular cut-outs "moments." These segments are cut from the floor/ceiling function firstly to draw the eye up to what's happening on the floor above, secondly to allow the sound generated by a bustling concrete-clad cafe to escape into the void, and thirdly to offset a sense of being closed in by the narrow space.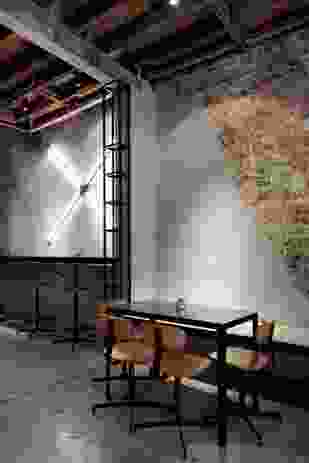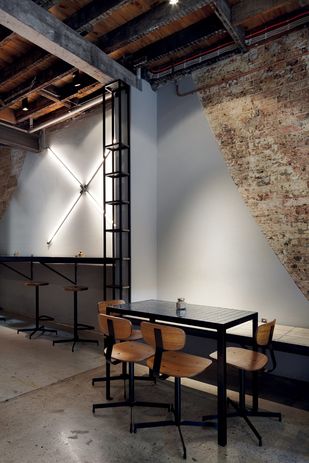 On paper, given a materials list limited to pre-existing exposed brick, polished concrete underfoot, copper utility fixtures, concrete blocks for the bar and concrete tiles for the bench seats, the fitout conjures a cold, industrial aesthetic. However, the glow of orange feature lighting and the flood of natural light from the open roller door and skylights imbue the space with warmth.
The key here to creating a relaxed ambiance within a self-serious space, however, is not so much the lighting but a majority seating arrangement that doesn't compartmentalize patrons into select groups. While there are tables that allow for intimate gatherings of two to six, the Italian-style standing bar bench, a long seated bench, wooden alfresco stools at the front and a central tiled table at the rear all encourage patrons to intermingle or at least feel comfortable in close proximity to others.
Self-seriousness in Australia is not easy to get away with and the highly principled aesthetic of Reuben Hills treads along the bleeding edge of pretentiousness. However, Cooke and Herbert have calculated all the checks and balances to keep this establishment from toppling to its death. And thankfully they haven't resorted to a voguish shabby-chic hipster look. Reuben Hills is Sydney's boldest space established in the honour of coffee but it is also a testament to collaboration. Beard, Cooke and Herbert are daring players in their respective fields and everyone involved with this success story agrees that the result came from an intense and trusting client-architect relationship.
Products and materials
Walls

Existing plaster with paint finish, exposed brickwork (traced geometry over wall finish, plaster removed in these sections).
Doors

Paint finish to doors. Reuse of existing door hardware.
Flooring

Level 1 has existing pine floorboards, refinished, with lime wash. Level 1 bathroom has black hexagonal tiles with black grout. Ground level has existing concrete floor, refinished, with clear matt seal. Ground level bathroom has existing tiled floor finished with acid wash, concrete patching where existing walls were removed, clear seal.
Lighting

Sunny lights and Easy Kap downlights from Euroluce. Custom copper lights and custom fluorescent wall/ceiling lights by Herbert and Mason.
Furniture

Communal Table by Herbert & Mason and Promena Projects. Loose furniture includes Industria / Herbert & Mason collaboration.
Kitchen

Joinery is Boral concrete blockwork with steel angle edge and poured concrete surface to benchtop. Victorian ash ply veneer to drawer faces. Stainless steel benches. Grey tiled splashback with black grout.
Credits
Design practice

Herbert & Mason
Melbourne, Vic, Australia
Project Team

Alana Cooke, Matthew Herbert
Consultants

Builder Promena Projects
Engineer Taylor Consulting
Lighting Euroluce

Site details

Location 61 Albion Street, Surry Hills, Sydney, NSW, Australia
Site type Urban
Category Hospitality, Interiors
Type Restaurants

Project Details

Status Built
Design, documentation 6 months
Construction 6 months

Client

Client Reuben Hills
Website http://www.reubenhills.com.au/

Source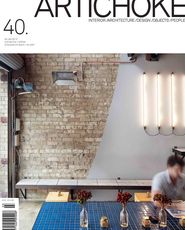 Issue
Artichoke, September 2012
Related topics