The City of Port Phillip has endorsed a draft streetscape proposal for the iconic Acland Street strip that will see parking spaces removed, the construction of a new tram stop and one end of the street permanently closed to traffic to create a new pocket of public space.
McGregor Coxall developed the draft streetscape proposal for Acland Street in collaboration with BKK and Minds at Work.
Cars will still be able to access the street, but the Barkly Street end will be closed to through traffic and around 60 parking spaces will be removed. A new tram stop 15 metres from the previous one will integrate with the existing footpaths, creating a large plaza, and the changes will provide an additional 330 square metres of public space.
The rejuvenation of the iconic beach-side strip comes at the same time as an ARM Architecture proposal for the St Kilda Triangle site that may feature a third gallery space for the National Gallery of Victoria alongside ample green open space.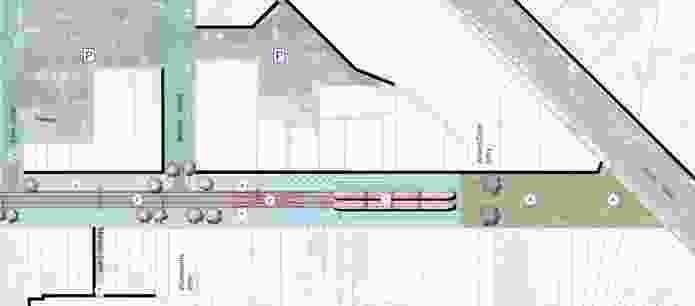 "Council's responsibility is the streetscape and we believe the spacious plaza will draw visitors wanting to enjoy attractions such as performances, exhibitions or pop-ups," said City of Port Phillip mayor Bernadene Voss.
According to the council, 66 percent of people who gave feedback said the plan provided, "great public place for the activation of events and performances" and 62 percent agreed that the plan "captured the essence of the unique St Kilda vibe."
ArchitectureAU previously approached SGS Economics and Planning urban planner Andrew Spencer for an independent perspective on the project. Spencer described the plans as "sound", and said that in the long-term, it was likely the pedestrianization of the street would lead to higher rents than comparable conventional streets.
"There is some short term pain for the traders and for the area, but if you don't go through that transition then it ends up being a bit of a perhaps run-down precinct that probably doesn't compete as strongly with other precincts," he said.
The plan's endorsement by the council marks the end of the consultation phase, and construction for the project is set to begin in mid-2016 and be completed by next summer.
Related topics