All architects learn primarily through doing – experimenting first in the mind and on paper, then on site, each decision informed by the outcomes of the last one. Thus the "first house" stands as a milestone in the work of any practice. While sometimes clumsy or naive, it always contains the germ of later work. Few, however, signal so powerfully the mature trajectory of an architect as does Luigi Rosselli's Cammeray house, completed in 1991. And few are so germane to the development of the practice's work that they are selected as its logo – the initial design sketch of the facade now headlines the Luigi Rosselli Architects branding, in vivid red.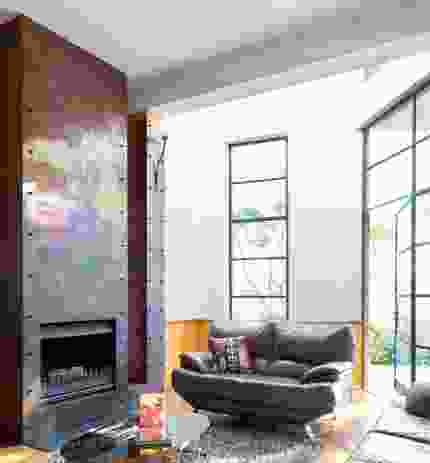 Rosselli had been working with Romaldo Giurgola on the 1988 Canberra Parliament House, the occasionally lush interiors and formal classicism of which remain unequalled in Australia, and was developing his own practice with smaller residential projects, when he was commissioned for two concurrent but separate projects by two members of the band INXS. Andrew Farriss developed a new house on the water at Cottage Point, and Kirk Pengilly, with his partner and baby daughter, engaged Rosselli to create a family home in Sydney's Cammeray.
The house is, imperceptibly, an alteration, not a new build. It was purchased as a 1940s duplex, described on Rosselli's website as "austere and predictable." Twin superimposed dwellings comprised symmetrical ranges of four square rooms either side of a central hall and stairway. The core of the building, with its spread of useful rooms on either side, was retained but is completely enveloped front, back and above by new accommodation. On the street, a pair of symmetrical garages frame the new facade to form an entry court, giving much-needed privacy to the house. To the north, facing the garden and a view over Middle Harbour, a new double-height living room forms a second facade. A music studio was added as a third level partly within the pre-existing hip roof, with new curved dormers front and back to cap the symmetrical composition of each facade. The northern window opens to a balcony capturing a lovely Sydney panorama of bushland and water.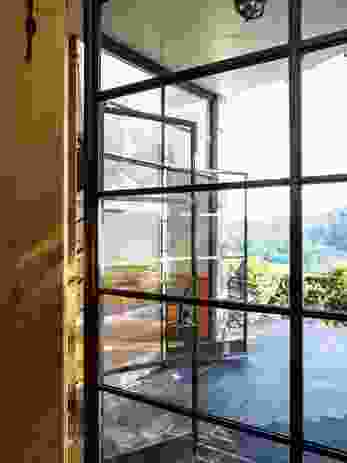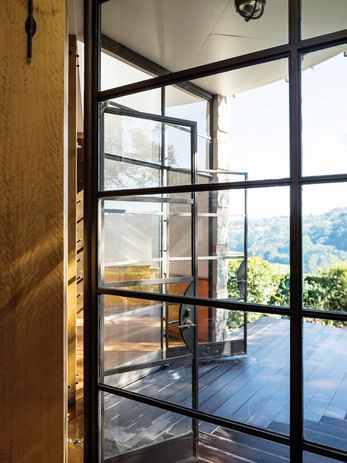 The client's fascination with the swinging curves of 1950s American cars and with the shape of his trademark Fender guitars inspired Rosselli in his transformation of the duplex. The rock god swagger and panache of INXS permeate the new work, offsetting the austerity of the original building and appearing in the plan shapes and a number of internal design elements, most noticeably in the two subtly differing facades, front and back.
The obvious echoes of Francesco Borromini in these new facades were pointed out by Davina Jackson in her 1991 Vogue Living review of the house, but this is definitively rejected by Rosselli. Perhaps the inspiration was so thoroughly digested that it was completely unconscious, but the contrapuntal concave and convex curves forming a Palladian three-part composition, and the defining horizontal string courses and projecting eaves making a cornice, even the overall proportion of a tall two-storey pavilion, all recall so powerfully Borromini's small church of San Carlo alle Quattro Fontane in Rome of 1638 that the relationship cannot be overlooked. Rosselli also rejects any lineage from Paolo Portoghesi, whose 1959 Casa Baldi in Rome is much more overtly Borromini-esque and whose work followed an increasingly classical path, in contrast to Rosselli, who retained the unifying and calm spirit of classicism but interprets it with an inventive modernism and an expert celebration of material.
Perhaps a more valid inspiration came directly from the client, as expressed by the German philosopher Johann Wolfgang von Goethe – "architecture is frozen music."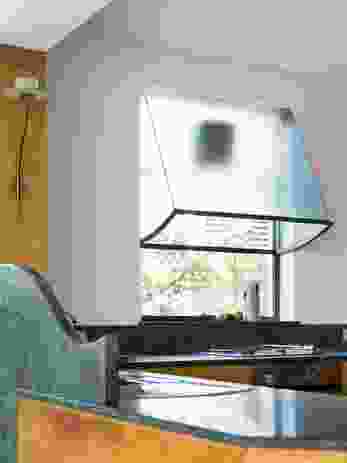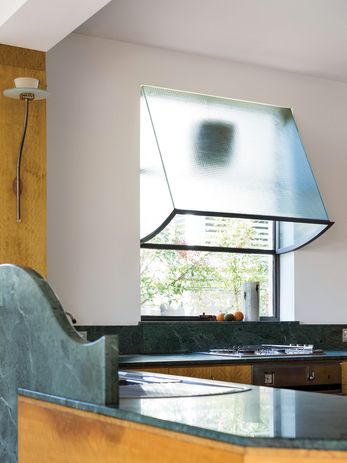 Throughout the house, finishes and fittings exhibit a lavish attention to detail and a consistent and unifying materiality. Surfaces have been embellished with chequerboard veneers and sheathed in copper; stone and timber floors have insets of delicate mosaic; bright glass tilework enlivens the bathrooms. In many places there is a kind of wit that recalls the domestic work of Edwin Lutyens: peepholes display small artworks in a diagonal sequence from room to room; grilles and fixing bolts are lovingly detailed as decorative objects. Rosselli collaborated with lighting pioneer Peter Ellis of Neoz to create a suite of light fittings – all still functioning. This richness is offset by a soft background of wax-finished, ochre-tinted plaster walls running throughout the house and reflecting the generous daylight, and by the delicate linearity of Rosselli's trademark finely detailed steel windows. Inventive details such as the doors masquerading as panelling to resolve the entry and the "rangehood" created from a simple window fan and an elegant wired glass awning remain relevant today.
The enduring quality of the house is a testament to the craftsmanship of its creators. Rosselli enthusiastically names all of the artisans who created individual elements and still calls on the builder, Domenico Alvaro from Alvaro Bros Builders. It also confirms the benefits of durable, well-resolved and functional interior spaces that can evolve to suit the needs of different occupants with minimal alteration.
The Pengilly family moved on a few years afterwards and the house was sold to the current owner, who has lovingly preserved all of its detail, only enclosing the upper-level openings to the living room below to provide acoustic separation for her children's bedrooms.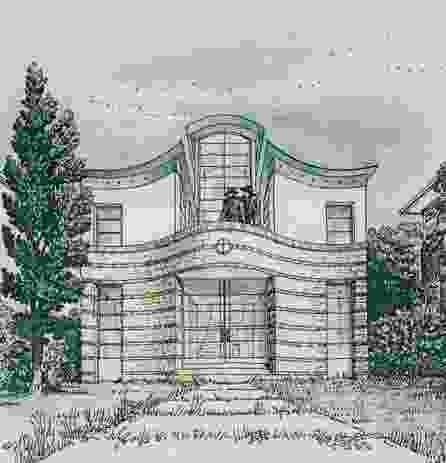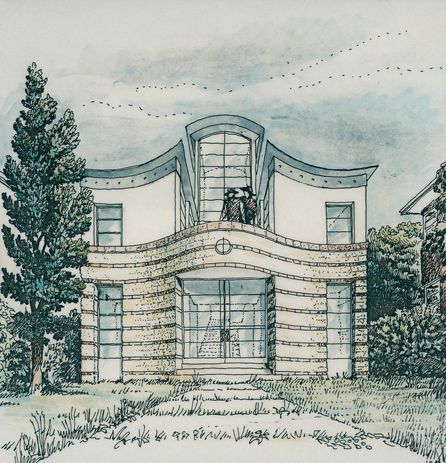 As well as all of the original timber joinery and the kitchen and fantasy main bathroom, both with deep green marble benchtops, a few of the originally crafted pieces of furniture remain. Most significant is the lovely four-poster bed made to Rosselli's design in ash.
The Cammeray house represents the best of postmodern architecture. This movement has been subject to much well-deserved criticism for its concentration on surface and image and a reliance on in-jokes in preference to genuine spatial quality, but Rosselli avoided these traps and has created what his website describes as a "voluptuous, sensuous and meticulously detailed" home that its owners continue to cherish.
Significantly, its qualities are such that the house has, over thirty years, avoided "modernization." There are far too many examples of meticulous craftsmanship and high-style design that have fallen to fashion, their exemplary interiors and exteriors obliterated for the sake of half-baked updating. To preserve these works requires commitment and love, ensuring that key works of our best architects remain for our future heritage.
Products and materials
Custom furniture

Linda Fineberg
Custom lighting

Neoz
Credits
Architect

Luigi Rosselli
Surry Hill, Sydney, NSW, Australia
Project Team

Luigi Rosselli, Ali Reda
Consultants

Builder Alvaro Bros Builders
Joiner Tripoloni and Son

Site Details
Project Details

Status Built
Category Residential

Source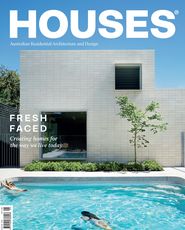 Issue
Houses, October 2018
Related topics