We tend not to realize how significant some things from our childhood are until we're grown up and can reflect on them. As a child, I spent many weekends with my family on a boat – our floating timber home – or camping outdoors with only a tent for protection. I also recall the houses that we spent a lot of time at: my family home, my grandma Tess's home, and Judith and Rodney's home – the Chambers House, which I recently revisited. Judith is my dad's sister.
Rodney Chambers grew up in Central Queensland and later moved to Brisbane to study architecture at the University of Queensland. The semirural tropics of his childhood ingrained in him a rigour in detail, an ability to make do and an appreciation of simple materials and the process of making. The resulting architecture is at a scale that is only as big as is needed; it is modest and relies on the surrounding landscape and streets as an extension of home. Rodney was also a regular at evening art classes, seeing art and architecture as allied disciplines. This appreciation of art allowed an ephemeral quality to sneak into his work, evident in elements such as fabric screens, moveable joinery and tapestries – a softening of permanent masonry structures.
Spending a couple of years in Europe saw Rodney work in London with RMJM (Robert Matthew Johnson Marshall) and travel through Finland and Sweden in a Bedford van – a grand tour of Alvar Aalto's work. Rodney cites Aalto as a modernist influence on his work, something that is visible in the design and detail of the Chambers House. It was also this period of living in cold places that heightened Rodney's desire to capture warmth and the sun through his architecture, especially to create a place for drinking coffee in the morning.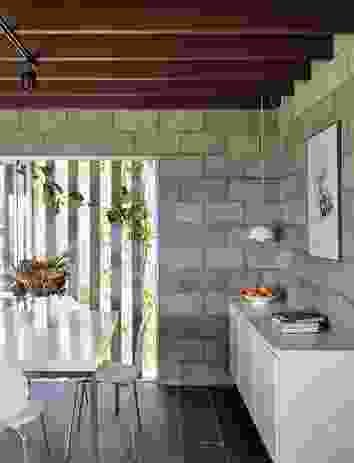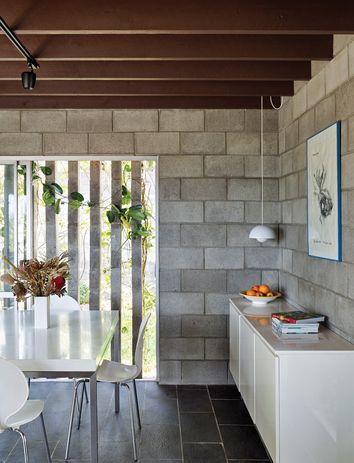 The Chambers House was built over almost four years, from 1976 to 1979. Dad would always query why it was taking so long. Time was looked at as a negative, but crafted buildings like this – buildings that test ideas – take time, and the love afforded to them in that process stays with them.
Set among the timber homes of Brisbane's Teneriffe and New Farm is this home of block and concrete, sitting on and in the earth. The tradition of living with a connection to the ground stretches back thousands of years – Indigenous people have a connection with the earth through social and ceremonial rituals. When the first wave of mostly British migrants came to Queensland, they lived above the ground in elevated timber-and-tin Queenslander homes. But with the second wave of migrants, who arrived postwar from Italy and other Mediterranean regions, the design of dwellings drew on their homeland practice of living connected to the land.
The more you look at the housing stock around this peninsula, the more you realize that the timber homes of the early 1900s have been grounded through adaptation by Italian migrants. Queenslander houses have had brick and block added underneath, with the verandahs often enclosed. This masonry work has allowed grounding, a sitting in the landscape that rarely occurred with the original Queenslander.
But the Chambers House is a modernist development of Italian masonry traditions, not just a grounding of the Queenslander, not just a fixing of problems. This was a new building type for South East Queensland – a building that sits in the garden, one that is socially engaging and clearly demonstrates the craft of making with concrete, block and timber.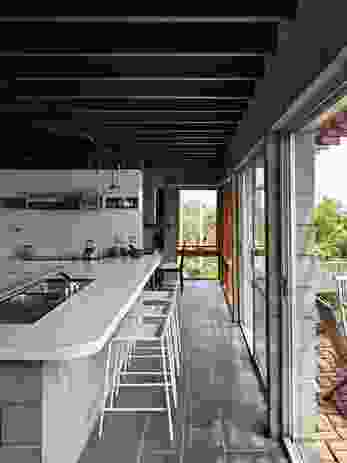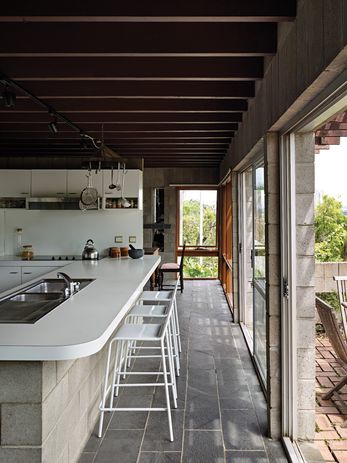 The Chambers House is a masonry response made up of concrete slab and concrete block, materials that can hold back earth and hug the ground through the making of patios. Joists, floors and ceilings – the elements off the ground – are made from cypress pine, supported and protected by block. The detailing here is sophisticated and rigorous, raw and honest. The expression of material and craft, or the way it has been put together, is an important part of the building's story.
Rodney created the home as an owner-builder, with the help of a block layer from New Zealand, an Italian earthmoving contractor and a local carpenter. The block layer had experience of working with reinforced masonry blockwork for resistance to earthquakes in New Zealand and the earth moving contractor saw opportunities for benching a steep site, a site with similarities to the stepped hillsides of Italy. The floors work on half-levels, with adjacent voids allowing conversation between floors and serving as the spine and circulation for the home. The stepping in plan – which ascends from the garage/office to the kitchen, living and outdoor patio, and up to the sleeping area – amplifies social engagement, while layers of privacy are still created vertically.
When I recently revisited the house, I sat under the vine-covered patio to the north. Vines are overhead and tumbling down the sides. Sunshine is filtered, creating a soft quality of light. Views are there, but not the instant "wow" kind – rather, one that you enjoy some of the time, so as not to become tired of it.
Being on the landscape, as opposed to above it, locates the Chambers House critically as "progressive" architecture. Much of our built history in Queensland is actually close to the ground and connected to the landscape. Planning authorities often do not recognize, appreciate or understand this grounded architecture, and this disenfranchises the postwar migrant population and their intent to put their hands on the land.
Masonry structure on the ground allows us to be in the landscape, immersed in the subtropics. It is critical that we can make buildings connected to the ground, or add layers to existing buildings and cultural heritage that respect the principle of the Burra Charter. We need to study this migrant building, learn from it and allow something similar to happen again. Masonry and a connection to landscape are a significant part of our history. The Chambers House understands this. The landscape comfortably takes over trellises and the building, creating somewhere to gather and delight in this place where we live, a place where all senses are explored underfoot.
Credits
Architect
Site Details

Location Brisbane, Qld, Australia
Site type Suburban

Project Details

Status Built
Category Residential
Type New houses

Source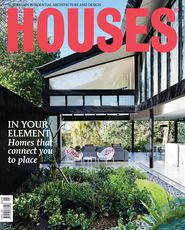 Issue
Houses, February 2017
Related topics