Cats are notoriously good judges of domestic architecture. They know the sunny spots, the nooks away from draughts and the best places to watch the action without being in it. Dogs, it seems, may be less discerning, if a recent visit to one of Adelaide's best maintained examples of mid-century residential architecture is anything to go by. The Dickson House at Rostrevor was designed in 1958 by Graham Dickson's brother, Robert Dickson, just as the emerging practice of Dickson and Platten was establishing its refined architectural language of regional modernism. It has been the continuous family home to Graham, his wife Barbara and their two children since 1960. Now the children have (mostly) moved out and Dusty the poodle is a comparatively recent, and not altogether compliant, surrogate child. For this is a house of neat fit to site, with three stepped levels nesting to the gentle slope of the foothills, and poor Dusty cannot abide stairs, no matter how civilized the pitch and tread. The splices in plan and section carefully articulate each zone of living, cooking, washing and sleeping in a subtle dynamic of fluid open planning and controlled communality. Dusty, however, will sit and wait stoically to be carried from level to level. He is clearly a nineteenth-century creature at heart.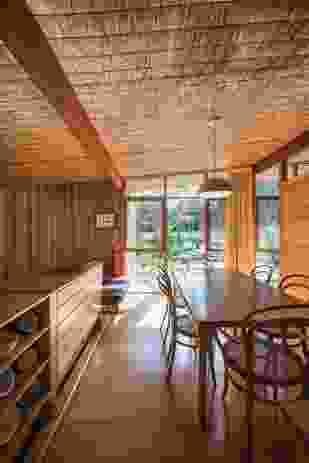 But this house is pedigreed twentieth- century design, with all the distinctive traits of rational, economical and elegant accommodation. Originally only 150 square metres, it contained three bedrooms and one each of the other vital spaces for family life. The house was sub-contracted and partly constructed by the owner ("I had some energy in those days," says Graham), and the structure and material palette are direct and cohesive: besser block, exposed timber framing and strawboard ceilings. The asbestos sheet roof was later replaced with corrugated iron, but the sense of the house hanging from a low gradient roof, mirroring the contour of the land, remains. Newell Platten describes the design process succinctly: "We designed inside to outside, and roof down." (Newell Platten, Hybrid Beauty , 2016).
The disposition of spaces (with clever internalizing of a top-lit bathroom), takes maximum advantage of north and south views to the attractive surrounds and nearby Morialta Conservation Park. Once a semi-rural area of vineyards, orchards and rose growers, this is one of those postwar organic suburban developments that still retains its bucolic bush atmosphere. You find them in most Australian cities: pockets of (formerly) peripheral land colonized by progressive young things, prepared to embrace a new mode of living and architectural identity. Dickson and Platten built nine Morialta houses, creating what Barbara describes as "quite a social cluster … like a village. We knew everyone and luckily there were a lot of people who wanted it kept the way it was. We were a pretty active bunch, forming a strong residents' association, standing for local council and lobbying the power utility to replace Adelaide's infamous stobie poles with underground supply. We got a loan to do that before we could even afford curtains!"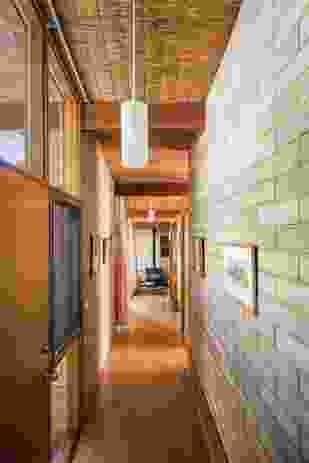 When Barbara and Graham moved into the barely completed house with a six-month-old baby, there was not enough money for carpets or cupboards either, but these were gradually added over the next few years; as was a double carport that provides not only an extended threshold to the house, but also masonry storage buttresses to the slim double timber supports. A decade later an additional bedroom and ensuite were added to the lower terrace on the north, liberating one of the upper bedrooms to become a second lounge space and creating more distinct parent and children realms, each with its own "front door." Recently this wing has been adapted so that the clients' son can operate a small business from their home: it adds an unobtrusive security and regular filial company as they age.
The house itself, however, appears ageless. It has seen minimal adaptation and modest maintenance. Instead there is a pleasing patina to the robust internal surfaces of honeyed Australian oak and manganese terracotta tile, while the fittings and furnishings have discreet practicality, durability and comfort. If there is luxury, it is understated, with a distinct Adelaide lineage of Langdon Badger quality furniture and Milton Moon ceramics. In this stylistically forgiving place, Thonet chairs, a collection of antique jelly moulds and the occasional Victorian cabinet sit happily alongside smoked glass coffee tables and Scandinavian birch. Dickson and Platten always resisted overt formal gestures in its design solutions, preferring what Robert described as "unselfconscious architecture."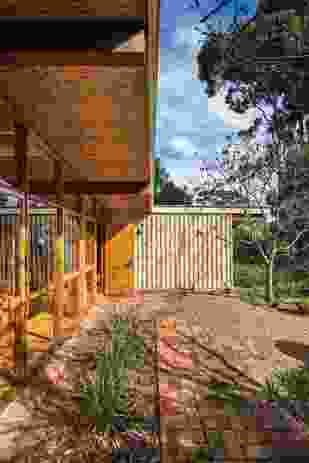 And this house is a testament to that; it has a refined, understated style. There is something Japanese-like in the pared-back, precisely proportioned frame and fitout of the house: there is not a careless junction to be seen. It's an aesthetic that wasn't always understood when it was new. Graham quips that when neighbours remarked that the carport "made the house," he replied, "Yes … it broke the owners but it made the house!" Barbara recalls that "in the early days people kindly didn't mention the house when they came to visit. They would admire the neighbours' places but say nothing about ours! Our daughter's school friends thought it was the end of the world." Now it is regularly admired by casual visitors and coveted by the next generation of grandchildren, for whom the patchy internet reception is the only obstacle to a completely contemporary lifestyle.
Fifty-eight years of uninterrupted occupation by one owner must be close to a record for the Revisited series, and Barbara and Graham have no immediate plans to leave. "It's difficult to imagine living anywhere else." Barbara's sentiments are understandable, for what this home has is thoughtful roots; not just into its setting, but also to its time. A time when there was a sense of optimistic, environmentally sensitive and realistic ambitions for making your own place with a like-minded community of people.
Perhaps we can see similar tenets (albeit of very different density and urbanity) in the emerging Nightingale housing projects. I'd like to think so, for this house offers a model of clarity about what matters in accommodating daily life: light, connections with the natural world, ease and sociability. And refreshingly, in a time of overblown, extravagantly bespoke projects in our housing sector, it does so with grace and humility. The only thing ostentatious about this house is its resolution. And maybe for Dusty the dog, an excess of stairs.
Credits
Architect
Site Details
Project Details

Status Built
Category Residential

Source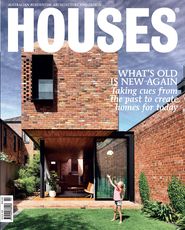 Project
Published online: 22 Aug 2018
Words: Rachel Hurst
Images: Courtesy University of South Australia's Architecture Museum, David Sievers
Related topics