Riccardo Tossani Architecture
From Adelaide to Tokyo via Florence and Los Angeles, Riccardo Tossani Architecture produces architecture that offers an antidote to the unruly nature of much of urban Japan.
Over three decades of architectural practice, Riccardo Tossani has demonstrated a strongly multicultural perspective centred on a Renaissance philosophical approach. His path has taken him from Adelaide, where he started his first practice at the age of twenty-three, to Florence, Italy, where he worked with a local architecture firm and immersed himself in the beauty of the city's urban planning and architecture. After picking up a master's degree from Harvard, he turned down an offer to work on the Canary Wharf project in London, moving to Los Angeles for a position at Pereira Associates (now Johnson Fain).
Home has been Japan since 1997, when Tossani established Riccardo Tossani Architecture (RTA) with his partner, interior architect Atsuko Itoda. Observing them at their bustling Tokyo office, it is abundantly apparent that they work intimately on every aspect of their projects. They jump in and out of one another's meetings and take their work to lunch, dinner and eventually home – a four-storey residence of concrete, wood and stone, which, of course, they designed together.
At a sold-out lecture in Tokyo in 2015, organized jointly by the Italian and the Australian/New Zealand Chambers of Commerce in Japan, Tossani started by sharing a slide of his hometown, Adelaide. With its orderly grid and peripheral ring of parklands, it could not be further removed from Tokyo's famous chaotic jumble, dominated by fairly nondescript commercial buildings and prefab residences. It's tempting to see Tossani as being on a mission to offer an antidote to the unruly nature of much of urban Japan. For the Palatine Residences, a four-storey condominium that RTA completed in the Meguro area in 2009, Tossani took advantage of solar subsidies to generate energy for public areas. Working within a restricted budget, he harnessed natural light – often a luxury in Japanese housing – by incorporating a subterranean light well. He enhanced the concrete complex with wood cladding, added private walkways and concealed the infrastructure or "guts" of the building, which are often exposed in Japan.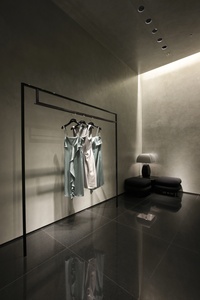 RTA is also meticulous about exterior finishes, despite the fact that it is not uncommon in Japan for only the front facades of buildings to be finished, as if in a studio back lot. Even on a tight-budget renovation project such as the exterior for the Otakibashi Tower, Tossani makes sure all sides are treated equally. So when RTA was commissioned to design a twenty-nine-storey condominium in central Tokyo, Yotsuya Tower, Tossani and Itoda sought to give each side of the structure a different face. They also took inspiration from Shinjuku Gyoen – a sprawling park the building would overlook – and this can be seen in all kinds of design elements, from the wood-coloured banding on the units' large windows to landscaping with diverse tree species and stone pathways. The forest metaphor continues inside with a hand-cut carpet charting a tree as it extends from the first to top floor.
This devotion to detail, coupled with RTA's strong Japanese and Italian sensibilities, caught the eye of Giorgio Armani. The legendary designer collaborated closely with the firm to design his flagship boutique in Roppongi Hills. The idea was to celebrate the brand's Italian heritage in the context of the store's Tokyo setting. Elegant silver marmorino plaster walls reflect off black granite floors, while a metaphorical bamboo forest in stainless steel is engraved with a white stipple to suggest a Japanese garden. Display racks demonstrate traditional carpentry and express takumi, the fine skills and pride of craftspeople. 

While the scope of RTA's work extends globally, Niseko – a burgeoning luxury resort in south-west Hokkaido – has been a defining area for the practice. Ever since Australians "discovered" this former hippie ski paradise around 2000, Tossani has been a participant in its transformation into a high-end international resort destination. RTA is leaving a long-lasting imprint in residences, condo resorts, restaurants and, most importantly, masterplanning. "The first component was an overhaul of Hirafu-Zaka and I am happy to see it already completed," says Tossani, sitting in his Niseko living room, which frames majestic Mount Yotei. Hirafu-Zaka is a steep street that leads from Hirafu village to the lifts. The overhaul was not only cosmetic – ugly utility cables buried underground – but also about safety. Roofs were designed to prevent snow accumulation from slipping off; roads and sidewalks were heated. Before the revamp, visitors – laden with gear and luggage – often slipped going up and down the slope, sometimes with great injury. 
Currently the most exciting project for RTA is the Hanazono Resort. Since winning an international design competition, Tossani and his team have been busy planning the village and other facilities for Richard Li of Pacific Century Premium Developments. Where there are now fields of uncovered parking, there will be around a dozen buildings, underground parking and a series of radiating, interconnecting pedestrian streets, culminating in a piazza that flows to the lifts. Tossani says, "There will be many small cultural edifices that are, in themselves, of artistic interest, like you'd find in an Italian town. It will make the village profound, timeless and meaningful."