Capital works for Australian schools gained speed after 2001, expanded in 2008 by the Federal Government's Building the Education Revolution (BER) program. The Richard and Elizabeth Tudor Centre for Contemporary Learning extends the senior school facilities at Trinity Grammar School in Kew, Melbourne and is part of a continuing refurbishment of the school by both McIntyre Partnership and Crone Ross. Melbourne antecedents include McBride Charles Ryan's Junior School and Infinity Centre at Penleigh and Essendon Grammar School (2011–12) and the addition to Fitzroy High School (2009), as well as Gregory Burgess Architects' De Young Centre for Performing Arts at Carey Baptist Grammar School (2010). University of Melbourne counterparts include Edmond and Corrigan's Academic Centre shared by Newman and St Mary's Colleges (2002–04) and the Ormond College Academic Centre refurbishment by McGlashan Everist (2011). For McIntyre Partnership, the Tudor Centre follows projects including its 1999 Sports Hall, 2006 masterplan and 2007 Performing Arts Centre.
All of these projects share a plurality in architectural imagery: dramatic variations from one elevation to another, intense responses to varied built context, and an emphasis on the episodic and the narrative represented in architecture. They all have a strong sense of theatre in their internal spaces, which draws on theatre design and stage space as social condensing realms. In his 1980s encyclicals, Kenneth Frampton condemned this contextual and theatrical action as "scenography,"1 but that has not deterred leading Melbourne architects in the slightest. Frampton targeted American architects Robert Venturi, Denise Scott Brown and Charles Moore, but erasing architecture's scenographic dimension would refute virtually all Soviet avant-garde architecture, most German Expressionist architecture and its later incarnation in the work of Hans Scharoun and Gottfried Böhm, Alvar Aalto, Ralph Erskine, Jørn Utzon, Paolo Portoghesi, Arata Isozaki and Bruce Goff, as well as much of Eero Saarinen's and Le Corbusier's oeuvres.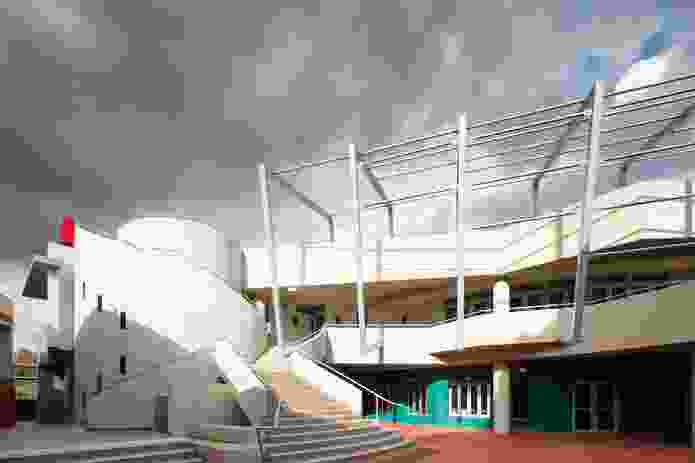 The Tudor Centre is unabashedly scenographic. This was reflected immediately when the school's chess club took over the central alley circling the raised stage and filled it with a giant chess set and a series of other games boards arranged in an arc. The centre has a landscape of platforms and contours, and a central island above a drum of reference shelving accessed by a bridge. The south side has sixteen canted alcoves and a set of portholes: all are coupled to window seats where students can curl up with a book. The spiralling main ramp opens onto an annular theatre space, shelving and tables in forest clusters, and constant steps in level. At the bottom is a tall-ceilinged lounge, replete with gas fire and rhetorical logs, almost Gothicized with a set of east-facing dormers.
Inside, a surging sweep of layered balustrading recalls the concrete bridges evoking aircraft and cloud currents in Saarinen's TWA terminal at New York City's John F. Kennedy International Airport (1956–62). McIntyre Partnership's design, however, draws related paths into a spiral converging on a core. It has a focus on community, grouped in circulation, rather than Saarinen's sense of heading somewhere else. This is answered in the Tudor Centre's ceiling, with its pattern of contours spinning out from the centre in broadening, layered radii of orange and yellow over blue, anchored at the edges by a faceted net of angled glass and a more solid outer layer, outlining the offices and group reading alcoves. The circle and spiral are not new to McIntyre Partnership: they can be seen in the radial Beulah Bush Nursing Hospital (1953) and the spiralling Snelleman house in East Ivanhoe (1954); the uncurling angles, vanes and facets, meanwhile, recall the Brunt house two kilometres away in Kew (1953). The colours and the distinctly McIntyre sense of a structural and thematic tightrope walked around a core mass recalls the Brunt house and the McCarthy house (1955–57). The Tudor Centre has the sense of gathering up an architectural lifetime.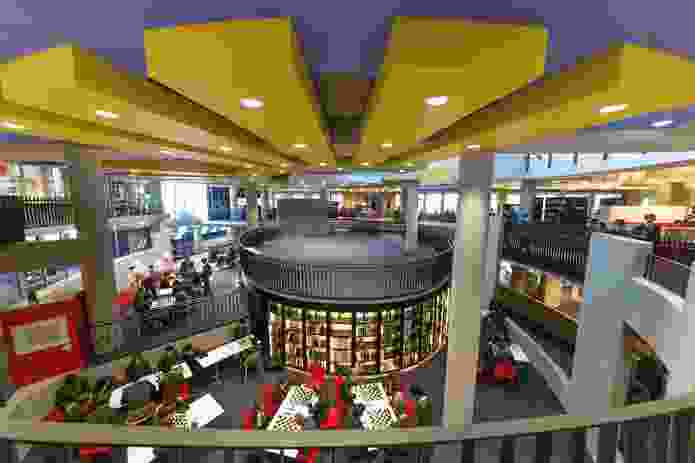 The centre introduces episodes, one after another. The first encounter is the cafe, startling in a school building where you expect refreshments to be elsewhere, but eminently logical given the wide use the building gets after hours during termtime: it is open until nine o'clock for much of the year. The centre fronts a paved court, almost a street, and is squeezed between the science building, a back fence and an alleyway, and sits a few metres away from older buildings. These include a nineteenth-century main office and two later blocks. Two 1980s buildings were demolished for the new centre, which had to pack in four storeys but not overwhelm the entry court, the neighbours' two-storey houses across the alleyway, or the small hockey pitch to the immediate south. It also works to scale down the neighbouring cube of the Science and Technology Centre by Crone Ross (2001–03). At the same time, the Tudor Centre had to be a pivotal, arguably monumental building: its physical presence is crucial to school life.
So the Tudor Centre is both a streetscape building and a singular building, massed in a Y-shaped footprint. The neighbouring pitch works as a concealed heat sink for the cooling water and heating system. On the north side, the centre is canted to gradually close in the paved court between it and Trinity's northern buildings, and bleeds upwards into a foyer and large classrooms, assuming more of the character of Trinity's classroom buildings. Outside it answers the buildings opposite with a broad undercroft and a balcony entrance above. At its east end, the centre curls into a cylindrical void housing sculpture, and a stair wraps round it on the outside, evoking Hans Scharoun's house in the Weissenhof Estate in Stuttgart (1927). The influence of Scharoun and Ralph Erskine breathes through the design elsewhere: in the sudden and continual colour shifts, the porthole windows of the south-east corner, the flow of corridors into stepped seating areas, and the casual angling of the steel pergola on the centre's upper balcony and decking.
Mood in Scharoun's, Erskine's and Aalto's buildings is consistent, but mood in McIntyre's design changes fast, like inflections in conversation. Colour changes work to this end, often in conjunction with sudden openness, sudden closures in space and partitioning. The mezzanine level's seminar rooms are entered through porticos in a flourish of deep green or purple and frames act as notional dividers, while the external walls change colour to mark out facets on the south side and level changes on the north. This echoes the reds and yellows of Peter McIntyre's own house, the River house of 1954, also in Kew; the original purples and deep blues of the firm's Brunt house near that; and the sky-blue, lemon and white lines and panels of the McCarthy house. Another aspect of these earlier houses comes through again: the Tudor Centre is joyful, raucous, even raffish in its placement, jostling among the settled rectangles of the buildings around it.
1. See Kenneth Frampton's Modern Architecture: A Critical History (London: Thames and Hudson, 1980) and his essay "The Isms of Contemporary Architecture" in Architectural Design vol. 52 (1982).
Source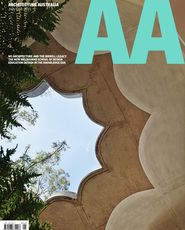 Issue
Architecture Australia, January 2015