WOHA's University of Adelaide talk
Richard Hassell spoke about the vertical villages and greenery-clad towers by his Singapore-based practice WOHA, at the University of Adelaide in September 2012. The talk prompted this review and comment about green buildings by final-year Master of Architecture student Daniel Turner.
At the University of Adelaide in September, architect Richard Hassell of Singapore-based practice WOHA presented a collection of his firm's award-winning projects to a lecture theatre full of eager and expectant students and academics. Specializing in buildings that respond to tropical climates and dense high-rise urban environments, Richard's work provided example after example of "green" projects that incorporated vegetation on, in and around what were mostly tall, slender structures.
Given that "sustainability" is today almost a clichéd term in architecture, I couldn't help but wonder whether these creeper-clad structures with plants covering their walls, balconies and terraces are genuinely sustainable, or just concrete monoliths camouflaged in greenery.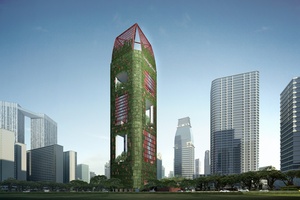 Richard convincingly argued that open green spaces and public outdoor gardens should be incorporated on and in all structures, especially when these structures are lined up like soldiers in the dense urban jungles of Singapore and Hong Kong. For WOHA's Oasia Downtown in Singapore, Richard reports a 750 percent green plot ratio (which includes sky gardens as well as a creeper-laden facade).
Also presented were astonishing figures and ambitious goals relating to other WOHA projects, such as Singapore's Park Royal on Pickering. On a site of seven thousand square metres, WOHA has achieved fifteen thousand square metres of landscaping. It's an impressive figure, but there is more to the project than numbers. It really captures the essence of sustainability, and has achieved Singapore's Green Mark Platinum score. The broken masses and open courtyards that let in sunlight and natural ventilation reduce the need for twenty-four-hour airconditioning, a standard in Singapore's subtropical climate. The rainwater collected by the structure is used to irrigate the lower floors using the power of gravity, while photovoltaic cells on the roof are used to power landscape lighting and irrigation systems. Along with locally sourced (low carbon footprint) materials and local labour, such techniques echo the true aspirations of sustainable design – for it is difficult to satisfy all of the above by simply cloaking them with greenery.
The presentation also explored possibilities for achieving higher density in the smallest area possible, endorsing "villages in the sky" that strive for a desirable quality of life, such as Skyville @ Dawson.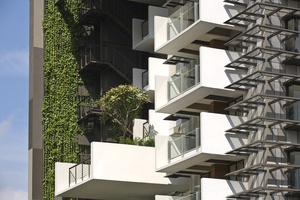 Achieving the numbers (a high population-to-area ratio) seems to be a central interest of WOHA's, and while many projects are liberally clad with greenery, many also boast considerable sustainable design thinking beyond the numbers and appearances.
Richard's willingness to keep in contact with those managing completed projects, and to encourage a "champion of the garden," suggests a deeper engagement with the project. And some of the high numbers on their projects have come with some sacrifice to the aesthetics: the sun-shading elements on the Newtown Suites, for instance, are described by Richard as "hairy," not shaven or sexy.
Perhaps WOHA presents a brilliant starting point from which could be set minimum standards as populations grow and the number of open green spaces declines. Yet, as the profession seeks to increase the total percentage of green space incorporated into architectural projects, the focus should remain firmly on the quality of the space, not just the figures.
It is all well and good to address the pressing issues of sustainability in similar ways to WOHA buildings, but if developers jumping on the green bandwagon build cheap replicas, cladding them in creepers for visual impact while offering minimal landscaped space of substance in order to simply chase the metrics, sustainability is cheated and real challenges are neglected. Dressing up an unsustainable structure in green garb doesn't make it green.
The University of Adelaide Speaker Series is organized by the School of Architecture, Landscape Architecture and Urban Design.