The $88-million expansion of the Queensland University of Technology's (QUT) Creative Industries Precinct at the Kelvin Grove campus will be revealed on 28 August.
Designed in a Richard Kirk Architect Hassell joint venture, the project comprises six buildings – two new and four repurposed heritage buildings. Three of the repurposed buildings are timber and tin, turn-of-the-century buildings, while the other is a steel-framed, sawtooth-roofed structure.
The new buildings will house recording studios, an art gallery (formerly the Frank Moran Memorial Hall), dance and movement studios, a research and development studio, a visual arts studio and a workshop fitted out with equipment including wood and metal-working tools, and a spray booth for the creation of 3D artwork.
The centrepiece of the project is a 12,000-square-metre six-storey building that will be home to QUT's dance, drama, music, creative writing and animation and research programs. The heritage buildings will house the fine arts disciplines.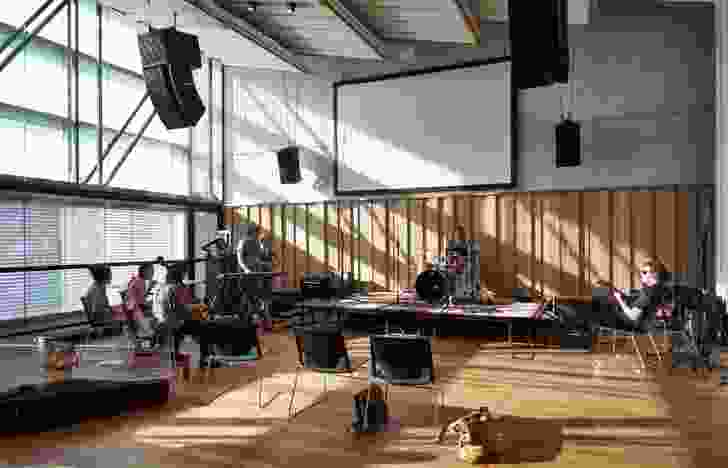 Stage one of the Creative Industries Precinct was completed more than a decade ago. Designed by Hassell and FJMT following a design competition, the project received a commendation at the 2005 Brisbane Regional Architecture Awards. The precinct comprised seven new and refurbished heritage structures gathered around a major urban square.
The stage two brief asked for "a series of dynamic, robust and sustainable buildings to accommodate rehearsal and performance spaces for dance, drama and music studios, galleries for visual arts and workshop spaces for set and production design."
The new buildings sit across from the stage one Creative Industries Precinct building. The design concept was to design a space that would bring the disciplines together in an environment that encourages artistic collaboration, interaction and engagement.
Stage two of the project sees studio spaces stacked on top of each other in a formation of four across and three high, creating a box-within-a-box structure. Principal at Hassel, Mark Roehrs, said traditionally studios are often closed, but the building's north- and south-facing studios have large glass walls.
"The dancers, actors or musicians are essentially performing to the public. There was quite a bit of discussion as to whether that was actually appropriate as an idea – in other words, should they be able to do that in private or should they be on display, and the end outcome was, 'Well, their business is about performing, so actually revealing what they're doing is a really great idea'," Roehrs said.
Connectivity between studio spaces and the circulation space gives a sense of activity as people walk through the building, creating an active, engaged space. The circulation space has dance bars and mirrors to allow dancers to warm up, and there are kitchens on each floor for students and staff to use.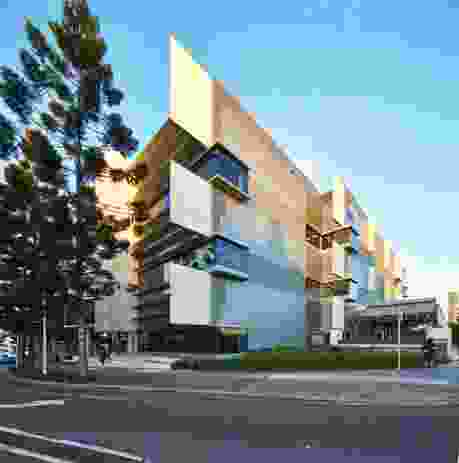 "This whole idea of it being a home for the students, a real cohort identity around the students and having this as a home base in which they can spend long hours practicing and rehearsing and attending studio sessions, is a key idea, and then also interleaving the student and academic floors you get strong interactions between the academic and the student community, so there's a real sense of a community," said Roehrs.
Director of Richard Kirk Architect, Richard Kirk, said what made the project unique was the colocation of what are often considered distinctly different disciplines.
"I think the pedagogy is the idea that the disciplines need to be interdisciplinary. You're not just a dancer and you're not just a musician and you're not just an actor, all of them are blended," Kirk said.
The newly expanded Creative Industries Precinct will be launched at CreateX, a technology-infused festival involving talks and panels, workshops, meets with makers and inventors, and presentations.
Related topics