Peter Stutchbury and I were brought together by South African architect Peter Rich as keynote speakers at the Architecture For All symposium in Bloemfontein way back in 2002. It was an exciting assembly of lecturers from around the world, with a huge audience and obscure side events and parties. I remember thinking, "Wow! Architecture is amazing – I make four or five good houses and get invited to be a part of something like this?"
When the symposium was over, Stutch invited me to Johannesburg for a few days of more fun with a past student of the Glenn Murcutt International Architecture Master Classes. Along with Glenn Murcutt, Rick Leplastrier, Brit Andresen and Lindsay Johnston, Peter is one of the prime co-tutors of the annual class held at Riversdale in Shoalhaven, New South Wales, and stays in touch with many of the students afterwards. Having known very little about one another prior to meeting, a friendship emerged between us in that special week, halfway around the globe, that would grow to become the vital brotherly bond of two eternal mates.
We've since been invited to other events and taught together in rather diverse places around the world: the Blue Mountains in Australia, Nova Scotia in Canada, Telluride in the USA and, most recently, Phoenix, USA, where we spent the afternoon mentoring final-year students. I enjoy teaching with Peter immensely. He is a real teacher and values his role as such. He is a good listener, is insightful and has a talent for inspiring the student with a direction for resolution. The hours spent on each other's porches talking into the wee hours of the morning are quite sublime, as well.
An aspect of Peter that is quite striking to me is that wherever he is, he carries his Aussie-ness with him. I remember first noticing this in Helsinki, Finland. With his Australian elastic-sided workboots polished to a high gloss, his sheep shearer's pants and his long white hair, he enters the room, says one word and boom! It hits you that this cat is from Down Under. I find this refreshing in this time of global homogenization.
The same can be said of his body of work – each of Peter's buildings is testament to an architect who builds with remarkable insight into the fundamental conditions that define a sense of place. No matter where the project is, its physical landscape, its specific environment and its rich history are revealed. The outcome is quite often an instrument that frames views, directs airflow and allows one to fully inhabit the environs. Peter is truly an original Australian artist and craftsman.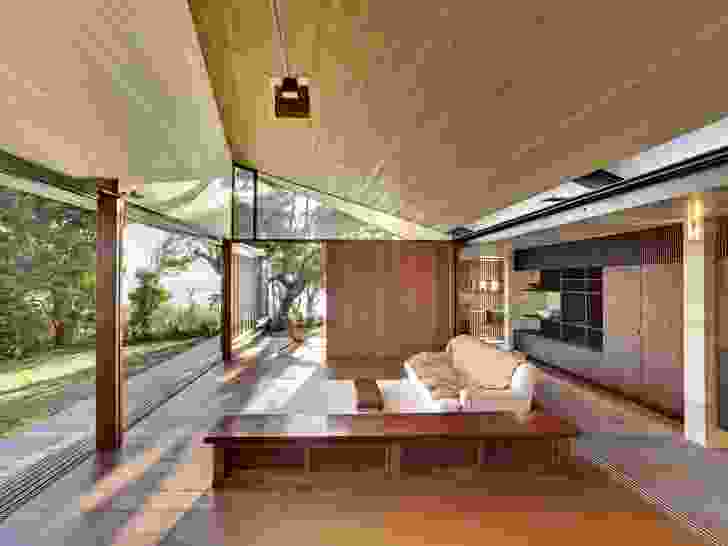 In Peter's world, the relation of architecture to the physical world of nature is a fundamental dimension of building. As you will see in this celebratory journal, in 2009 Peter's firm completed Wall House for world fashion icon Issey Miyake in Japan. When Peter asked the designer why he had chosen to call Peter in from Australia, Miyake answered: "In this stage of my life I've learned to value nature. I sense you will connect me to that value."
It is with great pleasure that I affectionately congratulate the Australian Institute of Architects 2015 Gold Medallist, Peter Stutchbury.