The temporal dimension is very important in order to calibrate the nature of risk. Just as climate change encompasses both slow disasters and quick disasters, so too a career can be wrecked by one building collapse or by the slow erosion of a reputation due to poor work over time.
At the dimension of scale, it is important to consider whether a risk is borne by you alone, or across a community. As an architect, you can egoistically assume all the authorship, but then you also shoulder all the risk. When you become more collaborative, you are also spreading risk. Community building, which is the approach that is very important in my work, is all about spreading risk in a positive sense.
In either case, the question of risk becomes more nuanced when related to values. The moment you nuance your understanding of risk and calibrate it differently, in relation to value judgements, collective endeavour and the temporal scale, it takes on a greater degree of complexity. This then presents positive possibilities, where risks can lead to gains.
In the realm of architecture teaching, which I have been involved in for some time, I realize that the question of risk has also changed radically. The use of interface technology and design processes in education has changed dramatically, and one of its outcomes is that students are becoming less committed.
In one respect students are taking risks, but the consequences of the risks are diminished. As a simple example, when I used to draw by hand using rulers and French curves, changing the design was not a quick task. Every commitment meant a greater risk. With today's technology, every move is much more reversible and therefore much less of a risk. That has a massive bearing. I would argue that these new technologies allow greater explorations, but at some expense to commitment and to the rewards of risk.
Source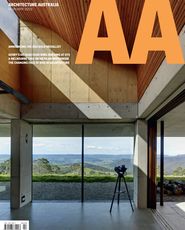 Discussion
Published online: 30 Apr 2015
Words: Rahul Mehrotra
Images: Courtesy of The Holcim Foundation
Issue
Architecture Australia, March 2015
Related topics